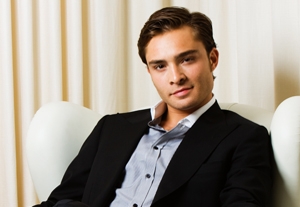 Ed Westwick is not allowed to swear—at least not on the record. "I swore too much in Rolling Stone," he cheerfully explains after biting back a particularly lusty f-bomb. "So I'm not supposed to swear in interviews any more."
This refreshingly honest admission is par for the course when it comes to Westwick. With his impish grin and thoroughly forthright demeanor, the actor exudes the effortless sort of charm plenty of his contemporaries would kill for. Unlike so many young thespians, he doesn't seem overly concerned with crafting a crowd-pleasing persona or image. He'd rather immerse himself in the work, have fun with it, and ultimately let it speak for itself.
This seems to be working out pretty well so far. As tortured, manipulative mini-mogul Chuck Bass, Westwick has become the dramatic linchpin—and wildly popular fan favorite—on the CW hit series "Gossip Girl." With his silky line delivery and smoldering stares, the actor manages to convey worlds of meaning in something as simple as a carefully timed eyebrow raise.
Not bad, considering that Chuck Bass, as initially conceived, wasn't supposed to be a major player in the "Gossip Girl" mythos. He is, at best, a sideline supporting character in Cecily von Ziegesar's books on which the show is based, and he spent most of the series' premiere episode glowering, scheming, and being generally evil. "Since Chuck was pretty vilified in the 'Gossip Girl' pilot, we weren't sure that once we were in series, there would be that much for him to do," says show co-creator Stephanie Savage. "You can only tell so many bad-guy stories."
Westwick's multilayered performance, which Savage calls "very cinematic, very 'movie star,' " forced the writers to reconsider. Slowly but surely, Chuck morphed into something far more interesting than a standard TV bad guy. "Ed is such a likable son of a bitch, he inspired us to really try to redeem the character and pull out some layers," says Savage. "His ability to play Chuck as sympathetic and vulnerable has really encouraged us to show as many colors as possible."
That translated to the addition of Chuck's strict father, a romance with prim leading lady Blair Waldorf (Leighton Meester), and more exploration of the character's tragic past. For his part, Westwick modestly claims he can't recall doing anything specific to bring Chuck to life; he simply noticed that the role kept getting bigger and bigger over the course of the show's first season. "I don't want to sound arrogant," he says with a grin. "But I'd like to think I made the character my own, and I have tried hard and really enjoyed it and been blessed with brilliant writing. The writers are the ones who, you talk to them and they're like, 'Oh, well, I saw you do something in this scene,' and then they got an idea of where they wanted to take something, and then they write for you, which is great."
Savage says everything Westwick does—from the way he pours a drink to his habit of making Chuck whisper intimately into someone's ear—influences the texture of the character. "Ed is just completely unique," she says. "He inhabits his character fearlessly and totally commits."
A Fine Piece of Bass
Things weren't quite so rosy when Westwick ventured to Los Angeles from his native England for 2007's fateful pilot season. Though he'd racked up a few solid credits—Anthony Minghella's "Breaking and Entering," the sci-fi drama "Children of Men"—the actor was going through a "dry patch" and had to borrow money from his agent and manager in order to make the trip. "Everything's on a much smaller scale in England, obviously, because it's not Hollywood," he says. "I'd been up on a couple things, and it didn't work out."
When the "Gossip Girl" script came his way, Westwick was instantly impressed by the show's tack-sharp dialogue and fresh take on privileged, status-hungry high schoolers. He initially went out for the role of pretty-boy heartbreaker Nate Archibald (Chace Crawford), but Chuck proved to be a much better fit. "I think when I got in, they were like, 'This is not the look we wanted,' " Westwick says with a chuckle. "I obviously don't have the piercing blue eyes of Mr. Crawford. I read for Chuck in my American accent and my English accent, and luckily they loved it."
Indeed, the producers fell for Westwick immediately, but offering him the part wasn't smooth sailing all the way. Savage notes that when the actor was first cast, he had some issues with his U.K.-to-U.S. work papers. The studio and network insisted the showrunners select a backup choice, "just in case." "We refused," says Savage. "Once we saw him read for Chuck, there was no one else."
Even though the character wasn't very developed in the show's pilot, Westwick immediately saw elements he could sink his actorly teeth into. "Chuck was a witty character," he remembers. "Obnoxious. All the parts of his personality were very potent, I felt. So I was like, 'This is the perfect thing to play with. I can do what I want with it. This is a clown.' And I remember, I had an idea of how I wanted to play it, but there were a lot of spontaneous things in the moment that came in when I was reading. Just gestures and things like that. But it really came as a result of the dialogue, which is spectacular."
Westwick says he continues to place his unwavering trust in the show's writers, who keep coming up with deliciously twisted things for Chuck to do. That said, he'll occasionally offer his input on the various puzzle pieces that make up Chuck Bass—like, say, the character's eye-catching wardrobe, which remains an ever-popular discussion topic with the fans. Over time, his ensembles have evolved from a flamboyant array of ascots, sweater vests, and scarves to a more muted palette of sleek business suits.
"I was telling the wardrobe designer the other day, 'Can we cut down on the layers? 'Cause you love to put me in layers, and it makes me look big,' " says Westwick, laughing. "I was looking at myself on one of the scenes, I think when I was doing some ADR, and I was wearing a shirt, a cardigan, and a coat—and I looked huge. I was like, 'This is not doing me any favors. We gotta cut it down—just a shirt and a jacket. Let's keep it slim.' "
'Breaking' In
Growing up in Stevenage, a small town just outside of London, Westwick never thought of acting as a legit career. "I don't think I ever took it seriously as making a living out of it," he muses. "My friends were builders and tilers. It's just a whole different thing, you know? I didn't have any friends who were into acting; you had to seek it out."
After attending various drama groups as a kid and "messing around in little plays" in school, Westwick joined Great Britain's National Youth Theatre at age 16. This, he says, is when he finally started taking the craft seriously: "I really saw it in a different light and started to enjoy it."
During his stint with the theater, Westwick went on an open audition for "Breaking and Entering," a romantic thriller starring Jude Law, Juliette Binoche, and Robin Wright Penn. At the time, he had no idea what a huge opportunity this was. "I didn't understand; I was just going along," he recalls. "And when I auditioned, I didn't know anything about who was in the movie."
He earned the part of Zoran, a Bosnian immigrant teen, and suddenly found himself thrust into the world of large-scale filmmaking. "That was a break in every sense of the word," he says earnestly. "It was a break of being able to learn so much; it was a break of being able to start to see this as a career and start to take it somewhere. I didn't even know what I was doing. When we were shooting the movie, I was so green. All of a sudden, you're just around movie stars, and you're like 'Well, fuuuuuuck.' But now, looking back on it, man, I realize how little I understood."
Luckily, he was surrounded by consummate professionals like Law, Binoche, Wright Penn, and writer-director Minghella ("The English Patient"). Westwick used the opportunity as a master class of sorts, and to this day he's trying to apply these lessons to his burgeoning career. "I really learned about professionalism on set," he says. "I've been on some sets where people don't shut the fuck up, people don't listen to directors when they're talking, the 1st A.D.s have to shout 25 times to get actors to be quiet. And what you found on 'Breaking and Entering' is everybody [was] silent. Anthony didn't have to raise his voice, and everyone was going for the common goal, you know? It was such a beautiful, beautiful atmosphere to be around and to be able to work in."
The film also helped Westwick land an agent: Michael Emptage at London-based Emptage Hallett, who still reps him today. Though Westwick also works with the L.A. management company Affirmative Entertainment, the actor doesn't feel the need to get himself an American agent just yet. "Everyone's very shocked about that," he says, smiling bemusedly. "But I feel like I've got it covered right now."
Such Great 'Heights'
Indeed, Westwick has a fairly clear idea of where he does—and does not—want his career to go. He assesses projects carefully, making sure he's genuinely thrilled by the work he takes on. "It's got to be something that excites you, something that you really want to be involved with and you really, really, really are going to be able to say, 'I can do my bit to make this something great,' " he explains. "Also, it's just as important what you turn down as what you take."
In that vein, Westwick says he has passed on a few things that weren't quite right for him. He's also wary of being typecast as the Bassian bad boy for the rest of his life. "If it's something where they wanted me to play a bad guy in a school, that wouldn't be right for me, because it would just be regurgitating the same role," he says. "And that's not what it's about. It's about me trying to show people that yes, I've done this, but now I know I can do other things, and I want to do other things."
The actor will have the chance to do just that when he takes on the notoriously difficult role of brooding Heathcliff in Peter Webber's ("Hannibal Rising," "Girl With the Pearl Earring") upcoming adaptation of "Wuthering Heights." Westwick is well-aware that he has very big shoes to fill, but he's trying not to let that freak him out too much. "My mother said to me—'cause it's her favorite book—'You know that Laurence Olivier and Ralph Fiennes did it, don't you? So you better do a good job,' " he says, chuckling and shaking his head. "I was like, 'Great, thank you.' I haven't even started to jump into it, 'cause it's quite a way off at the moment. But it's such an iconic role, and to have the opportunity to jump into a character [where] people have the standard of Laurence Olivier and Ralph Fiennes is incredible."
In the meantime, Westwick is looking to diversify his résumé with roles of all stripes. "It's not about maybe having the lead role in something, but having a small role in a good movie with a great director is ideal," he says. For example, he recently campaigned to do a small bit in an episode of one of his favorite series, Showtime's "Californication." "I was like, 'Please let me do it,' " he recalls. "It's, like, three scenes in one episode."
Being able to take on a variety of personas—no matter how many lines he may or may not have—is of prime importance to Westwick. Perhaps that's why, when asked about people he admires, he names thespians who are generally considered character actors: Gary Oldman, Catherine Keener. Being in this sort of category, he notes, allows you "to express and really play. That's where people really got an opportunity to fully do what they want to do."
That said, don't count out Ed Westwick, Leading Man, just yet. "I think I
can do both," he says, charming grin on full display. "I want to give everything a go."
Outtakes
--Other credits include the Sundance sensation "Son of Rambow" and the recent "Donnie Darko" sequel "S. Darko"
--Tries to avoid all the "Gossip Girl" Internet chatter, as well as the ever-present tabloid shots of him and his fellow cast mates: "A picture can be taken of you walking down the street with a sandwich and a can of Coke, and the next thing is 'Ed's fat.' You have to become more aware of what you're doing and how you're coming across."