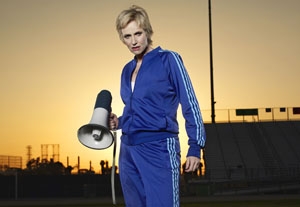 Jane Lynch is not Sue Sylvester. Yes, this is tough to imagine, given how thoroughly she inhabits the towering inferno of a cheerleading coach on "Glee."
In Sue, Lynch has created such a swaggering, barb-spouting, teenager-terrifying television icon, you half expect her to walk into a room proudly sporting one of the character's signature matchy-matchy sweatsuits.
Yet, in person, Lynch is the polar opposite of her popular TV alter ego: affable, warm, and unfailingly modest. It's an attitude she has maintained throughout her decades as a recognizable character actor, bouncing from one scene-stealing turn to the next. After cracking audiences up with such standout supporting personas as Paula, the casually randy store manager in "The 40-Year-Old Virgin," and Gayle, the inappropriate catch-phrase-spouting ex-druggie of "Role Models," Lynch is finally having her breakout star moment on "Glee." But her veteran-actor status hasn't dimmed her enthusiasm one bit; if anything, she seems more thrilled than ever to be having this moment at 49, after years of hard work, three-scene roles, and off-the-grid stage shows where, she says, "I danced around in my pantyhose."
And though her résumé includes varied fare such as Second City and Steppenwolf, recurring stints on popular dramas like "The L Word," and a regular gig as one of Christopher Guest's merry band of improvisers, she has never consciously sought out career diversity. "There really is no plan," she says firmly. "Take the work, and if it's the same thing like you did last time, find a different way to do it. I think this idea of avoiding certain things because you'll be stereotyped is ridiculous." She leans in close to the tape recorder and shakes a scolding finger. "Actors," she declares, assuming an air of pseudo-authority, "don't be ridiculous." Blunt advice, delivered in a no-nonsense manner—Sue Sylvester would be proud.
Back Stage:
How did the role of Sue Sylvester come to you?
Jane Lynch:
I still audition for stuff, but this was one of those blessed occasions where I was asked to do it. I've known [co-creator] Ryan [Murphy] for a while; I did an episode of "Popular" 10 years ago, and we had such a good time doing it. He didn't say why he thought of me; I just got the script, and I'm reading and going, "Oh God, I want to do this." I was already committed to another pilot, so I could only do the "Glee" pilot as a guest star. Then my agent called me and said, "The other deal fell apart," and I was like, "Oh, thank God! I'm all 'Glee,' I'm all 'Glee'!" I had a great celebratory moment.
Back Stage:
Was Sue always going to be such a big part of the show?
Lynch:
You know, I had a feeling that she would be. She was written late into the process of the show: They really needed a nemesis. [Co-creator] Ian Brennan came up with Sue Sylvester. Ian writes almost everything I say; I am the mouthpiece for his inner mean girl. I know he's having a gas doing it. It's one of those rare instances where you kind of find a soul mate artistically. In the pilot, I improvised a few lines, but now I don't need to; they surprise me every week. I read every script and go, "Oh no I didn't! You're kidding me!"

Back Stage:
Even though we love Sue, she does some really awful things. How do you as an actor keep the audience invested in a character who's a little bit evil?
Lynch:
I don't really think about that so much. What's so wonderful is, you know, I'm not Anthony Hopkins in "Silence of the Lambs," who was truly scary. Her venom has no teeth. She's over-the-top wicked, to the point of almost being cartoonish, and she obviously lives in her own world. She's fantasizing a history for herself: She was in Special Forces, and her parents were famous Nazi hunters, and she has this entire world that she lives in that people just think is hilarious. She's dead-serious. Nothing is middle of the road. It's all extreme: "I will destroy you. I reign supreme. I am a legend."
Back Stage
: When did you first realize acting was something you wanted to pursue?
Lynch
: I knew I wanted to act before I was conscious of anything else. Television inspired me—and going to plays in grade school. An older kid in the neighborhood was doing a play at a high school, and I remember the lights going down and the lights coming up and that world where the lights are really bright and the stage looks alive. My parents, their parish did a show called "Port of Call" every year where every room in the school was a different port of call. Everybody would get drunk, and they'd do show after show after show. I loved it. They did shows till 2 or 3 in the morning, and I remember literally being beside myself. I was very young and very tired, but I remember kind of stepping outside of my body and going, "I'm so happy."
Back Stage
: I read that you actually quit one of your first school plays. What happened there?
Lynch
: I learned a lesson very early on about walking toward what you want and not being afraid. I was cast in a one-act about "The Princess and the Pea." I was cast as the king—beginning my pattern of playing roles that are originally written for men. I just got scared. I thought, "I can't do this." I made up some lie to myself, and I joined the tennis team, and I quit. I got a reputation in my high school as a quitter, and I never worked in another play again. No one took a chance on me after that. And I was like, "I will never do this again. I will never walk away from that which I desire. I'm not going to let my fear stop me."
Back Stage:
What was it that scared you so much?
Lynch:
I think it was standing in front of your destiny—because it was big to me; it was a big deal, acting and being in this world that I wanted to inhabit for the rest of my life, and I was being welcomed into it, and I got scared and walked away. I've talked to several people in my life who are artists who have had that moment. Some of them walked away forever and have regrets now. I think everybody has that, where you're kind of standing in front of what you want and you have that fear of failing and not being good enough to inhabit that dream that you want so much.
Back Stage:
So how did you continue to pursue your dream after that?
Lynch:
Right out of school, I went to the MFA program at Cornell. I went [from Chicago] to New York, and nothing happened for me there one way or the other. I was just really trying to survive and pay my rent, and I was working at a public relations firm. I finally went back to Chicago and started doing Off Loop theater for free. You send your résumés out to all the agencies, and I wouldn't hear from them. There was a woman who had her own little agency, and it was mostly voiceover, and I somehow lucked into booking voiceover. She heard my tape and said, "You can do this. I'll take you on." So she took me on, and then she also started representing me theatrically. Then I got with this agency called Geddes in Chicago, which is the agency to be with in Chicago, because they have an office out here [in L.A.]. So when I got out here, I had representation. How rare is that? I immediately started getting auditions that counted. I was lucky.
Back Stage
: And were a lot of these auditions the ones you mentioned earlier—roles that were originally written for men?
Lynch
: Yes. I have an authoritative way about me. Early on, I played doctors. I'd guest-star in a lot of things where I'm in a lab coat, especially back when I first got to L.A. I had an agent who would call and say, "I see you have Dr. Smith here, would you be open to a woman?" Sometimes they want a guy, but for the most part, they'll see a woman. And then you make them feel like geniuses: "I thought out of the box!" I was recurring as a medical examiner in some Steven Bochco show, and it was written as, like, "Richard Smith." In "The 40-Year-Old Virgin," the character that I played was originally named Paul. Nancy Walls, Steve Carell's wife, said, "You have too many men in your script. You should read Jane for the store manager." So we improvised that. That's your audition when you work for Judd Apatow: You improvise. In the improvisation, I offered to deflower him. That's how that happened.
Back Stage
: Were you ever worried about being pigeonholed as that authoritative sort?
Lynch
: I never thought about it. It was just, "Oh, I got this job! I pulled out that trick and I got this job! Yay!"
Back Stage
: Has being typecast ever been a concern in your career?
Lynch
: No. I just love working, and if people use me for the same thing over and over again, that's fine with me. And it's up to me. Like in "Role Models" and "40-Year-Old Virgin," you could play them exactly the same, and maybe there are people out there who would say that I did. [Laughs.] To them, I apologize. But for myself, I would see these roles, and I'd go, "I could go very much like I did in 'The 40-Year-Old Virgin,' but I'll try to dig down to go a little bit to the right or the left from that." Same thing with Sue Sylvester. They're not exactly the same people, all these characters, but I could definitely get stuck in approaching it the same way. I always start inside out, so I would just start with a different place inside, with a different fear or a different insecurity or a different need, and that shapes everything. And if I can't find something different inside of me, I slap on a wig.
Back Stage:
A lot of the roles you've mentioned are supporting parts, but you somehow make them stand out—to the point of stealing the entire movie. How do you do that?
Lynch
: I never try to, but I kind of approach them all the same way. I think what helps is if you stay really, really honest emotionally with the place you're coming from. 'Cause what makes people excited when they see something onscreen is that they go, "Oh, I recognize that," and what they're recognizing is something in themselves, but they may say, "Oh, that reminds me of my Aunt Tilda." We love to see ourselves up there. If you're coming from a really honest emotional place, you will affect people.
Back Stage:
People knew your face from all these supporting roles, but "Glee" has given you a new level of fame. How has that affected your career?
Lynch
: I have not received many more offers. I'm very busy with "Glee," so I don't have time to resent or be angry about that. [Laughs.] I'm getting married and renovating my home, so it's perfect, what's going on in my life right now. I used to be a lot hungrier: "Gotta get the next job, gotta get the next job." But there's such a calming influence of knowing that you have a place to go. We've been picked up for a second season. I've had job security—knock on wood—for a year and into the future. I've never been in this position before, and it has given me such a relief and such a calmness.
Back Stage:
Do you think your process for choosing roles will change?
Lynch
: It will. Because now I have a home life. I used to take off for anything. I don't think I will anymore. I'll look for something that will scratch a new itch, that I love the material. And also I will look at things that, on paper, read like crap—like, "40-Year-Old-Virgin" read terribly. We didn't even shoot that; we improvised everything. I remember my agents going, "I don't know," and I was like, "You don't understand. This is Judd Apatow. This is Steve Carell. It's going to be great." So it almost doesn't matter what the material is; a lot has to do with who it is.
Back Stage
: This is obviously a career high point, but how did you stay encouraged during less successful times?
Lynch:
You know, I used to say, "I never thought about leaving the business," until a friend reminded me that we met once on the top of Fryman Canyon and I said, "I can't do it anymore. I'm at a standstill. I've been at the same place; I'm barely making a living." I was doing commercials, and I felt I was doing really good work in the sketch-comedy stuff that I was doing, but it's the thing artists go through all the time, where you feel like you've got something and it doesn't really mean anything unless you get to share it and you get acknowledgment for it. My friend said, "Don't you dare. You're not a quitter and you're really good at this." By the time I got to the bottom of Fryman, I was back in.    

Out Takes
-Was nominated for a 2010 Golden Globe and won a Screen Actors Guild Award as part of the "Glee" ensemble
-First caught the eye of Christopher Guest—who cast her in "Best in Show," "A Mighty Wind," and "For Your Consideration—when he directed her in a Frosted Flakes commercial
-One of her breakthrough comedic stage performances was as Carol Brady in the underground hit "The Real Live Brady Bunch," which originated at the Annoyance Theatre in Chicago. Says Lynch, "The first night, we were all really drunk. I remember when the lights went up, my heart jumped out of my chest because people just screamed."
-Recent work includes cult hit "Party Down," animated blockbuster "Shrek Forever After," and "Julie & Julia," wherein she was featured opposite Meryl Streep as Julia Child's gregarious sister. "[Writer-director] Nora Ephron said, 'You're the tallest actress I know. And I promise you a trip to Paris if you'll do this very small part,' " recalls Lynch. "I said, 'I'd do it anyway, but thank you, I'm going to Paris!' But then we shot everything in Hoboken. Because the train station in Hoboken is restored and beautiful, and all the train stations in Paris now have Coca-Cola signs. So instead of Paris, I went to Hoboken."