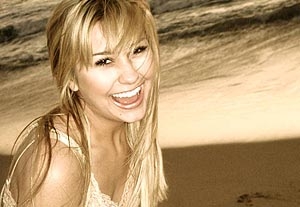 "I just want to go to work and play dress up like for the rest of my life", says Chelsea Staub, and she's well on her way to achieving her goal. Chelsea currently stars as Stella, friend and stylist to the Jonas Brothers on the Disney Channel's "Jonas."
No mere sidekick, Chelsea is her own unique talent who's even managed to win over the ravenous teenage girls who worship the brothers Jonas to her side. Born to parents who at one time held jobs as trapeze artist and flamenco dancer, it's no surprise that Chelsea is a free spirit. She doesn't take herself too seriously, and shares all aspects of her life with her fans.
Chosen as this week's Girl2Watch, Chelsea will be featured in a series or articles, fun facts and social media tweets through this week for subscribers of
Girl2Watch.com
.
In this BackStage, Actor2Watch, exclusive, Chelsea shares her thoughts on acting and getting roles.
ACTOR2WATCH: What was your first real break as an actor?
CHELSEA STAUB: My first big break that made the biggest difference for me was probably the "Bratz" movie. It was an audition that I was going on in L.A. I had been on hundreds just like it and been turned down, and all I had to audition with was a monologue—one page of one study body president's speech that my character makes.
I was trying to be realistic, like this is probably the only thing that this character will do in the movie is this one speech. And I went to the audition, it went really well, and I went to a callback. I think I was called back seven times over like a three month period.
They gave me the role and they sent me the script at 8:00 pm the night before the table read, and I opened it up and my character Meredith was the antagonist of the movie. And literally on every page I had two song and dance numbers and a sweet sixteen party, and she rides in on an elephant. Pretty much everything you could ever do as an actress, singing, dancing, stunts, work with animals—Meredith did in this movie. And it was my first movie ever.
It was this mix of excitement and wanting to cry all at the same time because I've never done anything like it. I learned so much in such a short period of time. And I think based off that movie and recommendations I landed Jonas about two weeks later.
A2W: Do you study with anyone or do you have an acting coach?
CHELSEA STAUB: I think my best teacher and my best study was theater in general. It taught me a lot of patience and a lot of hard work, and I think that theater teaches you that you've got to know your stuff because you only get one chance. Out here in L.A. I went to a great coach for a long time named Cary Anderson who is brilliant with teens. He gets the teen angst thing.
So he taught me all the tricks for that melodramatic "One Tree Hill," "OC," "Dawson's Creek," this is the end of the world type stuff. I also studied with Gordon Hunt for a while, Helen Hunt's dad, which is really cool because he's worked with some of my favorites like Diane Lane. That was exciting for me and very intimidating.
A2W: Do you have any tips for novices or is there anything you wish someone told you when you first started out in acting?
CHELSEA STAUB: I think for me, the classes really helped because it helped me not put so much pressure on my auditions. These auditions quickly became the biggest part—as they should be—of my life. If I had one I couldn't think about anything else to the point where I would just psych myself out and destroy it.
So I think my advice to other actors would be to get in classes. Get out in front of people. Put up scenes in front of your peers. That stage acting class I did, I was having to do kissing scenes and embarrassing scenes in front of kids my age, which when you're 16 and you're doing an awkward scene for a cute, good looking, 17, 18 year old guy—it can't get any more nerve-wracking.
It was really nice to get that out of the way and learn that I'll survive and that the world keeps turning after my audition, so my advice is just to like try to get over that. Because that was my biggest problem.