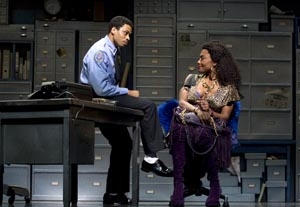 Chester Gregory
is quite serious when he says he won't sign on for any project without "integrity, heart, and a message that inspires." Equally important, he is determined to dictate his own career trajectory as opposed to "fitting into someone else's mold."
Gregory
has scored on both counts in his latest production, "Sister Act," a frolicking Broadway musical about a singing diva, the thugs who pursue her, and the nuns who come to her aid. With music written by Alan Menken, lyrics by Glenn Slater, book by Cheri Steinkellner and Bill Steinkellner, and additional book material by Douglas Carter Beane, the production is inspired by the hit 1992 film, starring Whoopi Goldberg, who is now wearing the producer's hat.
The big news for Gregory—who often plays darker characters, most notably Jimmy Thunder Early in the national tour of "Dreamgirls"—is that he gets the chance to reveal his gentler side as the love interest: benign, gentle, and timid Eddie Souther, aka "Sweaty Eddie." Though Gregory was initially brought in to read for Curtis Jackson, the archvillain in "Sister Act," he insisted on being seen for Eddie precisely because he had not played that kind of role and wanted a New York audience to view him in a new light.
Ironically enough, he's a whole lot closer to the introverted Eddie than the extroverted characters he frequently inhabits on stage. "I love performing and interacting with fans, but just to go somewhere with crowds of people, that stresses me out," the good-humored Gregory comments, adding his own temperament has been the greatest preparation for the part.
Still, he has faced acting challenges, not least adapting himself to director Jerry Zaks' approach to character. While Gregory typically starts out with a clean slate and makes choices over time, "Jerry challenged me to make choices while I'm gathering information." Gregory admits it's a bit of an adjustment for him. Nonetheless, he recognizes Zaks as "a great director." Gregory has also had the opportunity to work with Whoopi Goldberg, though for the most part she maintains "a healthy distance," he says. "I'm sure there have been meetings because the show is completely different from what they did in London, but she's not here with us on a daily basis. She comes in every couple of weeks and checks on us, motivates us. She's nice and real and down to earth. I had met her before and she remembered me and gave me a big hug like we were old friends. She doesn't fake anything. If she doesn't know you she won't give you a hug."
Advice for African-American Artists
Like Michael Jackson, Gregory is a Gary, Indiana, native and was enthralled with Jackson's music and videos even as a youngster. "The 'Thriller' video inspired me to become an artist, entertainer, and a performer," recalls Gregory. Years later, when Jackson came to visit his hometown, Gregory paid tribute to his idol in a performance and met the legend. "I got a standing ovation and he was very receptive to me," Gregory observes, stunned even in retrospect.
Gregory graduated from his local performing arts high school and went on to major in musical theater at Columbia College in Chicago, which turned out to be an invaluable experience. In addition to learning how to use his voice properly—"to not over sing," thus doubling his vocal range and versatility—the training gave him the psychological tools to break through his innate shyness "and do what I love to do in front of people."
Although Gregory often focuses on the singing issues—he talks about singing lower than usual in "Sister Act" and hoping the sound registers—unlike many performers, who define themselves primarily as singers or actors, Gregory refuses to make any distinctions. "It depends on the project, but generally I view it all as my artistry," he says. "I am an artist and I want to share a message of inspiration, and whether it is music or acting, it's all the same to me." His artistic influences are the late Gregory Hines, Sammy Davis Jr., and Ben Vereen.
For many years, Gregory performed in Chicago at such venues as the Black Ensemble Theater, the Goodman Theatre, and Chicago Theatre. But his watershed role was the titular one in "The Jackie Wilson Story," a musical biography of the legendary singer, which toured three years and finally played the Apollo Theater in Harlem.
"It's a terrific showcase and it brought me a great write-up in The [New York] Times, and shortly after that I got an agent and was invited to perform at Manhattan Theatre Club's gala," Gregory notes. "Ours was the only production performing that night which was not on Broadway. And that performance led to my getting the role of Seaweed in 'Hairspray,' my first Broadway role."
It was a fortuitous confluence of events. Gregory's newly acquired agent had previously submitted him as a replacement for Seaweed. As luck would have it, the "Hairspray" songwriters (Marc Shaiman and Scott Wittman) and director (Jack O'Brien) had just seen Gregory perform at the MTC event and were so impressed that when he showed up to audition, they were already rooting for him. Three weeks later he came on board. Gregory concedes he doesn't do all that well at auditions unless someone on the creative team knows his work.
That audition was memorable for another reason. It took place at 10 a.m. on the Monday following the Tony Award ceremonies where the "Hairspray" team had swept the awards. They had been partying all night and had not yet gone home to bed. "They arrived at the audition still dressed up from the night before," Gregory remembers.
To have a successful career, talent is not enough, he points out. "It takes skill and an endless amount of hard work. If it's not working out for you, maybe you have to re-evaluate. Perhaps you're not going to enough auditions. You have to love the industry to be in it. And if you don't, you may have to look for something else. But if you know you want to do this with your heart and soul, then do it."
Gregory has additional advice for African-American performers. "For upcoming black artists, we have to be aware that we represent more than ourselves," he asserts. "We represent a group of people. It may be fair, it may not. The small percentage of black people who may be in the audience look at me to see what I'm doing because I represent them. Black artists have to be mindful of the roles they accept and not be afraid to speak up if a role is not appropriate—hurtful or stereotypical, or if the makeup looks too close to blackface, or a line sounds like something a pimp might say. And, finally, black artists have to be more involved in the creative process."
So, what's next for Gregory? In the best of all possible worlds, he'd love to revive "The Jackie Wilson Story" for a Broadway transfer, play the title character in "The Wiz," and launch a film and television career. "That's the natural progression," he says. "I would also like to win a Tony, an Oscar, and a Grammy." He pauses, momentarily. "An Emmy wouldn't be bad either."
This is one performer who has all bases covered.
"Sister Act" is playing at the Broadway Theatre, 1681 Broadway, NYC. Tickets: (212) 239-6200 or www.telecharge.com or www.sisteractthemusical.com.
Outtakes
– Has appeared on Broadway in "Crybaby" and "Tarzan"
– Earned Jeff, AUDELCO, BTAA, and Black Excellence awards for "The Jackie Wilson Story"
– Was featured in "Scapin" at the Court Theatre in Chicago and the Seattle Broadway tryout of "Shrek