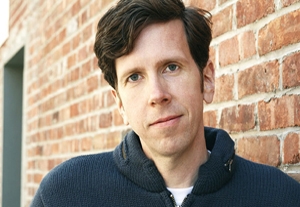 "We had so much fun writing Love Child," says Robert Stanton. "We had a blast. But I'd be disingenuous if I said I didn't think of it as an acting showcase." Performing in the play was neither his nor co-writer Daniel Jenkins' initial ambition, but as the project progressed, playing 20 characters in a work about theatre seemed the natural thing to do.
Now running in repertory Off-Broadway with Lee Blessing's A Body of Water, the comic two-hander depicts an Off-Off-Broadway troupe mounting the Greek tragedy Ion by Euripides. Beleaguered actor-­manager Joel is "struggling to figure out who his family is and where he fits in," says Jenkins, who plays him and other characters. "One of the themes is family. This is about a theatre family, and as we know, it frequently becomes a dysfunctional family. What we look at here is, how does it work? How is it a blessing? How is it a problem?"
Stanton, whose roles in Love Child include a small-time theatrical agent, an aging hippie actor, and a Mexican-American woman, adds, "How can the community that you build in the theatre feel more like home than the one you come from?... The theatre family is evanescent. And the fact that it's transitory is a blessing and a sweet curse. The families that you build in theatre don't last forever." Says Jenkins, "They're very intimate. And then boom, it's over and you're off to making another family."
Love Child also considers the actor's vulnerability. "There's so much at stake," says Stanton. "What you're constantly risking is humiliation. That's scarier than loss of life. Losing status is extremely stressful. But you take that risk because it's exciting. We love it." Adds Jenkins, "Nothing ventured, nothing gained. We're not doing what we do for our bank accounts or to get our names in the paper."
The two actors have worked steadily through the years in a range of roles, though each insists he is more likely to be cast as Mitch in A Streetcar Named Desire than Stanley. In Love Child they tackle both new and familiar character types, including females. Jenkins says he can grasp a woman's psychology but has difficulty embodying her physicality. According to Stanton, the physical challenge depends on the woman: "Is she of a certain age? Is she heavy? Is she extremely comfortable in her body?"
Stanton, who is gay, will be playing a gay character for the first time. "It was great fun," he says. Jenkins jumps in: "I'm a straight man and I played Prior Walter in Angels in America, and I was scared out of my wits about being over-the-top. And Tony Kushner said, 'No straight man has ever played a gay man gay enough for me.' That was freeing."
Another challenge, says Stanton, is balancing their jobs as actors and playwrights. As playwrights, "we had to be able to listen and realize when something needed changing. And we wanted to make sure that the characters were well-rounded, bold archetypes, but not stereotypes."
Lives in the Theatre
The affable duo first met in 1993 when they performed in a young-playwrights festival. They share an easygoing camaraderie and appear younger than their years; both are in their mid-40s. But that's where the similarities end. Stanton is a San Antonio native raised in Annandale, Va., while the New York City–born Jenkins grew up on a Kentucky farm.
The son of actor Ken Jenkins, young Daniel had a host of career goals—from baker to lawyer to veterinarian to musician—before settling on performing, "because that's where I could play all the roles I wanted to in life."
"I'm so shallow," quips Stanton. "I always wanted to be an actor."
Stanton trained at NYU's Tisch School of the Arts, where he earned two degrees, while Jenkins took a few courses at Columbia University before returning home, where he apprenticed at the Actors Theatre of Louisville. He admits that his father, who'd performed at the theatre for many years, opened doors for him: "Probably they took a chance on me because of him. I always felt I had to work especially hard to justify my two-year apprenticeship. But when I became a member, it was a vote of confidence."
There are many reasons an actor might be drawn to a project, but for Jenkins the quality of the play often takes precedence over the character. "It's the piece and where it lives," he says. "I'm a softy if a piece grabs me in an honest and earnest way." Stanton is frequently attracted to roles that he feels he may not be able to pull off. "Then I'll want to do it," he says. "I'm counterphobic. In Caryl Churchill's Traps, I had to take off my clothes and take a bath on stage. I said, 'Yeah, I'll do that.' "
While both actors have screen credits, Jenkins feels that the demands of theatre are fundamentally more rigorous than those of film. He suggests that movie actors are largely personalities: Their talent is centered on being comfortable with themselves. "Young Scarlett Johansson early on, wow, she was remarkably at ease," he says. "It's a great gift, but one that can be learned by working in front of a camera, especially if you start at an early age. In theatre, you need the tools. The performers in Mary Poppins can act, sing, and dance. And that's not because of who they are but because of discipline." Jenkins may be partial to Mary Poppins, as he played George Banks, the father of the family, in the Broadway production.
Stanton doesn't fully share Jenkins' view of film acting. "When stage actors get in front of a camera, it doesn't come naturally," he says. "Acting in film is its own technique. I am in awe of anyone who can do well in stage or film."
If he has any regrets about his career, Jenkins says, it's having turned down a film role because he didn't like the script: "It was an enormous hit. I look back at it now and I feel like an idiot. They were going to throw money at me, and I said no for moral reasons. Some of the scenes felt gratuitous in a Porky's sort of way. I look back and say, 'What if?' " Adds Stanton, "We all have our 'what ifs.' For me, the 'what ifs' are about roles I performed where I wish I had done better."
At the moment, the actors are thinking about the future of Love Child. Jenkins says, "I hope it leads to other people doing it in other places." To which Stanton replies, "But before that, I hope it's an opportunity for us to do it here and elsewhere. It would be nice if it had a life beyond the run."
The following is an article Back Stage ran in the Oct. 16, 2008 issue. The play "Love Child" will begin performances Oct. 23 for a return engagement through Jan. 2, 2010, at New World Stages, 340 W. 50th St., NYC. Tel: (212) 239-6200.