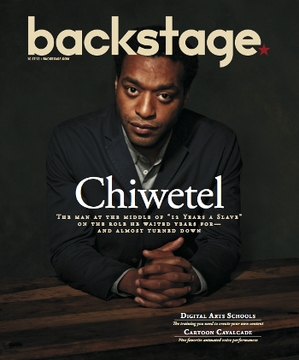 Chiwetel Ejiofor graces our cover this week, and he chats with Backstage about his roles in "12 Years a Slave" and in the miniseries "Dancing on the Edge" premiering Oct.19 on Starz. Check out a sneak peek from the feature below!
---
Chiwetel Ejiofor on Signing On Before Finishing The Script
Chiwetel Ejiofor loses himself so completely as Solomon Northup in "12 Years a Slave" that seeing him in a tuxedo playing jazz piano—on the six-part miniseries "Dancing on the Edge"—is like falling into an alternate reality.
Premiering Oct. 19 on Starz, the British miniseries written and directed by Stephen Poliakoff stars Ejiofor as band leader Louis Lester in 1930s London. Discovered and publicized by music writer Stanley Mitchell (played by Matthew Goode), the band members are drawn into unlikely relationships with the British upper class and American business tycoons, and it's all set against a backdrop of jazz, sex, and murder.
"I thought it was a very special story, a really unknown period of British history when there was that possibility of real liberal change," Ejiofor says. "There was still prejudice, but there was an attempt to take away some of the strictures of class and race that fell apart as people fell into their separate camps as they prepared for warfare."
If that sounds like dry history, think again. "Dancing on the Edge" doesn't shy away from the glamour of the 1930s, with cigarettes, cocktails, and plenty of full-voiced singing from Angel Coulby and Wunmi Mosaku. In fact, Ejiofor jumped on board before he'd even read the ending. "I literally read the first two [scripts] and I was like, 'I'm in! I love it!' " he says. " 'What happens next?' "