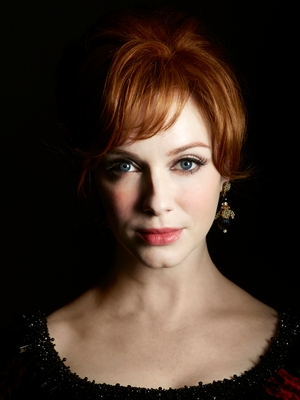 Beautiful. Bombshell. Bitch.
When Joan Harris walks into a room and all eyes turn to her, this tends to be what they're thinking. But they might want to add another "b": boss.
Last season, the former Joan Holloway went from head secretary to partner at ad agency Sterling Cooper Draper Pryce on AMC's Emmy-laden drama "Mad Men." And over the course of five seasons, she's developed from scene-stealing eye candy into one of the most complex and compelling characters on television—especially after an episode this year that had everybody talking.
While Don Draper, Roger Sterling, Pete Campbell, and the rest of "Mad Men" 's midcentury males struggle to adapt to the 1960s as they cling to outdated ideals, Joan creates opportunity. At the end of a season in which she throws out her no-good husband, spars with her mother, and evaluates her bleak prospects as a suddenly single mom, Joan finally, agonizingly, agrees to a car dealer's indecent proposal. One night with him will help the firm land the Jaguar account and ensure a financially independent future for herself and her son. ("My mother raised me to be admired," she says one episode prior.)
Fans erupted in a mix of shock, support, and outrage. But actor Christina Hendricks, recipient of three consecutive Emmy nominations as Joan (along with two wins and two more nominations at the SAG Awards as part of the "Mad Men" ensemble), says her arc this year was "very cathartic for me" and stayed true to the character's essence.
"Joan likes to be watched," Hendricks says. "Joan likes to be acknowledged. Joan likes credit when credit is due. Joan likes organization. Joan likes control. Joan is a very collected person." She adds, "Those are the tools that you use in the first episode, when you don't know much. And then you create that character around those tools and those clues that you have, and they just get deeper, and greater, and grander. But they still have to be based around that first person that you met. They just get richer."
As early as the pilot episode, Joan was an instant fan favorite as foil for both the more strait-laced Peggy and the id-driven Don, and Hendricks just as quickly carved out her own identity in the show's sea of '60s symbolism. Joan can end entire arguments with a wink or a glare. She's stoic but not cold. Sexy, never slutty. Yet Hendricks says that until very recently, Joan was as mysterious to her as she was to viewers.
"When the character started, she was completely unlike me," Hendricks says. "I found her quite scary and intimidating and really hard to wrap my head around. I do think that over the years Joan has softened a little bit. Sometimes I miss the crazy, bitchy Joan from Season 1. She rears her head every once in a while, and I'm always scared of her, but I also miss her. But one of the exciting things about episodic television is that things are slowly unveiled to you. In the first year or two, I would be surprised. And now I understand."
Hendricks is in the midst of shooting the sixth season of "Mad Men" and will begin filming Ryan Gosling's "How to Catch a Monster" shortly thereafter. She's currently on screens in the feature film "Ginger & Rosa," another '60s-set drama. She calls herself "lucky" and "spoiled rotten" to play any part on "Mad Men" and says she'll miss her iconic character when the show ends after its seventh season.
"We all kind of know someone like Joan, or who at least has elements of her," she says. Thanks to Hendricks, we do now.