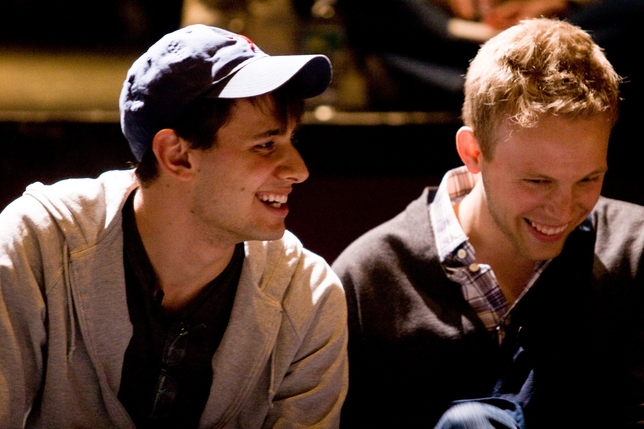 Benj Pasek and Justin Paul know how to write for actors. In fact, they started out as performers themselves.
The songwriting team who made a promising Broadway debut with "A Christmas Story" began as performance majors at the University of Michigan. When given bit parts in "City of Angels: The Musical" their sophomore year, the friends found themselves with extra time on their hands.
"I had never written music," says Paul, seated next to Pasek in a booth at Café Edison a block away from the Lunt-Fontanne Theatre, where "A Christmas Story" is currently playing. "I hadn't really written anything before then. I think I really actively didn't want to be a writer. But we just started doing it because of ADD. And then it developed from there."
The music they wrote in college became "Edges," a song cycle about the coming-of-age experience, which then became an international sensation via Facebook and YouTube. The show has received more than 150 productions worldwide, and the pair hasn't looked back since.
They won the Jonathan Larson Songwriting Award in 2007 and nabbed the Richard Rodgers Award in 2010 for their musical "Dogfight," which premiered at Second Stage over the summer. Vanity Fair called them the "heirs of Rodgers and Hammerstein," and when they're not writing original music for NBC's "Smash," they're currently working on an original musical with playwright Stephen Levenson.
However, work didn't always come easy, and like any young artists, the duo found themselves in their agent's office, "begging" for work when "A Christmas Story" came up.
"We were doing one project, and we knew we had to have multiple things in the air, and he was like, 'I don't know, do you want to do "A Christmas Story: The Musical"?' And we were like yes!" says Pasek. "Being young in your career, you just want to be as hungry as possible."
Songwriters have to audition just like actors, and the pair put together a demo of a Christmas jingle and an opening number, which landed them the job. The show had a run in Kansas City Rep in 2009 before Pasek and Paul were involved, and they joined for the production at Seattle's 5th Avenue Theatre in 2010, which was followed by a five-stop national tour in 2011 and now a limited Broadway engagement through the end of the month.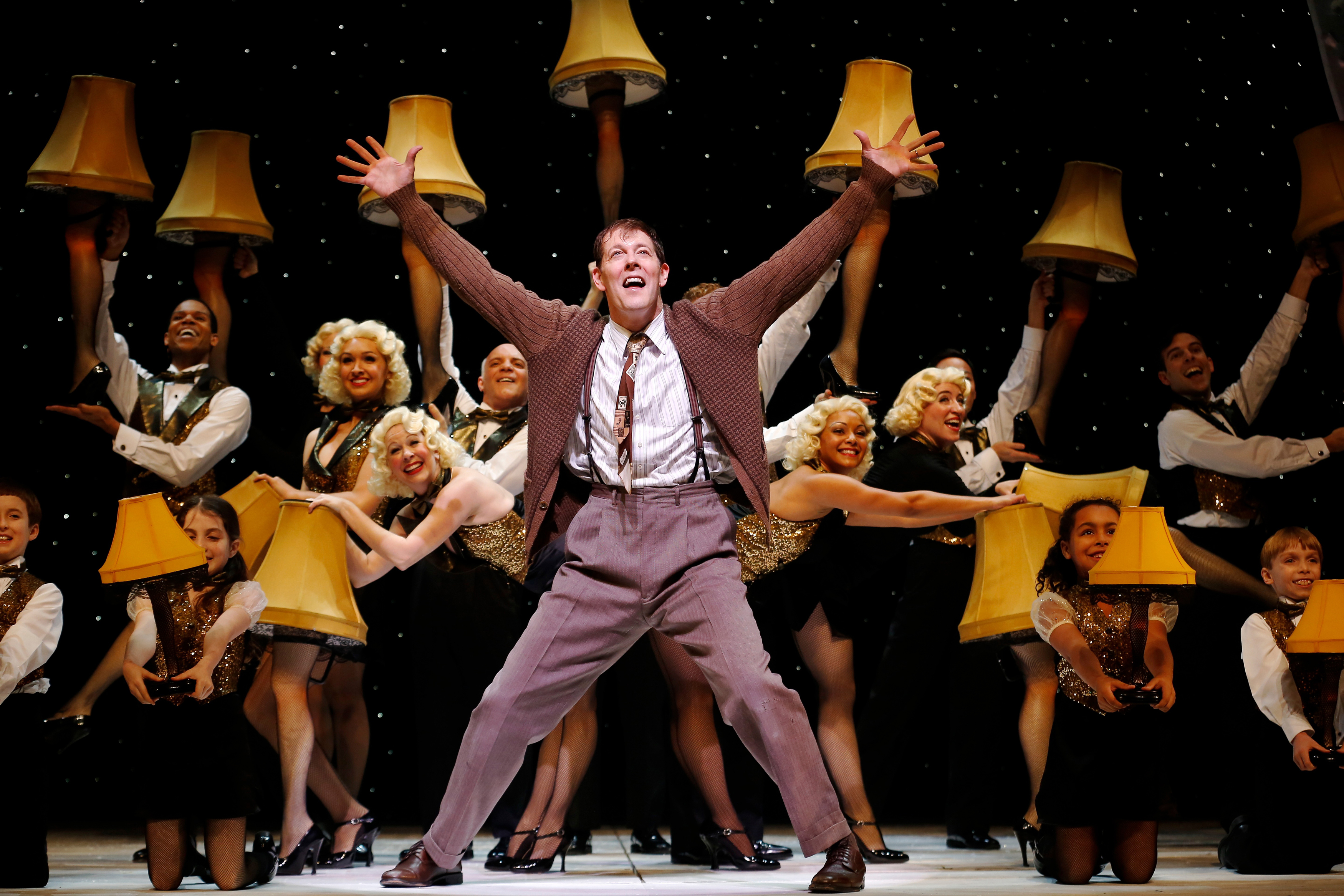 John Bolton with the company of "A Christmas Story." (Photo by Carol Rosegg)
Both "A Christmas Story" and "Dogfight" are movie-to-musical adaptations. "We also wrote 'Newsies,' " Pasek jokes. "And 'Once,'" Paul adds with a laugh, gently mocking the phenomenon of popular musicals based on movies onstage.
"Musicals do this ridiculous thing of breaking out into song at a moment's notice, and the great thing about the movie is that is it breaks out into fantasy at a moment's notice," says Paul of "A Christmas Story." "That translates really nicely to stage."
They were also able to expand the roles of some of the characters for stage, such as the mother who spends most of the film running around but gets two moments to shine and reflect in the stage version.
They also made changes to accommodate and highlight the skills of the actors in the cast. At the end of the song "A Major Award," they added a high note because John Bolton, who plays the father obsessed with his leg lamp, has a "ridiculous" range. Moving from the touring company to the Broadway company, they welcomed new cast members, such as 9-year-old tap dancing star Luke Spring and Caroline O'Connor, who plays the teacher, and turned the number "You'll Shoot Your Eye Out" into an all-out dance number for these performers.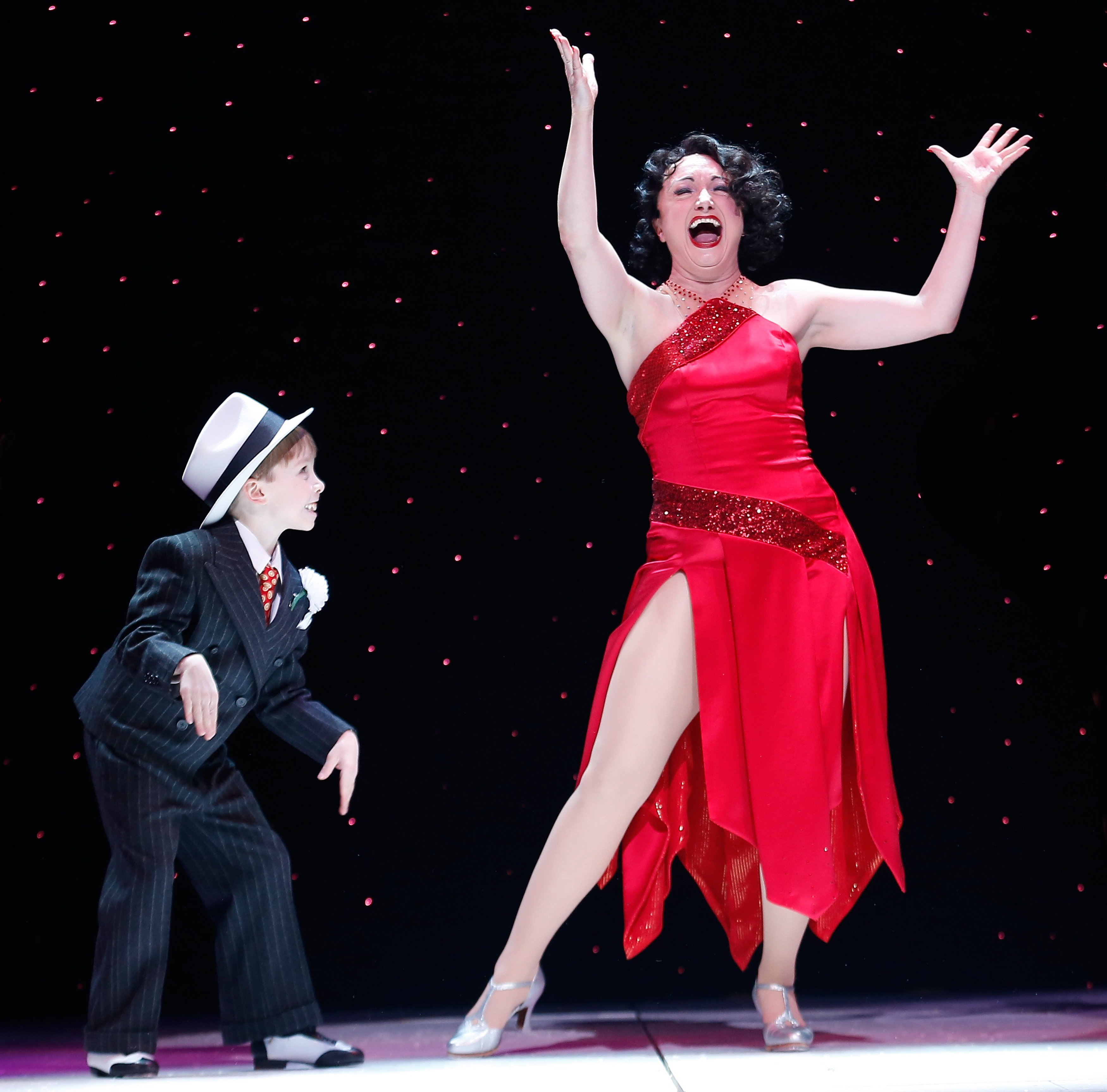 Luke Spring and Caroline O'Connor in "A Christmas Story." (Photo by Carol Rosegg)
Actors are also important to Pasek and Paul when writing, and they use their own acting training to pose questions like, "Who are you talking to? What do you want from them? What are your obstacles?" in their songwriting process.
"We kind of act out things and try to get in the heads of the characters," says Pasek. "The things that you learn as an actor, we just tried to reverse that and use it as writers."
The team, who share credits on all music and lyrics, also learned their craft from some of the industry's the best. In college, they reached out to composer/lyricist Jeff Marx on Friendster, also a Michigan grad, and shadowed him while he launched the "Avenue Q" Las Vegas production for a summer. (Marx also introduced them to their agent.) Stephen Schwartz and Lynn Ahrens and Stephen Flaherty have taken an interest in their work and shepherded them through everything from writing a show to dealing with mounting a production. Even Stephen Sondheim—one of their heroes—was a champion of their show "Dogfight."
While they've worked with and admired the stars of the writing world, they also have dreams of actors they want to work with some day. They admire Kristin Chenoweth, Audra McDonald, Sherie Rene Scott, among others, but there's one on their mind.
"If we were smart, we would just write a star vehicle for Norbert Leo Butz," says Paul. "Because if it were half decent, it would be a hit because he's so good."
But it's not always singing talent that wows the pair. While a strong voice is important, they're more interested in storytelling ability.
"We would always choose a great actor who's a good singer over a great singer who's a good actor," says Pasek. "That's definitely been a switch for us as we've grown up a little bit."
"A Christmas Story" runs at the Lunt-Fontanne Theatre through Dec. 30. For more information, visit www.achristmasstorythemusical.com.