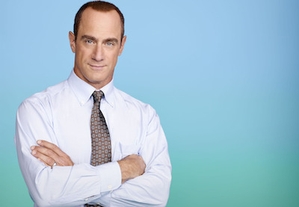 For over a decade, Christopher Meloni graced primetime as Detective Elliot Stabler on "Law & Order: Special Victims Unit," the role that made him an Emmy nominee. After years of doing that, as well as his role on HBO's prison drama "Oz," Meloni is shedding his dramatic demeanor.
Starring on the new Fox comedy "Surviving Jack," set in the '90s and based on Justin Halpern's book "I Suck At Girls," Meloni plays the strict yet loving father Jack Dunlevy, who comes up with creative ways to teach valuable lessons to his children.
And though it's a different light for Meloni, him being back on primetime just seems right. He chats with Backstage about the show, which premieres tonight, and his career thus far.
On moving away from dramatic roles.
Meloni's career as he knew it had always been centered around drama. "Oz" was known for its gruesomness, and often disturbing yet captivating scenes, while "SVU" centers on sexual assault crimes. But with this new project, Meloni wanted a change. "It wasn't conscious but I did feel in my gut. I was open to everything, but I think in my gut i was leaning more towards a comedy," he says.
"I like the feeling. I think i enjoy the feeling comedy gives me. Between 'Oz' and 'SVU'…that was 15 years of heavy, and I thought, let me be a little less heavy. There's a lot to be said for having a lighter outlook and spirit when you go to work."
On the similarities between himself and Jack.
Since leaving "SVU," Meloni has appeared in films such as "42" and "Man of Steel," and had an arc on "True Blood," but "Surviving Jack" is his first starring role.
"I like my character's sensibility, and I like the family dynamic," he says. "I think he was equal parts Justin Halpern's dad, my father, and a little of myself. My father was a doctor, so I think I get the angle of a certain amount of stoicism or pragmatism that he has. His view of the world is almost scientifically based. There's a clarity to it."
As for his own parenting, Meloni says he's similar to Jack, in that they both try to "make even the more difficult moments more palatable."
On living through the '90s again.
Being set in the 1990s gives "Surviving Jack" a bit of an edge, marketing itself as a comedy set "in a time before 'coming of age' was something you could Google."
Of pretending to live through the decade filled with scrunchies, "Saved by the Bell," and pogs, Meloni says, "Number one, it's been difficult to see how ugly the cars were. It's difficult to slip into clothes that look they way they look. It's been difficult to accept that that much time has passed. But beyond that I think it's a really weird time and place to put the whole situation, until you realize it was the last dying gasps of the world without immediate interconnected-ness.
"There was a time when no one had a cell phone, and when you did it was the size of your friggin' shoe. I remember thinking, What do you need a cell phone taped to your head for? And now you can't live without it."
"Surviving Jack" premieres on Fox tonight, March 27.