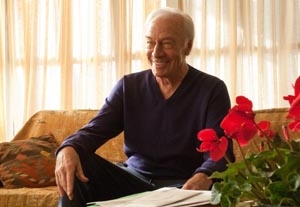 In the film "Beginners," Christopher Plummer delivers a subtle and honest performance as Hal, opposite Ewan McGregor as Hal's son Oliver. After his wife of 45 years dies from cancer, the 75-year-old Hal starts his life over by coming out as gay, only to be diagnosed with cancer himself a few years later, leaving Oliver to start over and make sense of it all. It's a career-high turn by Plummer, perhaps still most beloved as Captain Von Trapp in "The Sound of Music" and who earned his first Oscar nomination for 2009's "The Last Station."
Writer-director Michael Mills was intent on having Plummer play Hal. Mills called the actor and even sent him a letter—something Plummer says is rare these days. "It's a nice, old-fashioned touch," he calls it, adding that he was attracted to the whole feel of the story. Mills "dealt with it with such charm, and it was so touching, and it was not sentimental in the bad sense of the word," he says. "It was not mawkish. It was a tough, honest, and happy movie."
But Hal is based on Mills' father, and that had Plummer concerned. When he and Mills met, however, the director assured him that he wanted Plummer to play the character the way the actor saw fit and wasn't worried about him doing an imitation. "He was so easy and not fussy and not possessive about his writing of the role," Plummer says. Mills' directing style allowed him to be free and relaxed in his portrayal, he adds, and he immediately connected to Hal: "Everything fell into place so easily, and the writing was so sort of fluid and natural."
Plummer's interpretation is realistic, not over-the-top or flamboyant, emotional but not melodramatic. Much of his performance is unspoken, which he believes makes for a strong film. "Movies are great when the writer knows how not to write and lets silence take over," he explains. "Movies really should have as little dialogue as possible."
Radio and Beyond
Plummer began his professional acting career in his late teens and "never looked back," he says. Early on, he worked in radio in Montreal and New York. At that time, the 1940s, radio was the medium of the moment, and there was a plethora of radio programs produced in Montreal. He continues to use the skills he developed there, he says, for his work in narration and animated films, including the recent Pixar film "Up." He says he loves doing voice work: "It brings me back to the old days of radio."
Plummer got his training in theater, then in movies. "I was playing all the classical parts. I still do. And so you need a versatile instrument to do that," he says, noting that he values formal vocal training. Throughout his career, he has continued to work in theater and film, "which I think is a terrific way of going about things, because you never get bored," he says. "And you also keep your technique and your knowledge of your craft flowing by going back to the theater." Although he doesn't prefer one medium to the other, "I don't think anything can replace a live audience's reaction. That's why I go back to it. Just to replenish the joy of hearing laughter and reactions from real live people in the audience."
In a career that spans decades, Plummer has had the opportunity to play hundreds of roles, but he says most of the great ones have been in the theater. "That's where the great writing is," he reasons. "The theater is the place where an actor has the chance to do all the great roles that have been written for centuries. And that is not only challenging, but it's fascinating and daunting and ambitious."
Plummer says, "I try to be as different as possible in every role I play." This can be seen in the differences between two of his most recent characters: Hal, who learns he is dying soon after beginning his life as a gay man, and the Swedish tycoon who is the only "nice guy" in David Fincher's upcoming film "The Girl With the Dragon Tattoo."
The Sound of Auditioning
Although Plummer has rarely auditioned in his career, he recalls one audition, for the original Broadway production of "Camelot," starring Richard Burton and Julie Andrews. Frederick "Fritz" Loewe and Alan Jay Lerner, the show's composers, asked Plummer to audition for the role of Lancelot. The actor thought it would be fabulous to work on the musical because Moss Hart was directing, but he was concerned that the vocal demands required a trained singer. But Lerner and Loewe convinced him to come and sing for them. So he worked hard on his voice and prepared "Till There Was You" from "The Music Man," then sang it while Loewe played the piano. After finishing the song, Plummer says, "I knew I wasn't going to make it, because the role, Lancelot, was almost operatic. So I turned to Fritz privately and I said, 'Fritz, where would you actually place my voice?' And he said, 'No highs, no lows, somewhere in the middle.' And that was it."
That audition is just one example of Plummer's willingness to accept challenges. He thinks all of acting is a challenge—but one that can be conquered. "That's what is exciting and that's the mystery of acting," he says. "You welcome these new challenges every day." And with experience, "it's a little easier to meet those challenges because you've built up a confidence and a technique, so that's just part of the game, and a very valuable and exciting part."
Outtakes
His advice to actors: "Try and stay sober. Until the curtain call. And for God's sake, have fun. Don't suffer for your art. Just have fun."
Despite the numerous credits to his name, there are roles he would still love to play, including Shakespeare's Falstaff or one of Chekhov's characters.
Is the great-grandson of Sir John Abbott, the third prime minister of Canada
For his role in "Beginners," Plummer was named best supporting actor by the National Board of Review and earned a Spirit Award nomination for best supporting actor. The film also won best ensemble at the Gotham Independent Film Awards.