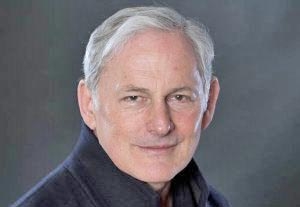 Victor Garber says the biggest challenge he's facing at the moment is not quite feeling up to snuff. "I have a touch of bronchitis to remind me of my mortality," he quips, noting it doesn't help a performance either. That aside, the most daunting task in doing a Noël Coward play is "just getting the words out and making them sound like you're actually saying them," asserts Garber, who is stretched out in his dressing-room chaise longue before a performance of the playwright's "Present Laughter." "Doing Coward is in many ways akin to doing Shakespeare," says the actor. "I'm not that smart. Few are. But you have to make it sound like you are that smart." It has also been more than a decade since Garber last appeared on Broadway, when he starred with Alan Alda and Alfred Molina in Yasmina Reza's "Art."
But have no doubt: The Tony- and Emmy-nominated Garber is thrilled to be back on a Broadway stage and adores inhabiting Garry Essendine, the self-indulgent, self-absorbed, womanizing matinee idol in the Roundabout Theatre Company's Broadway revival at American Airlines Theatre. The wit, the pacing, the farcical elements, and the crisp language—all of it speaks to Garber. But then, he has a long history with Coward, as it were. When he appeared in "Blithe Spirit" more than 20 years ago, he fell in love with the Coward aesthetic, he says. Enjoying various Coward productions over the years as a theatergoer fueled his admiration. But Garber became a true convert this time around while reading "Present Laughter" and finding himself "melting into this world," he recalls. Still, for the star it's a labor-intensive production. "People always say to me, 'You must be exhausted doing this play.' I am, but I don't feel it. By the third act when Garry's really being tested and proving his mettle, I find that stimulating. The whole play stimulates me."
Perhaps most widely known for his TV roles as the complicated double agent Jack Bristow on "Alias" and the moral but skeptical attorney Jordan Wethersby on "Eli Stone," the Canadian actor boasts a host of Broadway and film credits. Among the former: "Damn Yankees," "Lend Me a Tenor," and "Little Me." Among the latter: "The First Wives Club," "Sleepless in Seattle," and "Legally Blonde." He insists each role comes with its own particular demands and preparations. "Perhaps it's sad to say, but I don't have any one method," he says. Playing Garry, Garber doesn't do much, short of "staying healthy and having a cup of coffee," he says. "I go over certain speeches, especially following a day off. Each time I wonder, 'Will I be able to do it?' This role requires concentration, focus, and relaxation."
Learned on the Job
Garber is a natural. He never studied formally and has worked steadily as an actor almost from the outset. He believes his career is devoid of major breakthroughs or turning points. Instead, he views his trajectory as a series of slow, incremental steps. "Even when I was in 'Titanic,' I was on a different list, a shorter list, but I had to audition," he reports.
Still, some of his best roles have come to him because someone thought he might be right for a part and pitched the idea to him. He cites director Nicholas Martin offering him "Present Laughter" as an example. Asked what Garber brings to a role in general and to Garry in particular, Martin says, "Victor has all the skill and charisma that any leading man from Shakespeare's to David Mamet's heroes require. And, in addition, he brings to Garry Essendine the stamina, originality, humor, intelligence, glamour, sexiness, and a sense of the ridiculous in ourselves and others."
Garber's co-star Lisa Banes is also an admirer. "Victor brings himself to the table, and it's delicious," she says. "He was born to play Garry Essendine. How else can you explain how well he looks in a dressing gown?"
Garber recalls always wanting to act, though he launched his career as a singer in a band he formed with friends shortly after he dropped out of high school, "and that occupied my life for a few years," he says. "The name of the group was the Sugar Shoppe. S-H-O-P-P-E," he spells, adding, "too cute." Still, the band recorded an album for Capitol Records and appeared on "The Ed Sullivan Show." At the same time, Garber was honing his acting skills in various TV shows and theater companies in the Toronto area—always a singer who acted.
His first major step into musical theater was appearing in the Toronto production of "Godspell," co-starring Martin Short, Andrea Martin, Eugene Levy, and music director Paul Shaffer, well before any of them were stars. "That turned my life around," Garber says. "From that I got the movie 'Godspell,' and then I came to New York. And once I hit New York, I knew this is where I wanted to be."
Despite his successful career, Garber recalls feeling jealous of the kids who trained at places like Yale or Juilliard and "got to study the classics and work on plays that I never even read." Garber says frankly that if he could redo his life, he might try to enroll at one of the major conservatories. "For talented people, it offered them an entrée into the world of theater and film that I didn't have. When you graduate Yale, you have a cachet, and many graduate from the school with agents. I got in through the back door. It was a different path. I learned on the job."
He also learned by studying the work of colleagues he admired—including Brian Bedford, Liev Schreiber, Nathan Lane, and especially Alda and Molina in "Art." "That was an acting lesson," Garber recalls.
A major acting epiphany occurred for him many years ago when he appeared in an Off-Broadway Roundabout production of Ibsen's "Ghosts," he says. For the first time, he grasped the demands of acting in a dark and dramatic piece. "I saw the necessity to reveal myself in a way that I had not experienced before onstage," he says. "I realized I had to be in touch with a new part of myself. Before that, I had done light comedies and 'Godspell.' I did not really understand what acting required."
Going Coastal
Garber supplemented his theater career with various guest-starring TV gigs and spent a lot of time commuting between New York and Los Angeles. He did not relocate to the West Coast until he got "Alias," and he remained there for nine years. He says it makes sense for an actor to have a job before setting up shop in Hollywood; but, he says, for those actors who have marketable looks and their sights set exclusively on TV and film careers, making L.A. their center of operations makes sense too. "If you're an 18-year-old actress and beautiful and talented and not dying to do Irina in 'Three Sisters,' then I would suggest trying to get into a TV series. It all depends on what you want. My goal was to be on Broadway. When I got to be in 'Sweeney Todd' with Angela Lansbury, that was a dream come true. My dream was never TV or movies."
He says he was not fully comfortable in Hollywood his first few years and, though he has acclimated to the sensibility, to this day prefers acting on stage rather than on screen. "I've never experienced working in a film where I felt like this at the end of the day," he says. "You don't have the feedback from the audience, and it's the parts, too. I never had a film part like this. I'd like to do more film work on par with what I do on stage. But that hasn't happened."
Stage or screen, for Garber the script takes precedence over all other considerations, including the quality and size of his role. He points to his small part in the film "Milk" as a case in point. "There was just no question that I would do it," he says. He also makes an effort not to play a role that is reminiscent of anything else he has done and to work with directors who "have a sense of humor, a sense of authenticity, and know what they're talking about. Most of the directors I've worked with do. I've been lucky."
Garber no longer auditions for his stage roles, though he continues to do so for film and television. "People know who I am when I walk into the room, and they're nice," he says. "I do pretty well at auditions, and I'm less fearful than I once was. Fear is your enemy at an audition. I recommend breathing and any of the relaxation techniques that actors use to assuage panic. But most of all I recommend being prepared. I rarely walk into an audition unprepared."
Looking back, he says the role he is perhaps most proud of is Macbeth, which he tackled at the Old Globe Theatre in San Diego when Martin, the production's director, suggested he might be right for it. It was never a part the actor had any pressing desire to play, and he is still not sure he was any good at it. "But I felt proud I did it, accomplished it, and got through it," he recalls. "It wasn't terrible, though I'd probably be better now. I did it over 10 years ago."
Like many veteran actors, Garber feels the industry is more difficult to break into today than when he was starting out—and it was difficult then, he emphasizes. Still, theater had a status it doesn't have today, and actors could be stage stars without first being household names. That said, he acknowledges, "I lost a role to a TV star way back, but it's even more star-driven today. Also, audiences have changed. TV has nullified the brain. Between diminished attention spans and cell phones. I'm not complaining. It's just the way it is. The other night onstage, I was aware of a cell phone going off. I just stopped and waited until it stopped, and then I continued. And then everyone in the audience got very quiet."
Asked if he would ever consider appearing on the Web, he says he has, but generally it's not the first place he'd go to for either entertainment or employment. He says he has no special interest in performing online—though the acting styles and demands are no different from any other medium. You're still inhabiting a character and telling a story, he says: "It's all make-believe."
What's not make-believe is that it's 7 o'clock and time for Garber to start getting into costume and makeup, not to mention having that very necessary, awakening cup of coffee.
Outtakes

- Was nominated for four Tony and six Emmys
- Was featured in such Broadway shows as "Arcadia," "Two Shakespearean Actors," "The Devil's Disciple," "You Never Can Tell," "Noises Off," "Deathtrap," and "Tartuffe"
- Will be seen in the upcoming Disney feature "You Again"
"Present Laughter" runs through March 21 at the American Airlines Theatre, 227 W. 42nd St., NYC. Tickets: (212) 719-1300 or www.roundabouttheatre.org.