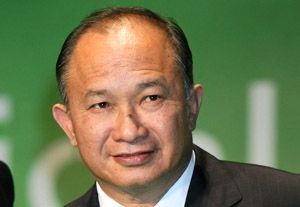 Action filmmaker John Woo has made a career out of macho fare like "Hard Boiled," "The Killer," "Face/Off," and "Mission: Impossible II," riddled with bullets and charred with gunpowder. So it might surprise people to learn the director has never fired a gun in his life.
"Just a prop gun," admits Woo, "and only once!" Despite the Mexican standoffs, ballet-style stunt work dubbed "gun-fu," and heroic bloodshed typical in his gangster films, Woo grew up yearning to be a Christian minister. A self-proclaimed pacifist, he has a subtle way of interjecting a message of peace through the rage and retribution with, say, a final shootout in a church or a flock of doves (a Woo signature) released just as a character dies in slow motion.
Woo has the distinction of being one of the very few directors—Ang Lee being another—who has experienced substantial commercial success in Asia and America. Woo has made 26 features in Hong Kong and seven features in the U.S. But after "Paycheck," starring Ben Affleck, Woo was not satisfied with the level of scripts he was receiving. So he took the opportunity to return to China and make his 10-years-in-the-dreaming project a reality.
The result is "Red Cliff," a Chinese historical war epic set in A.D. 208 and loosely based on the classic novel "Romance of the Three Kingdoms." It is the most expensive Chinese film ever made, and it includes 18 full-scale ships; 2,000 computer-generated ships; and 10,000 Chinese army soldiers as extras. The movie was released as two films in China and has already broken all box-office records there. Western audiences will see a condensed version cut into one film when it is released in theaters Nov. 20.

Back Stage:
Chow Yun-Fat, whom you've worked with six other times, was originally supposed to star in "Red Cliff," but he dropped out the day principal photography began. What happened?
John Woo:
Chow Yun-Fat left because his contract did not work out. His manager and the producer could not agree on the terms. But as far as creative vision was concerned, we were both on the same page. Chow Yun-Fat is one of the best actors in the world, and I still consider him a good friend. I definitely look forward to working with him again.
Back Stage:
When Yun-Fat left, Tony Leung (who won best actor at Cannes for "Lust, Caution") stepped into the role of war hero Zhou Yu. How do you think he's grown as an actor since your first collaboration, "Bullet in the Head"?
Woo:
Tony is a good friend. His role in "Bullet in the Head," his melancholy, was the alter ego of my youth. Back then when I watched him act, I found a shadow of myself within him. His internal world was similar to mine. Today, even though we are both much more mature, we still share the same values: family, friendship, country, art, and so on. I consider him a role model not just because he is a good actor and extremely charismatic but also because of his kindness. I am grateful for his willingness to help me with "Red Cliff."

Back Stage:
How has the film industry in China changed since you shot "Hard Boiled" there in 1992?
Woo:
The whole business is getting much stronger and better now. The government is getting more open. They're not only encouraging the people making good movies; they also welcome foreign films and foreign production in China. They have built a large studio the size of Universal Studio with 16 soundstages and new equipment. All of a sudden the whole business is getting much bigger in just these past two years.

Back Stage:
What did you learn from American studio films that you implemented in "Red Cliff"?
Woo:
Making a big, complicated movie like "Red Cliff" is a lot easier in Hollywood, because the people here are so professional. Everybody has trained for making this kind of movie, but not in China. Fortunately, the young people in China all strive for the same professional style as the Hollywood people. So we started from the beginning. We spent three months training the stunt men to play soldiers. We even trained the actors. Also, we spent another three months training the horses to teach them how to do the horse falls and other stunts. I spent a year planning shooting all the big scenes like the tortoise formation and the burning ships in the final battle scene.
I'm so amazed that the people in China have great energy and passion about movies. They are all eager to learn, so they really loved the people we brought in from the United States and Korea, like the visual effects team from the States. They learn so much from them. [But making] a movie in China feels a lot easier and simple, because I just walk into the studio and let them know I wanted to make a movie called "Red Cliff" and they said, "Okay, let's do it." It's very simple. I don't need to take any notes from anyone. I don't need to take any meetings with the officials. We work in our own way. Of course in Hollywood, it usually takes a much longer time to set up a project, and you have to take a lot of meetings. But that's the only different thing.

Back Stage:
What qualities do you look for in actors?
Woo:
You have to find the one who can fit into the character in the script, but the other important thing is I've got to make friends with them first. Like, I like to have dinner with my actors and talk with them. I need to see how they feel about life, and within the conversation I like to notice what is it that is special about them, like beautiful eyes and also flattering camera angles, some kind of beauty. I like to find out what is it that's their specialty thing for my actors, and then I try to show it onscreen. Then I go home and go over the script, and sometimes I'll revise the dialogue because of [my observations], trying to design some action to show the real beauty of my actors. I think a director has a duty to make [his actors] look great and show their very special quality on the screen. If I couldn't do it, I would be very sad and regretful. So that's how I work with my actors. I respect them. I love them. I see them as one of my family. I work with Chinese actors and American actors and the Japanese, and they're all the same.
Back Stage:
Is it true that you almost became an actor yourself?

Woo:
When I was a child, I was so shy and I had difficulty speaking, but I liked performance and to amuse the audience, so I started as a stage player when I was in high school. I tried to train myself how to speak properly and how to face the people, so that's why I wanted to be an actor. It was good training. It gave me so much joy and confidence. And while I was learning film, I also have a dream where I wanted to be a character actor. Then I have a chance to work with Chang Cheh [the "Godfather of Hong Kong Cinema" at Shaw Studios] as an assistant director. There was a movie Chang Cheh needed another actor, so I wanted to do the part.
Some friends of mine tried to make me do a screen test, but Chang Cheh stopped it. He said, "John Woo is not a good actor. He will be a good director. He should concentrate on the directing work." Wow, you know? I didn't even know my future. I had never dreamed to be a film director, because it seems like an impossible dream in that day. I didn't see this myself, but he saw it. He felt that I would be a better director than an actor.

Back Stage:
Although you did make around 20 cameos along the way.
Woo:
Yeah, just for fun. Starting as an actor was really good training for me as a director. So when I'm directing a film, I could so strongly relate to them, because I understand how they feel. I know what they want and what they fear and what they love. [When] I see them it's just like seeing me, seeing myself. I only enjoy watching actors' performances. It's the happiest part of the process. It's much more joyful than the cutting room or meetings.

Back Stage:
What's next for you? Any chance you'll shoot in America again?

Woo:
I have had this action musical script for 12 years; it's about a legendary American figure in the 1920s. I still want to make it, but it is tough given the current film market, as most studios would find making a musical too risky. Next up are a movie about the Flying Tigers in World War II and a martial arts movie. The martial arts movie will be a tribute to Akira Kurosawa, King Hu, and Chang Cheh. I also have a fantasy movie in the works. In the U.S., I am working on a love story set in the 14th century and a remake of "Le Samourai." I am also producing a remake of "The Killer" by a Korean director and a sequel to "Hard Boiled."