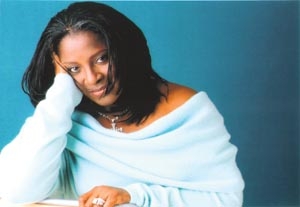 "Acting is in your soul," asserts LaTanya Richardson Jackson, who is returning to the New York stage after a 20-year absence to make her Broadway debut in Lincoln Center Theater's revival of August Wilson's
Joe Turner's Come and Gone
. "It defies anything rational that I would leave my home in California and come here and learn all these lines and do eight shows a week."
Though she's thrilled to be in the Tony-nominated production, she does not view it as a turning point in her career. She describes herself as a "maverick," emphasizing her roots in Off- and Off-Off-Broadway, where she worked with colleagues who did not think about fame, fortune, or prizes. "We weren't about awards or the idea that we had to work in a certain place. Our joy was to do theater. And in some theaters the only pay we got was tokens for carfare," she says, laughing. She acknowledges that it would be virtually impossible now to live the way she did in the mid-1970s; nonetheless, she cannot imagine choosing another career even if she were starting out today.
Married to actor Samuel L. Jackson for 29 years—they've been together for 39 years altogether—she frankly admits she has chosen to play a more traditional role of wife and mother. After many years in New York, the couple moved to Los Angeles when Jackson's movie career took off. In 1982 they had a child, Zoe, and Richardson Jackson spent most of her time during her daughter's early years at home. "I didn't want my daughter brought up by nannies, and I didn't want her to feel I wasn't around," says Richardson Jackson. A Vassar graduate, Zoe is now an associate producer at ESPN.
It's not that Richard Jackson gave up acting; caring for her daughter prevented her from traveling much. Though her heart remained with New York theater, she continued to guest-star in various TV programs, most of them based in Los Angeles. These include
Judging Amy, Ally McBeal, Homicide
:
Life on the Street, NYPD Blue
, and
One Life to Live
. She also had featured roles in such films as
Freedomland, Sleepless in Seattle, Lorenzo's Oil
, and
Fried Green Tomatoes
.
Richardson Jackson says her method varies with each role, though she tends to approach a stage part with more emphasis on the physicality of the character. "In the theater, it's a visceral and physical response because you move around so much," she observes. "You have to do something physical to pull you in. On TV or in movies, everything is so small. You can just lock into a character and ease yourself into that way. I don't think you can ease yourself into theater. I just thrust myself into it."
Joe Turner
is especially daunting because of its physical demands, says the actor, who plays Bertha, the pragmatic wife of a boardinghouse owner. She is busy on stage for much of the action: preparing meals, setting the table, straightening up, and participating in an intense and fairly long dance sequence. But beyond the physicality, "I'm still challenged by Bertha," she says. "There is a lot of subtext that is not written. Also, it is hard not to make Bertha overpowering. There is the danger of making her shrewish, and I was fighting that because my own personality is so strong. She is a matriarch in subtext. [On the surface] she is subdued. I have to figure out why Bertha is so subdued. She doesn't have children, but she's nurturing. I tried to find instances where she is a nurturer without being put upon. The challenge is not to make her frantic and put upon."
Initially this revival of
Joe Turner
was a source of controversy, when white director Bartlett Sher was tapped to helm the play by an African-American playwright and featuring a nearly all-black cast. Richardson Jackson acknowledges she had reservations in the beginning, wondering, "How much does he know about the culture and about these people?" She adds, "It's as much about the nature and nuance of the culture as it is the dynamic of a great play. But after a couple of days, I realized, 'Oh, Bart gets this.' " Then she had a revelation. Sher's vision was not only respectful but brand-new, adding yet another fascinating layer to the work.
"It was like being at the forefront or beginning of something," Richardson Jackson says. "Bart was mining new territory. He took it out of the normal linear kitchen-sink drama and opened it up, setting it in a world through a larger lens. It's a rounder vision."
A Tad Jealous
Richardson Jackson launched her career while still a senior at Spellman College in Atlanta, performing in theaters around town. She earned her Equity card in a production of
The Best Man
, starring E.G. Marshall, at the Alliance Theater, a gig that led her to the next step: moving to New York. Joseph Papp, who was in the audience to see his friend Marshall, was so impressed with Richardson Jackson's performance he suggested she come to New York and see him. She did, and he cast her in a number of productions, which paved the way for her starring role as the Lady in Red in the national tour of Ntozake Shange's
For Colored Girls Who Have Considered Suicide/When the Rainbow Is Enuf
.
Playing that part was a life-changing experience as an actor and an African-American woman who was "hearing her voice" on stage—literally and metaphorically—for the first time, says Richardson Jackson. "To stand there and say these are things that affect us and that affect me and having that platform and forum was a defining moment," she recalls.
For Colored Girls
… was one of the few dramatic pieces before Wilson's 10-play cycle that reflected the black experience and gave actors of color work in plays, she says. Opportunities for African-American actors were limited on Broadway if they didn't sing and tap-dance, Richardson Jackson notes, quipping she does neither.
Still, she has been able to circumvent most racial and gender typecasting. "I've had the luxury of not having to work, because of my husband," she says. As such, she could take roles that interested her and not bother with the rest. Interestingly, she has never had to deal with the "maturity" issue either, in part because she was always cast in older roles. "I never played an ingénue," she says.
Looking back, Richardson Jackson wishes she had performed in more East Coast theater, speculating she could have done so without psychologically injuring her daughter. Asked if jealousy over her husband's professional success was an issue, she comments, "I'd be lying if I didn't say there were moments when I'd say, 'Me, me, me.' " One such episode occurred recently, the night
Joe Turner
opened. She and Jackson were coming out the stage door. "It was late, and most of the crowds had left, but there were still a few people there," she says. "I thought that when they saw me they'd say, 'Bertha, Bertha!' Instead, they said, 'Mr. Jackson, Mr. Jackson, can we have your autograph?' And then they extended playbills of the play that
I'm
in for
his
autograph. And do you know what was even more painful? He took out a pen and signed them."
That quibble aside, Richardson Jackson is thoroughly enjoying herself and looking forward to her future, hopeful she'll be able to tackle Rose in
Fences
and Lady Macbeth. As for where she'd like to be in five years, Richardson-Jackson asserts, "Healthy and in good shape. I know it's a stock answer, but besides acting, I'd love to produce and direct."
"Joe Turner's Come and Gone"
runs through June 14 at the Belasco Theatre, 111 W. 44th St
.,
NYC. Tickets
(
212
)
239-6200. www.lct.org
.