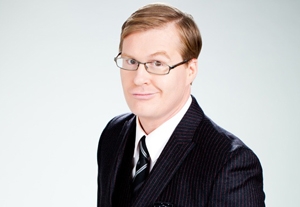 On IFC's new comedy game show "Bunk," premiering June 8, host Kurt Braunohler will welcome a rotating lineup of comics to join him for 10 half-hour episodes of a surreal combination of "Double Dare" and "Family Feud" style games with "Whose Line Is It Anyway?" gags. But he won't wear shoes.

The traditional television host is always perfectly coiffed and expertly appointed, Braunohler says, so he opted to go barefoot as a constant joke. "To have just one thing like that be so horribly off really makes me laugh," he says. "I like that a lot."

Of course, a lot of things are a little "off" about "Bunk," the idea for which began when Braunohler was writing with Ethan T. Berlin for an MTV game show. They had grown frustrated because they felt their funniest ideas never had a chance to make it to air, so Berlin and "Bunk" co-creator Eric Bryant invested their own money to develop a new format and shoot a pilot independently.

The results are games with names like "Shame That Puppy" or "Break the News to a Child," during which a panel of comics including Eugene Mirman, Kumail Nanjiani, Tom Lennon, and others "compete" for "prizes" as varied as a free sandwich, Bigfoot's pelt, or getting their divorced parents back together.

"It's almost like four comedians got together in a room, just having some beers and messing around," Braunohler says of the show. "You should feel like all of these comics are your friends. I've always liked things that are inclusive, as opposed to exclusive. And of course, you have all these games that we're playing, but none of them can be won in any way. It's really just a jumping off point for creativity."

Braunohler's own creativity has been a driving force in the New York comedy scene for nearly 15 years. He started by taking classes at the Upright Citizens Brigade Theatre, then moved on to teach at the Peoples Improv Theater. At the PIT, Braunohler met Kristen Schaal ("30 Rock"), who has remained his comedy partner ever since. Their weekly sketch comedy and variety show, "Hot Tub," began in 2005 and continues every Monday night in Brooklyn.

"I know people who stayed [at UCB] who definitely got breaks way before me," he says. "But if I hadn't gone to the PIT, I wouldn't have met Kristen. Being able to work with her was one of the biggest things to happen to me for how I developed myself as a comedian. We kind of created our voices together around each other."

In addition to the duo's appearances at festivals in Montreal, Melbourne, Edinburgh, and across the U.S., Braunohler has also been developing his solo act for the past few years, in one-man shows and standup sets. He found that his clean-cut appearance – perfect for hosting a game show, but which as a young man he had tried to subvert by dying his hair purple or using gel to sculpt it into two horns in the front of his head – could actually be an artistic advantage.

"I tried to make myself look like a complete idiot because I just didn't like the fact that I looked so Aryan," Braunohler admits with a laugh. "I look like a TV news reporter, you know?" Yet his curse has been a blessing in the comedy world. "People think I'm a certain way because of the way I look," he says, "and I think I like it. I never realized I could play with that until I really started doing standup."

After about two years of development, multiple pilot tapings, and a series of live shows to work out material, "Bunk" (formerly called "Pointless") became the first pilot submission ever picked up to series from the New York Television Festival, where in 2010 the Independent Film Channel took notice and Braunohler was also named "Best Unscripted Host." He says that the network, which is steadily adding more original comedy to its programming, has been supportive of the show from the beginning.

Paired with "Bunk" on IFC this summer is "Comedy Bang! Bang!," loosely defined as a "talk show" and spun off from host Scott Aukerman's popular comedy podcast of the same name. One-man-bandleader and sidekick Reggie Watts helps him welcome guests like Amy Poehler, Jon Hamm, Seth Rogen, and many more famous faces for unpredictable and unscripted mayhem. (The channel is also home to Fred Armisen and Carrie Brownstein's "Portlandia" and David Cross' "The Increasingly Poor Decisions of Todd Margaret.")

But Braunohler says that among all the other comics he's worked with, it was a particular thrill to invite veteran comic Andy Daly to the New York tapings of "Bunk." After seeing Daly in a memorable improv performance in 1998, Braunohler was inspired to take his first lessons.

"It was a specific kind of humor that I'd never seen anywhere else," Braunohler recalls, "and I was like, 'I want to learn what that man did'… But the first time we really had a conversation was when he came in to do 'Bunk.' Before we started taping, I told him, 'You know, I don't want to fan-boy out on you or anything, but you might be the reason I'm here right now.' He didn't know what to say to that."



"Bunk" premieres Friday, June 8 on IFC.

Daniel Lehman is a staff writer at Back Stage. Follow him on Twitter: @byDanLehman