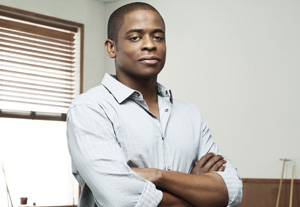 A life in entertainment wasn't a given for Dulé Hill, even though he grew up performing—dancing from age 3 and understudying Savion Glover on Broadway at 9. "My mother was a chemist, and I wanted to be a scientist," says Hill. "Then I wanted to be a corporate lawyer."
But once the decision was made, it was all or nothing. "I'm not a believer in having a fallback plan," says the New Jersey native. "When I have no other choice but to keep doing what I set out to do, all my energy is going to be put into accomplishing the task in front of me."
He's currently pouring that energy into Season 5 of USA Network's "Psych." The running joke is that James Roday's psychic detective, Shawn, is always stealing the limelight from his best friend, Gus, but with Hill at the wheel, Gus can more than hold his own. Having honed his dramatic chops on "The West Wing," Hill grounds his "Psych" performance amid off-the-wall situations that also reveal him as a gifted physical comedian.
Back Stage:
What made you decide to pursue acting?
Dulé Hill:
Actually, a teacher made me decide, because he wouldn't budge on rescheduling a midterm [during "Bring in 'Da Noise, Bring in 'Da Funk" at New York's Public Theater]. We didn't have any understudies. I took the incomplete and, knowing I was going to Broadway, didn't enroll in the spring. The next year I tried to re-enroll, and I got a Showtime film called "Color of Justice." I had to go to Toronto for about five weeks. At that point I said, "Dulé, you can't keep enrolling and unenrolling. Are you going to put everything on pause and get your degree, or are you going to pursue acting?"
Back Stage:
What was your training like?
Hill:
When I dropped out of Seton Hall, I did the two-year program with William Esper in New York. Before, I was acting completely by instinct. If William Esper was high school, "The West Wing" was college. Even though that was a job, I spent most of that time studying: studying Martin [Sheen], John Spencer, Allison Janney, all the great guest stars, observing how they maneuver themselves through their material.
Back Stage:
How did you get "West Wing"?
Hill:
I came to L.A. for two months [in 1998], to test it out. I tested for a Warner Bros. pilot called "Bloomington, Indiana." I didn't get it. A year later, my agent had dropped me, I had moved over to a new agency, but the casting director from that pilot remembered me. His name was Kevin Scott, and he said, "There's a guy who read for me over a year ago. This would be the perfect role for him." He searched me out. I read for Aaron Sorkin and Tommy Schlamme, I got a callback, and that was it. I was guaranteed four episodes, so I was a guest star, really. I had a series-regular deal set up, but they had the option on it. Before we got to air, they had picked up my option.
Back Stage:
How did you deal with being dropped by your agent?
Hill:
My agency, not my agent. I loved my agent; I guess the agency didn't love me. That was a challenging time; I'm not going to lie. I left "Bring in 'Da Noise," which was a solid gig, to pursue this vision that I had, and I got "She's All That" right before I got to L.A. Everything's going great, and then you go into this dry spell. When it's not falling into place but you know people still have your back, it gives you some confidence. But when the foundation started to shake with my agency, I had to start asking myself, "What's the deal? Is it me?" At the time, I felt like it was a lot of bad material.
I guess if I'm telling the story right, I wasn't technically dropped; I was advised to seek new representation. But I'm sitting in my apartment once I got that word—on the floor 'cause I didn't have any furniture; I had a TV, but that was it—just taking it all in. At that moment I made the commitment to myself: "I'm going to be a successful actor [or] I'm going to spend the rest of my life trying. There is no 'I'm giving myself six months.' This is what I'm doing. It is what it is. They drop me; at some point I'm going to find somebody else, or somebody else is going to find me. We're going to make this happen." That helped me get through. I still had my manager [Katherine Atkinson], who I've been with since I was about 13, so thank God for her support.
Back Stage:
Do you consider "West Wing" your big break?
Hill:
"West Wing" was definitely the thing that changed the career. Before that, people knew me as a tap dancer. It wasn't till "West Wing" that people started to take me seriously as an actor.
Back Stage:
What is your approach to roles?
Hill:
I'm not too cerebral. It could be, What does the dude wear? How does the dude walk? Other times it could be what is driving me from the inside. For Gus, I related to a dynamic of one of [my brother's] best friends growing up. Once I understood the relationship between Shawn and Gus, I thought, "Yeah, that is exactly who Gus is." There's a certain characteristic of how he gets agitated so easily. From there it was more walking around with it. I didn't really make any conscious choice. It's hard for me to talk about a process.
Back Stage:
How do you keep it fresh?
Hill:
You can do the same play a thousand times, and each time it'll be different as long as you're really doing it. As long as we're playing the moment, being connected, new life is going to come up. I challenge myself not to get into "I know exactly what to do." I don't like to get into that pattern; I don't think anybody on the show does.
Back Stage
: Do you prefer stage or screen?
Hill:
They're all fun. But stage is still where I get the most kick. Because the crowd is right there. They're part of the program. They let you know when they're feeling you and when they're not. You feed off of their energy and they feed off of yours, right there in the moment. You can't beat that.
Back Stage:
You're on the Screen Actors Guild national board. What problems do actors face nowadays?
Hill
: The major problem is lack of unity. We need to get unified so we can stand strong with one voice. I'm a big believer of getting the two unions to merge. After that it's opportunity. It's so hard right now for actors to get a leg up, to break through and start building a résumé.
Back Stage
: What advice do you give actors?
Hill:
I believe in the power of commitment. If you want to do it, do it. But only do it if you have an insatiable desire. Because the business is too hard, and you spend too much time getting rejected. There's power in commitment, whatever you do.
Outtakes
-Is repped by Dar Rollins at ICM 
-Enjoys tap dancing ("Got to get the kinks out"), spending time with family, and playing "Call of Duty" on his PlayStation
-Says his favorite "Psych" episode has been "American Duos": "Who else do you know in this world who got to dress up as Michael Jackson from 'Thriller,' do a moonwalk across the stage, have a crowd out there screaming, and have John Landis, who directed 'Thriller,' in the wings directing him? It was surreal. I'm a child of the '80s, so that has always stuck out in my mind as 'This is a great day to be an actor.' "