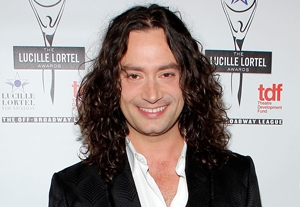 Constantine Maroulis may have started on "American Idol," but his most recognized project to date, "Rock of Ages," started Off-Broadway. The season four "Idol" finalist and Tony nominee discussed his love of downtown theater and working on the "Rock of Ages" movie.
What do you enjoy about Off-Broadway theater?Maroulis:
I got to do "Rock of Ages" first Off-Broadway then "Jacques Brel is Alive and Well and Living in Paris," and some other things that like to consider themselves Off-Broadway but they wasn't. These were like two official situations. I love that it's accessible and daring and not done with a lot of money.
What have you learned as an actor working Off-Broadway?Maroulis:
You've very exposed. You're very close. It's very intimate. You just grow every night. You're all sharing a dressing room and getting paid shit. You're just there because you love it. I've been lucky. I've made a lot of money so I can do projects like that, but it's not fun for those that are really depending on those paychecks. Hopefully they're there because they love it, too.
What was it like working on the "Rock of Ages" movie?Maroulis:
It's awesome. I think it's a great testament to the work we've done from a little Off-Broadway theater all the way to Broadway and the Tony Awards, and then a huge movie with Tom Cruise less than three years later. That's unreal. I think it's a testament to all the work in the room that we did with the writers and the director and everything like that. That's what I think about.
Do you feel like the movie is still true to what you created?Maroulis:
It's a big movie. Of course things are going to change. Things are going to be different. I'm looking forward to it. I think people will really like it, and Tom Cruise is amazing.
What was it like working on it?Maroulis:
It was sick. I've never been on a set that huge. It was a big production. It was unreal. It's so exciting. The production numbers look amazing. I've seen a lot of it. It's great for the brand. And every time they mention the movie, they mention me a lot, so I think the work was legit.
Suzy Evans is the Senior Web Editor at Back Stage. Follow her on Twitter: @suzyeevans.