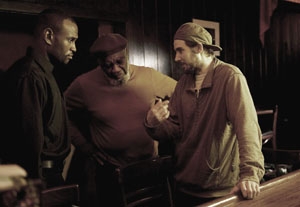 The
Big Break Movie Contest
, held by Relativity Media's Rogue and AMC Theatres, offered filmmakers with previously undistributed features the chance to have their film released across the country in 50 AMC theaters for at least a week as part of the AMC Independent program. The winner was Philadelphia native Sean Kirkpatrick's debut film, "
Cost of a Soul
," a gritty tale of two soldiers who return home from Iraq to the war zone of their slum neighborhood. For Kirkpatrick, who struggled for years trying to get anyone to even read his script before deciding to make the project on his own, this win is truly his big break.
Back Stage: When did you know you wanted to be a filmmaker?
Sean Kirkpatrick: I can give you the exact moment. It was after I saw the movie "Apocalypse Now" and learned about the trials and tribulations that Francis Ford Coppola underwent to get that movie made. The film that was so-called "impossible," the underdog, turned out to be this amazing masterpiece, and from that point on I knew I wanted to conquer the impossible. I was about 19. I remember coming home and saying to my family and my now-wife, who was my girlfriend at the time, "I'm going to be a writer-director." At that point I knew. So I went to film school [at Pennsylvania State University]. I tried to get some jobs in the industry in Philadelphia, but that didn't happen—
Back Stage: What's the industry like in Philadelphia?
Kirkpatrick: It's a smaller industry. Everybody knows each other. It's still tough to get into, because there are not a whole lot of big movies getting made in Philadelphia. Anyway, I needed to save up money so I could move to Los Angeles, so I ended up working a lot of jobs that gave me insight [that I would later use when making] "Cost of a Soul." I set up surveillance systems in the drug neighborhoods of north Philly. When I got the job, my prerequisite was I had to go out and get a license to carry a concealed weapon, and I actually had to carry a gun in some of the neighborhoods I was going into, because I was putting the cameras up in drug neighborhoods where the drug dealers make their living. There were some dangerous, scary situations. I drove a dump truck; I was a glorified garbage man. It was tough times.
Back Stage: But then you saved up enough and moved to Los Angeles, right? Was it everything you hoped it would be?
Kirkpatrick: I worked tirelessly. I was a production assistant for years, I worked in the art department, you name it—whatever I could do to get my foot in the door. I wrote "Cost of a Soul" in 2008 during the writers' strike when there was no work. I tried to get [the script] out there, but no one knew who I was, no one took me seriously, and it was just an uphill battle. I didn't have any family or close friends high in the industry. Finally I said, "I'm just going to do it. I'm going to make this movie." So I went back to Philadelphia and I cast the film, shot it, and here we are.
Back Stage: What was the casting process like for you?
Kirkpatrick: I cast the entire film myself. I did all the legwork. It's incredible the amount of untapped talent that is out there. All the actors in "Cost of a Soul" are essentially unknowns, and they are just phenomenal. They have been studying and honing their craft for the longest time. I always say the most cinematic thing you can put on a camera is the actor's eyes. The heart, the soul of the character coming through to you is the most cinematic thing you can shoot. My goal was to find the most talented actors I could, and I found incredibly gifted, hard-working, struggling, hungry actors.
Back Stage: During the process, what did you learn as a first-time director?
Kirkpatrick: The most important thing I learned was that, you know, it's possible. The second most important thing I discovered was my talent for working with actors. I love working with Method actors. About half the actors were hard-core Method actors. We didn't have a whole lot of money or time to get into a lot of glitz or glamour or special effects, so it was all focused on the acting. The film was really focused on the performances. That's all that really matters at the end of the day. People go to see the actors. That's who they go to see. If you can create amazing characters and amazing story you can make an amazing film.
Back Stage: What type of direction did you give the actors?
Kirkpatrick: Dive into your characters. Know who the character is better than yourself. Discover your character from the inside out. Be able to eat a bowl of cereal in your character. Wake up in the morning and try to feel like the character before you come to set. I'm a fan of actors who can really dive into the character, and I think it's important to research and study.
Back Stage: What advice would you give other first time writer-directors?
Kirkpatrick: Failure is not an option. You're going to get knocked down, you're going to get turned down, you're going to get kicked out, you're going to get pushed around, you're going to get discouraged. But if you believe you can't fail, you won't fail. It's like that quote: "What would you do if you knew you could not fail?" Once you believe you can do it, you can find a way. I've had years of hardship, struggle, debt, being turned down, and discouragement. You need to use that. If you can take the struggle and you can use that and learn from that. It's all practice. You can turn your struggle into education, into knowledge, and put it into your future. It's all worth it. No great artist has ever just been handed opportunity after opportunity. All great art comes from struggle.