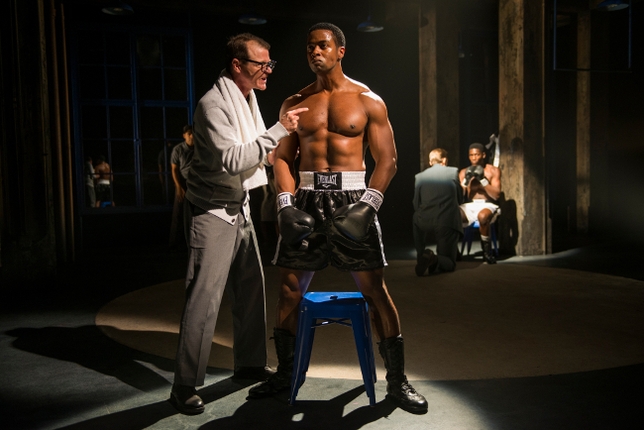 Chicago's Court Theatre is committed to the classics: It recently completed a cycle of Greek tragedies, and last season's lineup included "Long Day's Journey Into Night." Its current season, however, opened with a world premiere.
That last one might seem out of place, but for the LORT company, there's a distinction between "classic" and "classical."
"We have a very broad definition of what a classic is," artistic director Charles Newell tells Backstage. "Universal truths are timeless. Molière didn't sit down and think, OK, I'm going to write a classical play. Our work is to go back and ask, 'How can we tap into the initial genesis for an idea and bring it forward to a contemporary audience?' "
The aforementioned premiere, Michael Cristofer's "Man in the Ring," explores the life of boxer Emile Griffith, who, at the age of 24, fought Benny Paret in a televised match that resulted in Paret's death. During the weigh-in, Paret directed antigay slurs at Griffith, who identified as bisexual. The biographical play is framed not unlike a classic tragedy; it employs a commentating chorus and shows Griffith late in life as he suffers from dementia and is haunted by his past.
Even the titles that audiences and artists would be quick to label "classics" have an element of newness. Court's current season includes Sophocles' "Electra," capping off the company's three-year Greek cycle. All three of its productions used translations by the company's founding artistic director, Nicholas Rudall (the second, an adaptation of "Agamemnon," was commissioned by Court for this initiative).
Newell's commitment to Rudall's translations emphasizes the theater's mission to challenge the notion of the word "classic." "There are very few translations from the '50s or '60s that can work right now," he explains. "Language, culture, and syntax develop and change, so as we continue to explore the classics, we need to create new adaptations."
A major resource in Court Theatre's quest to reexamine the classics is its association with the University of Chicago, which allows artists to engage with an elevated dramaturgical perspective as they explore challenging texts.
As the professional theater of the university, Court has access to scholars in fields that extend far past the arts. While working on "Man in the Ring," the company recruited a dementia expert from the university's medical center—a former doctor for the Chicago Blackhawks—to serve as a consultant to the playwright, director, and cast. Peggy Mason, a professor in the university's neurobiology department, is working with the company to unpack the psychological complexities of Tom Stoppard's "The Hard Problem."
Apply now to Chicago theater gigs!
While the university provides a source of research and context to the theater, the company's size informs season planning and casting. At 250 seats, Court operates on a LORT D contract. Of the 40–50 actors it hires each season, nearly all are local and part of the competitive casting pool of 100 to 200 Chicago-based stage performers. This leads to the venue focusing on titles with small casts—and with roles appropriate for familiar local names (such as Allen Gilmore and Kamal Angelo Bolden of "Man in the Ring," or Kate Fry of "Electra").
Don't confuse this for a challenge or obstacle, though. For Newell, it's an opportunity to showcase what he considers "the strongest community of actors in any city in the country." What sets them apart? "The artists in Chicago are here primarily because of their passion for the work," he says. "There are other opportunities in film, television, and commercial theater where actors can make more money. The ones who are here are here for the right reason."
Want to work at a Tony-winning regional theater? Check out our theater audition listings!