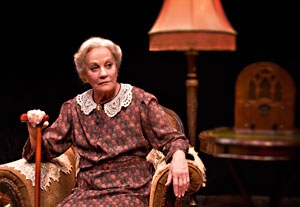 When
Cynthia Harris
was offered the role of Sylvia Buchman, the comic yenta mom on
"Mad About You,"
an executive apologized to her. After all, Harris was best known for her BAFTA (British Academy of Film and Television Arts) nominated performance as the alluring Wallis Simpson on the British mini-series "Edward and Mrs. Simpson." In his mind Sylvia was a comedown. But more important, he failed to understand that Harris liked playing diverse roles.
Though Harris doesn't foresee tackling a Sylvia type again, she found her five seasons on the popular sitcom delightful. But then most of her career has been fun thanks largely to the range of parts she's tackled, not least the 42 dissimilar characters she's taken on with
TACT/The Actors Company Theatre
, a New York-based operation she co-founded 20 years ago. To this day Harris continues to serve as its co-artistic director. The company's central mission is to give its core group of actors challenging and/or unexpected roles in neglected or rarely performed plays of literary merit.
In its current production, Neil Simon's Tony and Pulitzer Prize-winning "Lost in Yonkers," Harris plays the emotionally thwarted German-born Grandma Kurnitz who heads a profoundly disturbed family in 1942 Yonkers. Besides mastering the aging matriarch's accent and limp—"without pulling out my back," Harris says—she has to hook into the intense yet suppressed love Kurnitz feels for her troubled children.
"The pain is that these people are locked into dysfunctional love and are totally interdependent," says Harris. "Grandma Kurnitz is consumed by her children. She's an indomitable figure who has so much feeling inside and squelches it. The acting challenge is that she can't look for sympathy. It has to dawn on the audience that she deserves their sympathy."
Harris works from the inside out, though she's often clued into the character when she puts on her shoes, black oxfords for Grandma Kurnitz. The stern and pragmatic footwear informs Harris' walk, gait, posture, and psychic sensibility. Her Grandma undoubtedly evokes a frosty and iron-fisted figure belying the most paralyzing anguish
The Kim Stanley Influence
Born in New York City, Harris launched her career after graduating from Smith College with a degree in theater and literature. Harris was an enthusiastic beginner and displayed a real spark in her acting, but she soon realized a stellar performance had no value if it couldn't be repeated nightly. That required training. Harris studied with, among others, George Morrison and Lee Strasberg. "It was such a revelation, the idea that there was work involved beyond inspiration," she says.
An early artistic influence was Kim Stanley's performance in William Inge's 1963 Broadway drama, "Natural Affection." At the time Harris was working back stage as the third assistant stage manager. "I'm the one who said, 'Five minutes, please.'" Harris recalls being a Stanley acolyte, trailing around after her, and growing increasingly transfixed by Stanley's realism on stage, specifically the totally natural way she opened a button on her blouse at the same moment in every performance. Yet the gesture seemed wholly spontaneous. "I'd swear she had never done it before," Harris marvels even in retrospect. "It was in the moment."
Harris has worked steadily an actor, was never obsessed with making large sums of money or having high visibility. She also never anticipated becoming a co-artistic director of a theater company. It happened almost by default she says. A group of actor friends were talking about the need to stretch their acting muscles and toying with the idea of forming a company. It hit a chord with her. The good news is that her administrative role never got in the way of her acting outside or even within the company. "Yes, I play a role in the casting at TACT, but once the casting is completed, I'm an actor and I let the director of the play direct," she explains.
Harris looks back at her twenty-year tenure at the helm with pride: "We've moved from being the best-kept secret to becoming a recognized company that should be reckoned with. We're known for our good acting without using stars or name directors. We're also known for the interesting plays we do. We've produced unpopular choices, but if you love every play we do, we're doing something wrong."
Harris has few career regrets, short of wishing she had been able to appreciate herself more earlier on. "I would have been more confident and perhaps more successful."
"Lost in Yonkers" is now in previews, opens March 22, and runs through April 14 at the Beckett Theatre on Theatre Row, 410 W. 42nd St., N.Y. 212-239-6200, www.telecharge.com.
Outtakes
—Has appeared in such regional theaters as South Coast Rep, Williamstown Theatre Festival, Mark Taper Forum, and New York Stage and Film
—Featured in the films "I Do & I Don't," "Three Men and a Baby," "Up the Sandbox," and "Isadora"
—Television credits include "Rescue Me," "Law & Order," "Life of the Party: The Pamela Harrison Story"