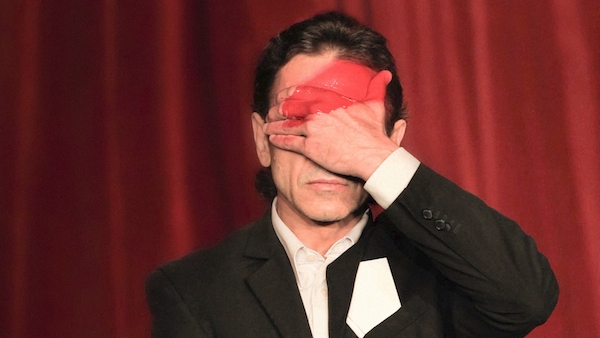 The night Alexander Lukashenko won his fourth consecutive term as president of the Republic of Belarus, a joke began circulating among the opposition.
The head of the election committee comes to Lukashenko with the results. "We have good news and bad news," he says.
"Give me the good news first," says Lukashenko.
"You're still president."
"That's great! What's the bad news?"
"Nobody voted for you."
The joke comes early in "Dangerous Acts," a darkly humorous, eye-opening, and ultimately affirming documentary on HBO that traces a year in the personal and professional lives of the Belarus Free Theatre, a provocative underground troupe dedicated to exposing the sins of their long-standing leader. Filmmaker Madeleine Sackler started the project in the summer of 2010, six months before the widely disputed election that ushered Lukashenko, commonly called "Europe's last dictator," into his 16th straight year of power. Despite facing nine opponents, one of whom had tremendous popular support, Lukashenko won the election with nearly 80 percent of the vote, leading to a massive protest that was predictably quashed by police with brutal impunity. Thousands of people took part in the protest and hundreds were arrested, including members of the Belarus Free Theatre.
In the tense days that followed, some of the theater members who had escaped arrest fled to London and New York. Others stayed in Minsk, staging pared-down plays in secret locations. As a filmmaker, Sackler faced a challenge: Only six months into the project, everything had changed. The movie Sackler had started—"a mood piece about dictatorship and how dictators hold on to power"—suddenly became "a story of exile and family and home," she says.
"Dangerous Acts" refers not only to the clandestine productions of its subjects, who've worked for nearly a decade with the threat of imprisonment—or worse—hanging over their heads; it refers to the film itself. Hard drives full of provocative footage were smuggled out of the country and, for both practical and security reasons, Sackler directed her cinematographer in Belarus, Larissa Kabernik, over Skype from New York. Sackler relays how Kabernik "could open her computer and walk me around the room. I could say, 'Make sure you get a cutaway of the books in the corner,' or 'The light will be better over there.' You could be very precise," says Sackler. "We didn't have a boom, we didn't want to attract attention. Just having one more body there would have been a disadvantage."
When Sackler first heard the story of the Belarus Free Theatre she couldn't quite believe that in 2010, in a European country, "people couldn't do the kind of theater they wanted to do," she says, wondering "what that would do to a person's psychology, and to a nation's psychology, over decades and centuries." But what made her want to undertake making a film about it was personal: If she'd been born in Belarus, she realized, she would be no different than the Free Theatre, unable to work without fear of censorship, intimidation, even imprisonment. "I thought it was just unbelievable, and to me those are the best stories."
Sackler's path to Belarus was as circuitous as her path to filmmaking itself. As a biopsychology major at Duke ("neuroscience," she says with nonchalance), she conducted fMRI research and assumed med school would follow. But she "loved reading and writing and taking pictures" as much as she loved science, so she minored in English, took a photography elective, and made a documentary short as an independent study. She learned Final Cut in order to edit the film, and discovered in that craft the intersection of her three loves, calling editing "writing stories with pictures." A few years of editing other people's projects gave her the confidence to make her own, a feature documentary called "The Lottery" that was shortlisted for an Academy Award in 2011. "I'd watched thousands of hours of people giving interviews; I knew what you couldn't account for after the fact," Sackler says. "I thought I knew just enough to not screw it up."
Inspired by this post? Check out our audition listings!