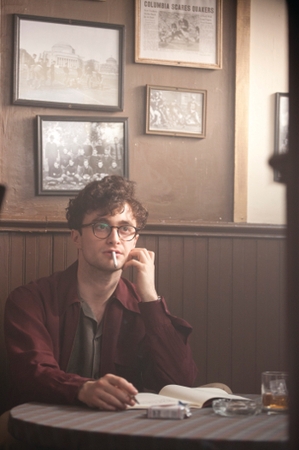 Every artsy young man, it seems, goes through his Beat period—the moment when he discovers the work of Allen Ginsberg, William S. Burroughs, Jack Kerouac, and their fellow travelers, then experiences epiphany. For some it's the beginning of a lifelong literary romance. For others it's just the start of a fling, a stop along the way toward true love found with dead Irish poets, absurdist playwrights, or humanist science fiction novelists. But Daniel Radcliffe might be the only young man whose Beat period was also research for a movie role.
"I knew who the Beats were," says Radcliffe when asked how much he knew about Ginsberg before he signed on to play the poet in "Kill Your Darlings." "I knew their place in American literature. I kind of knew what they represented in the sense that I knew that they were anti-establishment and that it wasn't poetry that you read with your mother. I didn't know anything about Ginsberg's personal life. I certainly didn't know anything about the story of 'Kill Your Darlings,' about David Kammerer and Lucien Carr."
"Darlings" tells the based-on-a-true-story tale of Ginsberg's artistic and sexual awakenings, both ignited by his fast friendship with Carr, a fellow Columbia student who introduced the young poet to Burroughs and Kerouac—and who was imprisoned in 1944 for the killing of an admirer, Kammerer. The film is part coming-of-age picture, part ripped-from-the headlines potboiler. What it's not is hagiography. According to Radcliffe, it was a relief for him, Ben Foster (Burroughs), and Jack Huston (Kerouac) to be able to play their characters as friends looking to find their roles in life rather than as Boy Geniuses on the way to becoming Great Men.
"The fun part of it for me was the idea of tackling an icon but not at all viewing him as iconic," says Radcliffe. "The thing that kills films like this are the sort of sly nods to the future of what these characters will become. Our film doesn't really have that."
Radcliffe, of course, matured as a man and artist in the public eye. Ginsberg, by contrast, sprang from a middle-class New Jersey existence, molded by his father's intellectual shadow and his mother's mental illness—far different forces to contend with than Dementors and Alan Rickman.
"There's loads that Ginsberg does in this film that I've never done—and I don't mean to sound flippant about it," Radcliffe says. "Not just Allen, but any character I've played recently. Even Harry Potter—Christ, there's a lot that he's done that I've never done." Being young, as Radcliffe points out, is a fairly universal experience. "You are trying to establish who you are to yourself as much as to the world, and I don't think it matters the circumstances that you're in. You're still going through that at that age. Some people go through it for much longer."
With a powerful turn in a tightly made drama, Radcliffe appears to have passed through it just fine.