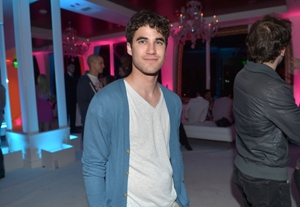 Darren Criss may have gained Hollywood-level fame for his role on "Glee," but his first love is musical theater. His passion for a live audience showed on Sunday night when he hosted the 13th Annual Broadway.com Audience Choice Awards, kicking off the evening with an acoustic guitar and a comedic tune. He also took home an award himself, winning Favorite Replacement for his three-week stint on "How to Succeed in Business Without Really Trying."
"Well, I'm glad to see that Broadway.com kept up their end of the bargain," said Criss, to much laughter.
Criss replaced Daniel Radcliffe as J. Pierrepont Finch in January. It wasn't the first time that the "Glee" star stepped into Radcliffe's shoes, however. In 2009, he played Harry Potter in Team StarKid's (his production company) theatrical parody of the books, "
A Very Potter Musical
."
Back Stage caught up with Criss before the awards and talked about his turn on Broadway, his odd habit of following Radcliffe, and his future in show business.
How did it feel to return to musical theater in "How to Succeed in Business Without Really Trying?"Darren Criss:
It was fantastic to be on Broadway. I was back home, so to speak. Not necessarily Broadway, but I've been doing theater my whole life, and it was nice to be back on a stage, doing things in real time with a real live audience. It was a breath of fresh air. Which is not to say that I had bad air beforehand, but you put yourself in a different mode when you're shooting a television show. It was cool to put back on the old clothes.
Were you nervous to take over for Daniel Radcliffe?Criss:
I saw him do the show and I thought he was fantastic. I tried to do my best to make it something a little different, as it should always be for anybody putting on the Finch hat. I've had a bit of experience filling in for Dan before in other respects, so it was another step in my riding Dan's coattails. He's always been very nice about it.

Looking forward, do you think you'll do theater or more television?Criss:
We're all mercenaries, so it's whatever they're going to let me do! I always prefer theater, but of course I love to act on camera. If I can keep this up in any capacity, I'll be happy. Beggars can't be choosers.