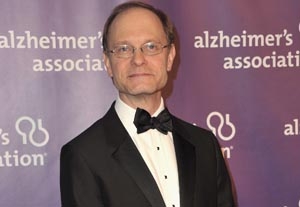 Born in Saratoga Springs, N.Y.,
David Hyde Pierce
has always loved music and performing. After studying piano in college, he transitioned to a successful acting career spanning television, stage, and film, and is now venturing into directing. His first staging venture will be "It Shoulda Been You," a new musical starring Tyne Daly, set for the George Street Playhouse in New Brunswick, N.J., this fall.
Though he is well-known for his comical characters, especially his Emmy-winning portrayal of Dr. Niles Crane on "Frasier," his recent film "
The Perfect Host
" provides a perfect transition, allowing him to utilize his comedy and drama skills. Hyde Pierce stars as Warwick Wilson, a seemingly well-to-do, uptight suburban man set to be victimized by John Taylor, a criminal seeking refuge for the night. Except Warwick has a dinner party to throw that night, and instead of playing hostage, he decides to play host—and hostage taker.
Back Stage
: How did you become involved with "The Perfect Host"?
David Hyde Pierce
: The producer of the movie contacted my manager and sent him the script. So I looked at the script and also at a short film that this director, Nick Tomnay, had [that was] the original basis for the idea for the whole movie. Even as a first-time director, Nick had such style and such a sure hand at storytelling in the short film. I think part of what drew me to it is that the character starts out in ways that are kind of similar to the way people are used to seeing me. But then what happens in the course of the movie allows me as an actor to move along with the character away from that way of people seeing me. And that's a great luxury because of course the flip side of the success of a long-running television show is people tend to see you only one way, so this is a nice opportunity for me to play off my more popular image.
Back Stage
: Can you remember what your most difficult audition was?
Pierce
: I guess I would say the most difficult auditions are always the ones that you haven't prepared for. As I look back on roles that I didn't really prepare well enough for, it was because on some level, I didn't really believe in myself in the role or want to have the part. Because if a part excites me, I love to prepare for it, because it's the beginning of working on a great character. I have a friend who always says he looks at an audition as "This will be my only chance to play this part, so I'm going to go in and do what I want to do with it."
Back Stage
: You started out studying piano. What made you decide you wanted to go in a different direction?
Pierce
: I loved music, but my real skill and a lot of the pleasure I got from it was as a performer, but not necessarily as a musician. I didn't really have the technique [and] I didn't have the interest. The discipline, the time, the solitude, the work required to really be a musician, I didn't have the drive to do that, whereas I could rehearse a play all day. When I did play piano and even if I play now, if I'm playing for someone [or] if I'm playing with somebody else, I love that and I play better. It takes me out of myself. I'm not interested in really sitting down by myself at a piano. I'm not interested in being out there by myself. I like what happens between people. That's what draws me to this.
Back Stage
: What do you think the most challenging role you've played has been?
Pierce
: I just finished this stage production of "La Bête" by David Hirson. It was written entirely in rhyming couplets, set in the 1600s, and for large chunks of the play my character doesn't say a lot. [It's] tough because in a way nothing's been charted for you specifically by the playwright in the same way it would be if you had lines. So there's so much trial and error in the rehearsal process. You can have moments where you discover that you don't really know what this moment is about and the greatest way to find out is to turn to the other actors. Your reaction with them, your interaction with them, will tell you more than anything you try to figure out on your own.
Back Stage
: You're making your directorial
debut in the fall
() with the Tyne Daly starrer "It Shoulda Been You." What made you decide to try directing?
Pierce
: People for years have said to me they thought I should direct. And I have never wanted to. I've always wanted to be onstage. And then this show, "It Shoulda Been You," came along. [It's] something that would attract me as an actor. I just finished "La Bête" and it was in every way different from anything I'd ever done before. So plays that were offered to me after that could be perfectly fine, but nothing came close to what that experience was and so I thought it was time to try a different direction. And at the exact time this piece came along in need of a director.
Back Stage
: When you're directing, do you look at the show from a different perspective than as an actor?
Pierce
: I think the reason people always said, "Oh, you should direct" is that as an actor, I tend to be someone who is very aware of the whole picture and how my character and the other characters fit into the storytelling. Now that I'm actually directing, I find that I look at theater completely differently. Kathleen Marshall, who directed the revival of "Anything Goes," and Rob Ashford, who directed the revival of "How to Succeed in Business," let me sit in on technical rehearsals for their shows as they were mounting them. I have been through many, many, many technical rehearsals in my life, but never sitting out front in the position of having to make them happen—looking at things like lighting and set design, meeting with the designers and all that. It's stuff that I've been aware of and appreciated as an actor, but not as the guy who's going to shape the whole event.
Back Stage
: Sounds like it's going to be an exciting experience for you.
Pierce
: It's already exciting. Yesterday we had some callbacks and all of us in the room agreed that two actors who had just auditioned were it. Usually we think about it, or we let the casting director call, [but] our producer said, "Well, it's awfully nice if you can tell them." I went out and stopped them before they left and told them that the parts were theirs if they wanted them. It was very emotional. I guess it was because it was the moment when I was absolutely poised between being an actor and being a director. The first time I'd ever offered a part to someone in that situation and I know what it feels like to audition and I know what it feels like to be offered a part. It was an experience I won't forget.
Back Stage
: Do you have any advice you would give to actors starting out?
Pierce
: Do it because you love it. Only a real deep love of being an actor will sustain you through not working. I know I was happy being an actor, calling myself an actor even in the years when I never had a job. I loved the world that much and the longer I've stayed in it, the more I love it. So do it because you love it and be open to wherever it takes you. For people that are pursuing acting, if you end up having a career in it it's a wonderful blessing. But even if you don't, it's not time wasted.