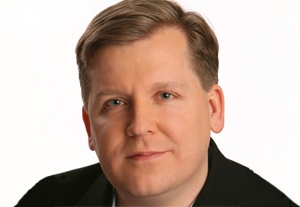 David Lindsay-Abaire
made his name with absurdist comedies like "Fuddy Meers" and "Kimberly Akimbo," before penning "Rabbit Hole," which went on to win the 2007 Pulitzer Prize for drama. The story of a couple struggling to put their life back together after the sudden death of their son, the play also won a Tony award for Cynthia Nixon and the 2010 film adaptation earned Nicole Kidman an Oscar nomination. Lindsay-Abaire continued his streak of providing women with fantastic roles with last year's
"Good People,"
for which star Frances McDormand won a Tony Award.
"Good People" is now set to make its West Coast premiere at the
Geffen Playhouse
in a production running April 11 through May 13 starring Jane Kaczmarek in the lead role of Margaret, a Boston native who goes in search of her successful ex-boyfriend after losing her job. It's a reunion of sorts for the playwright and theater, which previously mounted the West Coast premiere of "Rabbit Hole." As Lindsay-Abaire notes, "It's a great theater and I knew I would be in good hands."
Back Stage: Did "Good People" undergo any kind of changes in its transition to the West Coast?David Lindsay-Abaire
: No. No, no, no. I mean there were, like, two little changes that I made after the Broadway run that made it into the published script, but nothing significant at all. No, they're doing pretty much exactly what was done on Broadway in terms of the script.
Back Stage: Did you have a say in the casting?Lindsay-Abaire
: Yes. Matt Shakman, the director, was very open and collaborative about casting. You know, a couple people auditioned so a couple of the actors I didn't get to see. But obviously I knew Jane Kaczmarek and Jon Tenney;I've seen a lot of his work and he's actually in the "Rabbit Hole" movie. And Marylouise Burke has been in pretty much all of my plays in New York.
Back Stage: You began your career writing these fantastical comedies but your last two plays have been very naturalistic. Is your process for writing essentially the same?Lindsay-Abaire
: I mean, the approach is the same. The craft of it is the same. The thing about those comedies is, they feel like the plays of a young man. I had less of an idea of what I was doing and so there is sort of a willfulness to the work and a fearlessness to the work. I don't know what will come out if I try to write something more theatrical—and I do want to write another play that's more absurdist. But now I think, I hope, I'm better at my craft as a writer now than I was when I was right out of Juilliard. So I don't know what will happen when you smash craft and fearlessness together.
Back Stage: And I hear the movie rights have already been sold for "Good People"?Lindsay-Abaire
: That's not true. I don't, you know that was reported in one of those crappy Hollywood gossip blogs.
Back Stage: And everyone picked it up?Lindsay-Abaire
: And everybody picked it up. It wasn't true. I mean, I was seriously approached. This is what happens when you're seriously approached and you seriously consider something. And then I backed out of it because I just, it just didn't feel right to me.
Back Stage: Wow, so you still own the rights?Lindsay-Abaire
: Correct, I have not sold the rights. I don't even know if it should be a movie yet. With "Rabbit Hole," I had a really clear take on the movie and felt like: Yep, this could be a movie. But I want to feel that same definitiveness about "Good People," and I don't feel that yet. But I'm working on so many other projects that it's not on my front burner. Maybe I will get to it and decide: Yes, this is a movie, I know how to do it. But until that happens, there will not be a movie. Because I don't want to go into it half-ass and then have them take it away from me and give it to somebody else to write. So until I know I can do it, I'd rather just have the play, and that's fine by me.