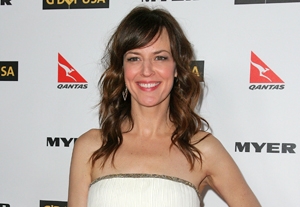 In Beth Henley's "Family Week,"
Rosemarie DeWitt
has an impassioned monologue at the end of the piece. But far more daunting than bringing herself to tears each night is suggesting a woman who is sharing her feelings with the audience for the first time, says DeWitt. In the piece, currently in previews at the Off-Broadway Lucille Lortel Theatre, she portrays Claire, an abused abuser who has suffered the death of her son and abandonment of her husband. Claire is now in rehab, and it is family week; under the direction of trendy psychotherapists, she is forced to confide in, confess to, and confront members of her family, who in turn offer their truths.
DeWitt admits it's a daunting role and a departure for her. She is perhaps best known as the inscrutable sister of the emotionally challenged heroine (Toni Collette) on the quirky "
United States of Tara
." "There are no acting challenges on that one," DeWitt says. "You just be silly and figure it out later." Several years ago, she co-starred in Fox's "Standoff," playing a high-level FBI crisis negotiator. On the big screen, she garnered critical praise for portraying the title role, a beleaguered daughter, in "Rachel Getting Married." The film was directed by Jonathan Demme, who also helmed "Family Week."
"He creates an atmosphere of permission where you feel you're doing what you're supposed to be doing, and he's cast you for a reason," says DeWitt. "I was curious to see how he approached a play. It's such a different vocabulary. He's a genius in the editing room, and I wanted to see how he'd work when there is no editing room. In a play, our previews are our editing room, and the audience becomes the editing tool."
DeWitt seeks personal connections to the material, and when there are no direct parallels, she finds substitutes. "I don't have kids yet, so I don't know what the death of a child is about," she says. "Instead, I start chipping away at loss in general and what I am not willing to face. I make notes and keep them in notebooks. Yes, I suppose I do work from the inside out. But it would be so much fun to work the other way—make a big choice and then color it in."
DeWitt says she does not believe in censoring her own feelings onstage, whether or not they seem immediately relevant for the character. She recalls having that epiphany when she saw herself in a new John Wells film, "The Company Men." "There was a moment in the script that I was struggling with, and then as I watched the scene onscreen it looked as if the character was struggling, and I realized if something is happening, the audience doesn't know you're wrestling with a bit of writing," she says. "The audience is left with something real, and ultimately everything fits the dynamic. All we have are ourselves. We are our instruments. If it's a love scene and you're feeling anger, don't say it's not right for a love scene. The anger makes it a more complicated love scene. Love has more than one color."
When Effort Pays Off
Raised in Cedar Knolls, N.J., DeWitt always wanted to act but says, "It took me a long time to cop to it." She tried her hand at writing and at Hofstra University majored in "creative studies, a make-your-own-sundae major," she recalls. "I took classes in Beckett, Kerouac, and eco-feminism." Still, the desire to act remained, and after graduation and a bit of travel, she enrolled at the Actors Center in New York, where she studied sporadically for six years while appearing in Off-Off-Broadway shows. "We all did that at the Actors Center, performing in plays and then coming back with a list of things we wanted to work on." DeWitt made her living bartending, waiting tables, and serving as a receptionist. And then came that point when she decided to "live on credit cards and believe that something would happen," she says. A commercial, a few more plays, and a TV pilot materialized.
"But when I was out of work, I would go to the Actors Connection, where agents and casting directors give classes, and you get a chance to do monologues and scenes for them," she says. "And, if you're good, a CD might say, 'Oh, how come I don't know you?' I don't know if I ever got a job from Actors Connection, but I developed relationships. A CD called an agent, who came to see me in a play, and then I freelanced with that agent. That led to work and a more exclusive relationship with the agent. And then there was more work, and work begets work."
A major turning point for DeWitt was landing a small role in "Cinderella Man." The movie was loosely inspired by the life of DeWitt's maternal grandfather, boxing great James Braddock, and it was deeply important for her to be part of it.
"I fought for that one," she says. "That was so untypical. I'm usually very shy, but I just kept on writing letters." The experience was significant on many levels, not least feeling confident in a whole new way. "It's so hard for actors to keep at it with such passion and desire when nothing comes back to them," DeWitt says. "But this time I had the experience of putting myself out there, persevering, and seeing my dream come true. You need moments where someone says, 'You can do it.' "
DeWitt admits, frankly, she'll often take a role because she hasn't worked in a while and needs to maintain her health insurance and/or sanity. But the storytelling and depiction of women in the script are also important. "That's one of the reasons I was so excited about 'The Company Men,' " she says. "My character is Ben Affleck's wife, and she is truly his partner in life, not just a character who has been tacked on."
In the future, DeWitt is hoping to branch out and be involved in the storytelling. She says she'd like to write or adapt for the screen a piece that's already written. "I'm eyeing several short stories," she says. "As you age, the stories you're telling become increasingly more important, and you become less interested in fluff. You don't want to just pass the time. I'd like to wear some different hats."
At the moment, however, she's having a fine time in front of the audience and camera. She's also very happy being married to a fellow actor, Ron Livingston, her co-star on "Standoff." "In my 20s, it might have been challenging," DeWitt says. "But now you know who you are, and you get better at putting what you value at the center of your life. The 'audition' is no longer at the center of my life. Things have shifted. I'm not looking for the business to validate me, and that makes it easier at home. It doesn't matter who's working as long as someone is fulfilled and bringing in the check. Yes, my husband feels that way too."
"Family Week" runs through May 23 at Lucille Lortel Theatre, 121 Christopher St., NYC. Tickets: (212) 279-4200 or www.mcctheater.org
Outtakes
- Appeared for one season on "Mad Men," and guest-starred on "Rescue Me," "Sex and the City," and "Law & Order: Special Victims Unit"
- Has performed at Williamstown, Second Stage Theatre, Playwrights Horizon, and Atlantic Theater Company, among others
- Has roles in upcoming films "Earthbound" and "Margaret"