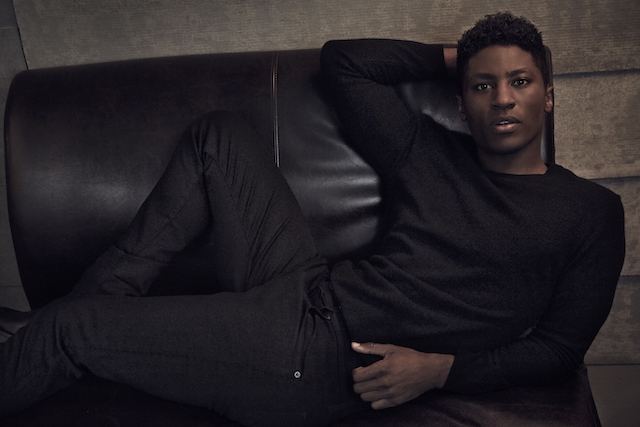 Joseph David-Jones is a Kentucky-born up-and-comer well worth keeping an eye on. After breakout roles as Hollis in the "Divergent" film series and as country-pop crooner Clayton Carter on CMT's "Nashville," the young talent co-stars with John Boyega, Anthony Mackie, and Will Poulter in Kathryn Bigelow's gripping nonfiction feature "Detroit," which hits theaters nationwide Aug. 4. As Morris, he is a member of the Dramatics, a Motown boyband who on the brink of success gets swept up in the Detroit riots during the summer of 1967.
We spoke with David-Jones while he was in New York City the week of release about working with Oscar winner Bigelow and the challenges of preparing for this real-life story—plus insight on how to break into the Los Angeles market and where to find a good audition technique class.
On getting into acting.
"I kinda stumbled into this. When I was living in Lexington, Kentucky, I started modeling as a side job just to get money, and the owner of the modeling agency, I think it was Images Model & Talent Agency in Lexington, she was like, 'You should really do this competition that's coming up in New York. You've been booking a lot here; I think you should try it.' So I went to New York, I think at the end of 2010, and did a competition called IMTA. I didn't do that well in modeling and ended up winning male actor of the year, so a bunch of agencies wanted to sign me, and I ended up moving out to L.A. in 2011."
On reading Backstage.
"Are you kidding me? Yeah [I read Backstage], man. It's funny, because the only thing that I knew about L.A. before coming out here was to check Backstage for casting. But I only figured out about the website once I was in L.A. [I was] looking in Backstage for auditions."
On 'Detroit.'
"I don't think there was ever a time when we were filming this that we didn't have a feeling that this film was going to be something. I think it was because of the quality and the caliber of the people attached to the project. We were all just trying to help create this vision because, like, Kathryn Bigelow is a really big deal for everybody who was working on it. And for me personally, doing kind of younger, popular films and stuff like that with the 'Divergent' series and ['Nashville'] to doing something with an Oscar-winning director and Oscar-winning writer was unlike anything I had ever done before."
On working with Kathryn Bigelow.
"It was unlike any director I had ever worked with before on any project I had worked on before. Everything was shrouded in such secrecy while we were doing it, nobody ever got a full copy of the script, none of us ever really knew what we were going to be doing the next day, and, like, having that added weight and pressure of working with someone who's so great at their craft and is such a master, and on a project that is going to be viewed by the critics, by the industry and by the world—all of us wanted to give the best performance that we could while not knowing what we were going to be doing. It was in some ways exhilarating and in some ways terrifying working with Kathryn."
On capturing moments rather than creating them.
"Most of the time when we're shooting, we didn't know where the cameras were, so it wasn't like we were playing to a camera, we were just, like, living through a moment. We couldn't prepare, we couldn't create a moment, we just had to live in it and then [Bigelow] would capture it. So having a director that does that and then watching what ends up being shot, what the finished product ends up being, it's so amazing to see her creative mind at work."
On getting creative while preparing for the film.
"We had to get creative with research on this project because we didn't have a script so we didn't know specifically what would happen. From the screen test that we did, when we were all, like, getting the roles that we were going to do, I was able to get an idea of what this story was going to be about. Our screen test for this, we're at [Annapurna Pictures founder] Megan Ellison's house, which is a beautiful house. So we were there, and we're in a hotel room, playing music, singing, and then all of a sudden, these cops come in and pull all of us up against the wall and start asking if any of us knew where a gun was and who was shooting at them, and none of us knew this was going to happen or what they were talking about with a gun. So all of our reactions were our natural reactions. That was our audition process. So after leaving there, I looked up hotel, police, guns, and the Detroit riots, and from that, I found the Algiers Motel incident and from the Algiers Motel, I started looking at the different characters. And I knew I was in this group called the Dramatics, and [members of] the Dramatics were in the motel, so I was like, 'Oh, man, this is it! This is the story. This is exactly what they had us do in this test.' So then I tried to do as much research as I could about the events and everything that transpired in that. I bought the book, read the book, and learned as many as the Dramatics songs as I possibly could, and that was as much research as I could do."
On the role music plays in his life.
"I've been playing and singing music since I was three or four years old. I was playing guitar, playing the piano. Music has always kind of been an escape for me. It's funny now that so many of these roles that I'm doing intertwine both [acting and music], but I've always looked at [music] as an escape, as something I've been able to do apart from acting and not have to worry about the business side of it and whether or not I'm coming out with a product in a certain amount of time or whether or not it's going to be marketable or just trying to, like, monetize it, you know? It's a means of escape for me. And it's great now being able to do it in so many roles, being able to blend the two passions, but I don't think I'm going to pursue anything in music career-wise."
On the importance of acting class, even when you're booking roles.
"When I did this competition, I knew very little about acting. But then as soon as I got out to L.A., I learned the different methods and everything and studied with various actors and coaches and went to schools out there. I learned a lot about the industry and about auditioning from a coach named Scott Sedita, and he has a little studio out on Larchmont [Boulevard]. But his audition technique class was everything that I needed to learn how to book, to learn how to go through an audition and how different it was from being on set. And then from that, I went and did a lot of scene study classes and everything. I like always being in a class. And the problem is a lot of actors kind of grow stagnant because they're not constantly learning or constantly working out their acting muscles. And then when you do something like 'Nashville'—working on that for six months, that was the only thing that I did, so my acting style kind of changed because that was the acting that I was around, the tone of the show. There's so many different projects and so many other things, [so] to not have every audition that I go to after that have a 'Nashville' feel to it, [I got] back into classes. Whenever I'm not working, I try to be in classes as much as I can."
Want to star in a feature film? Check out Backstage's film audition listings!