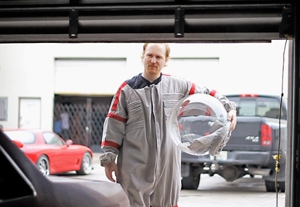 Eric Swain and Troy Bernier are two South Florida scientists who are inspired by their love of sci-fi. But after leaving the lab, they don't just go to midnight movies—they make their own. The results are low-budget, campy crowd pleasers that resemble recent cult hits like "The Room" and "Birdemic" much more than "Star Wars" or "Star Trek."

When Swain and Bernier submitted their short "A Brief Spell" to the Brooklyn Underground Film Festival in 2002, the movie was rejected, yet it attracted the interest of festival co-founders and Brooklyn-based documentarians Myles Kane and Josh Koury. The duo was at first confused but also instantly fascinated, and they now call themselves fans of Swain and Bernier's earnest amateur productions.

Kane and Koury followed the filmmakers for more than two years, shooting over 200 hours of footage, during the production of their most ambitious project to date, "Planeta Desconocido," in which a research crew is trapped on a distant moon by an outbreak of war. The experience is captured in "Journey to Planet X,"a feature-length documentary that will have its world premiere at the Tribeca Film Festival on April 21.

Back Stage spoke with Swain and Bernier about their devotion to science fiction, finally casting actors instead of friends and co-workers, and how making movies for fun on weekends led to a trip to Tribeca.

Back Stage: My first thought was to compare your story to infamous B-movie director Ed Wood. But what inspired you to make your own films?

Troy Bernier: This is true, and we have heard the Ed Wood comparison before. Eric and I also put in the effort to include scientific accuracy. You cannot have science fiction without it.

Eric Swain: The idea of putting together a movie on a shoestring budget definitely resonates with us. We certainly appreciate the campy appeal of older films and TV shows. Older material that inspires us includes shows such as "Space 1999," "UFO," "Thunderbirds," and movies such as "Silent Running" and "Time Machine." Not that we don't have a lot of love for more recent films, but there is a certain innocence and fun in the older material. We keep thinking that if some of this older quaintness can be combined with modern flashiness, the ideal sci-fi will result.

Back Stage: Was it surreal to have documentary filmmakers following your moviemaking process?

Swain: Josh and Myles approached us several years back with the idea of documenting how we put a production together. It motivated us to push ahead with one of our ideas. They could have provided their expertise when we needed it, but they did not interfere with our natural "filmmaking" behavior.

Bernier: Their commitment did help us get into gear and commit to the production. They followed us during pre-production, production, post, and the after parties. Since NYC was home for them, we had numerous encounters during my trips to NYC. Initially it was a bit odd to have someone chasing us. They would capture everything that was going on around us. Eventually it became routine to wear a mic and be in producer-director mode.


Troy Bernier in "Journey to Planet X"

Back Stage: Describe your experience casting your film. How do you find talent for your projects, and what are the biggest challenges?

Bernier: Casting was tough. It took three months to get everyone in place. Folks would not show up, and some tried to hustle us. I had to play mob boss on some occasions. Some folks were nuts. What I can say is a person who is passionate about a project will give you much more then someone who is more interested in their Facebook feed.

Swain: This is the first production [for which] we tried professional casting. Working with more experienced actors, rather than inexperienced friends and family as before, certainly brought more ease to directing. Naturally, they pick up instruction and the concepts of a scene so much faster. Of course, when we can only offer our actors work for credit, we have to make sure that they feel like the production is worth it. And we always make sure that everyone enjoys the shoot and feels like part of the team. That explains our "alumni" who continue acting with us in multiple productions.

Bernier: Our biggest challenge was the lack of funds and staff. Eric and I personally did the majority of the work. I typically always create a backup plan, a habit from doing field work. You can predict that it is possible for something to go wrong, and you have to be prepared for that. The first day of shooting, one of the main cast members called and said he was on his way, and never showed up. I was outraged but had to act fast. We only had about an hour of early light to make the shots work. One of our friends was helping us set up, and he was the only one who could be added to the shoot. He learned his lines in 15 minutes and performed perfectly.

Back Stage: What does "Journey to Planet X" meant to you?

Swain: We have felt privileged to be part of the filmmaking world, given that it is not our first calling. Our scientific jobs heavily use the analytic side of our brains, and it is great to have an activity that used the abstract half of the brain. The opportunity to tell a story or entertain others is one of the satisfying parts of life.

Bernier: As Eric and I spend a majority of our time in the realms of science, we do not forget how the most important aspect is to observe. That can be to listen, visualize, smell. I believe you have to use the right tool for the job, and it is better to have more than one mind on a task. Collaboration is a choice. When doing so, you will end up with a multidimensional response and understanding.

Swain: When Josh and Myles informed us that the documentary was accepted at Tribeca, our shock was followed by contemplating how far we have come. When Josh and Myles first became aware of us in 2002, they just knew us as a couple of guys shooting video for our own amusement. It wasn't until the following year that they took a second look at our video and decided it had entertainment value. So we realized how much the relationship has grown a lot over the last 10 years.

The world premiere of "Journey to Planet X" will be held Saturday, April 21 at the Tribeca Film Festival.



For the full 2012 Tribeca Film Festival schedule and to purchase tickets, visit TribecaFilm.com.