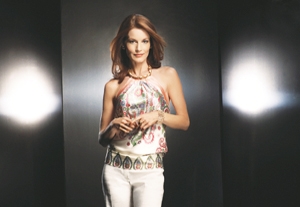 When Laura Leighton got wind of the CW's plans to reboot the 1990s soap sensation "Melrose Place," she shrugged and assumed she would have nothing to do with it. "I figured I was dead," she says with a laugh.
Indeed, Leighton's tenure as flame-haired vixen Sydney Andrews on the original "Melrose" ended fairly decisively: After five seasons of blackmail, prostitution, and assorted schemes gone awry, the character was mowed down by an out-of-control car on her wedding day. But producers of the new series had other ideas, and they approached Leighton with a twisty story line straight out of the golden age of nighttime soaps. "They basically thought there was a way Sydney could've faked her death," explains Leighton. "And the real twist is, in the pilot, she's found murdered in the pool. And then we'll have this interesting way of going back in time through flashbacks to put together the pieces."
So far, so good. Fans have enthusiastically embraced the return of their favorite bad gal, and Leighton says it wasn't too tough to slip back into her character's distinctive skin. "She was always so fun to play, and she had a specific way of speaking, and it was a pretty easy rhythm to find again," she says. "But both the writers and I were trying to make sure the character had evolved and that she was a reflection of her current age and not just trying to mimic a 22-year-old. This is a 40-year-old woman who has been through this, that, and the other."
Leighton pauses for a moment, then chuckles bemusedly. "Well, maybe not 40. I don't know how old she is. Sydney's sort of ageless in a bizarre way."
Match Point
Growing up, Leighton had no thespian-related aspirations—and yet, she occasionally shared Sydney's penchant for high drama. "My mother used to always say to me—and she'd only say it, like, in a negative way—'Oh, you should be an actor,' " says Leighton, laughing. "Like, that I was so dramatic or faking it or something. I always found it offensive. It was an accusation, really, not a compliment."
After enrolling in college in Los Angeles, Leighton joined a nonprofit song-and-dance company called the Young Americans and spent a few months on the road doing a musical. "I was just in the company; I did not have one of the lead roles," she recalls. "I spent a lot of time looking out the window on this bus, traveling from city to city, and just reflecting on what the heck I wanted to do."
As she continued on the tour, Leighton realized there was a real craft to acting and decided she was interested in exploring it. Upon her return to L.A., she enrolled in classes, studying various approaches and eventually deciding that "a Meisner sort of basis" worked best for her. She held off on seriously pursuing an acting career, however. "I felt like, I don't want to go try to put myself in this position before I feel confident that I know what to do," she explains. "So I didn't try to get an agent, and I didn't go on auditions. I didn't really feel comfortable going out and auditioning to play a part, a character, until I had sort of investigated how I could be more in command of this."
She appeared in a few commercials, but her big break came about thanks to a somewhat unusual audition process. Leighton was having lunch one day with casting director Eric Dawson—she'd spent some time assisting in his office, and the two had remained friends. Dawson  was working on "Melrose Place" and mentioned that there was a "little sister" part Leighton might be good for. "Awkwardly, I had to then go and audition for a friend of mine," she remembers. "But I was totally game. He said, 'Okay, I'm gonna bring you to producers, but don't mess up.' "
The part of Sydney was supposed to be a two-episode stint—but the energetic, effervescent Leighton proved to be a fan favorite and was quickly promoted to series regular. "That was really my first acting job ever," she marvels. "I think they had some other choices who were more experienced, but for whatever reason, they kept being interested in me."
Because she was so green, the actor says she ended up learning most of her on-camera technique on the job. "I remember being on the set and doing my first scene, and we were doing the master—which, of course I didn't know what that meant—and the script supervisor came up to me said, 'Well, we're going to go over the close-ups, and during coverage you need to match what you did in the master.' I went, 'Match? What's matching?' " Leighton chuckles at the memory. "And I heard an audible groan from the crew around me. It was definitely trial by fire, and I had to figure it out as I went along."
The Right Revival
Leighton departed the show in 1997, feeling the character had run its course. She says she was also yearning for some breathing room. "It was such a crazy ride: I went from being a waitress and a bartender and in the same year suddenly landed on a hit television show," she says. "It was like a fast-moving train. We were on covers of magazines and doing all sorts of things, and I didn't have a very good way of processing it all. I felt the need to slow down and step back and look at it from the outside and get some perspective."
She has since starred in critically beloved but short-lived series like "Eyes" and "Skin" and guest-starred on "Boston Legal," "Law & Order: Special Victims Unit," and "CSI: Miami." And though she's now played a variety of roles, she says it took a while for the Sydney stigma to wear off. "I found myself walking into auditions where people expected me to be like Sydney," she says, "to make some sort of scene or be really obnoxious. And I often felt, 'Gosh, I think they're disappointed.' 'Cause I'm really kind of boring and normal and a regular Midwestern girl. And they weren't happy to discover that."
Still, after breaking away from Sydney by playing folks who are "smart and together and make good choices," Leighton is delighted to be revisiting her most colorful alter ego. "It was really fun to think, 'Oh, I can play Sydney again, who was always so much fun and so crazy,' " she says. "It's always more fun to play the bad girl."
And though Sydney is down for the count this time around, we'll be seeing her via flashbacks. "I think people will continue to think about her, and maybe we'll see her through their eyes over the course of this season," says Leighton.
Or if all else fails—maybe Sydney could come back from the dead yet again? Leighton lets loose with an explosive chuckle: "If you can figure out a way to work that twist in, let me know."   

Bio Brief
-Married to former "Melrose" co-star Doug Savant
-Recent credits include the TV movies "Mending Fences," "Daniel's Daughter," and "Love Notes"
-Repped by Agency for the Performing Arts and Untitled Entertainment