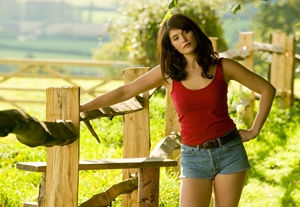 Besides pronouncing her name for us, Gemma Arterton—whose first name is voiced with a soft "G" and whose last name is Arterton, not Atherton—is having to explain herself to America. The British actor is here promoting "Tamara Drewe," in which she plays the title character, an ugly duckling–turned-swan who returns to her hometown after quite the nose job. Arterton is not only discussing her craft with the American press; she's being asked about her pert, real-life nose.
But Tamara's comedic flashback scenes, before surgery, are the ones that best reflect Arterton's deep talents. Those who know the actor only as a Bond girl ("Quantum of Solace") or as Princess Tamina ("Prince of Persia: The Sands of Time") might be stunned to realize that inside Arterton beats the heart of a character actor. The fragile naiveté of Tess in television's "Tess of the D'Urbervilles," the raunchy grit of Alice Creed in "The Disappearance of Alice Creed," and the dry humor of Tamara—this work presages a long, wide-ranging career.
Arterton keeps getting "discovered," currently by American audiences. Her third-year studies at Britain's Royal Academy of Dramatic Art were temporarily interrupted when writer-director Stephen Poliakoff nabbed her for 2007's "Capturing Mary," her first professional role. Likewise, casting director Lucy Bevan chose Arterton for "St. Trinian's" after seeing her in a drama school workshop.
By a Nose
Despite Arterton's solid credits, "Tamara Drewe" helmer Stephen Frears had never before heard of her, she recounts. The actor says they met for coffee after Frears was talked into it by his wife and by his casting director Leo Davis, who had seen Arterton in plays and at RADA. Arterton wasn't nervous going in to the meeting. "Well, I don't put a lot of weight on things unless it's necessary," she says. "I hadn't read the script yet; it hadn't been sent to me. I'd seen a lot of his work and was a huge admirer of his work. You never know what you're going to get with directors—and the same with actors. But he was just really relaxed. He's actually just so refreshingly normal and makes you feel very comfortable. I just felt like I could be completely myself with him, and I suppose that's probably why I got the part."
At the coffee, Frears offered Arterton the role. She must have said something to let him know she could handle the nonglamorous moments. "Those were the most fun scenes to do because I feel like a character actress inside," says Arterton. At RADA, she recalls, "I was cast in all of the out-there, wacky, down-and-dirty, unhinged roles. I've played men, I've played warriors, I've played heroin addicts—I've played everything except the romantic heroine, because it stretches you, and you become brave, and you're not afraid to put on a big prosthetic nose and commit to it, and you actually prefer it. But people don't like casting you in that, originally. Or they just can't see you as that. Or they think you don't want to."
Arterton accepted the role the month after Frears offered it. The delay, she explains, was because on first reading Posy Simmonds' graphic novel "Tamara Drewe," on which Moira Buffini based her screenplay, the actor found the character cold and unlikable. "Then I thought, actually, that's why she's fascinating," says Arterton. "There's something captivating about her, even though she's very, very messed up and complicated. And I thought, 'Wow, at last, I've read something that's actually an honest portrayal as a woman.' "
The actor offered her director a range of choices for one scene in particular. At one point, Tamara flits among the three men interested in her: She splits up with one, checks up on another to see if he's still interested in her, and then winds up with a married man. "I had a revelation while I was filming it," Arterton says. "I realized that she dramatizes her own life; she revels in drama so that she can write about it. She's an autobiographical writer, and she is kind of her own muse. And also she is desperate and always needs attention and reassurance. Those two things were happening at that time. So there were a couple of takes where we did it kind of cold and unemotional, like how a lazy person would see Tamara as just a manipulator. And she's not. And then I said I just want her to be really feeling in this moment, I want her to hit rock bottom so that we understand why she does end up with the married man. And Stephen really let me do that. If something isn't right, he will make the time and re-shoot it, even a couple of days later. And I think that's brilliant. There was another moment; there's a scene between [Tamara's former love interest] and Tamara where he finds out she's been having an affair, and Stephen directed it as sort of a passionate, fiery scene. And I end up crying at the end—which didn't really feel right. And then he phoned me a couple of days later and he went, 'No, it's not right. We need you to be really ballsy in that scene and not emotional, and cover it all with wit and steel.' "

Lessons Learned
Arterton thanks her extensive training for her ability to offer directors those very different choices on a moment's notice. But, when pressed, she says one particular lesson she carries with her came from RADA acting teacher John Beschizza. She recalls, "He said to me, 'Gemma, trust your instinct. It is always right. Always, always right.' And it's so easy to not listen to your instinct in this world, because you have so many people around you telling you other things. But the immediate thing that you feel, that's right." She has turned to that advice over the last year in choosing scripts and creating characters.
Among them, she says she was "desperate" to win the title role in "The Disappearance of Alice Creed." As Arterton tells it, "[Casting director] Lucy Bevan, who's this big advocate of mine, said to the director, 'You should meet Gemma,' and he said, 'But she's a Bond girl. She's not up for it.' Lucy said, 'You need to meet Gemma.' I didn't know that this conversation had happened. I really needed to do [the role], having done these kind of glamorous films. And [at the audition] I had to do this really full-on scene, being terrorized. I think the audition was better than what was in the film. And he offered the part to me on the spot. And then afterwards he told me, 'I really didn't think that you would be right for this one, but you proved me wrong.' "
Her bad auditions, most of which she says she put out of her mind, have included those where the auditors pronounce her name wrong, don't look her in the eye, or are unfamiliar with her work. Hard to believe, but inspiring to know it happens to the best of actors, right?
Stages of Her Career
Arterton credits drama school with teaching her a variety of acting methods, from which she has compiled her own technique, which she says is text-driven and literal. About to embark on Ibsen's "The Master Builder," to open in November in London's West End, she has been researching for the past three months. "I do a lot of reading and a lot of research—especially if it's a period piece, on the period," she says. "Then I go through the text and get the actual facts of the character. I think, especially in these classics, you've got so much there that is so brilliant. It's easy to veer off and play not the character. So I write down everything that I say about myself and everything that everybody else says about my character. And then I compile a list of inner characteristics and outer characteristics. The outer characteristic usually contradicts the inner characteristic. So if you're confident on the outside, you're usually desperate on the inside." And then, she says, she needs to get on her feet and rehearse.
She enjoys improvisation as a rehearsal tool—another skill learned at school. "Another good RADA saying is, 'I suck, and I love to fail,' " she says. "The best thing you can do is fail, because you learn more. When you think about that when you're improvising, it's okay. Failure is actually more beneficial than success." She also writes journals as her characters: "It's a good way of getting into the thought pattern of the character."
Before getting onstage each night, she does physical and vocal warm-ups. She confesses, "It's loud, my voice, but it also is weak. So if I don't warm it up properly, I lose it. I usually get [to the theater] about two hours early and do an hour's warm-up."
And should she ever go up onstage, she relies on her improvisation skills. "I actually forgot a line when I was doing Shakespeare, which is awful, because you can't improvise Shakespeare," she says, laughing. "But people don't notice. You notice and you feel terrible about it, but you just have to work your way out of it. But that's fun. And audiences love seeing an actor work their way out of something. You have to remember that. That's one of the reasons I adore theater. I love the uncertainty and the fact that at any moment you can slip up, and you have to be on your toes and use your brain."