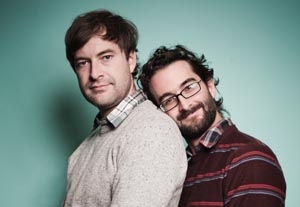 In their three previous films as writer-directors—"The Puffy Chair," "Baghead," and "Cyrus"—brothers Jay and Mark Duplass became part of off the filmmaking movement known as
Mumblecore
; independent films with a loose structure and naturalistic style. But the term also implies a sort of limited appeal to moviegoers. However, the Duplass brothers should have no trouble reaching a broader audience with their new film, the funny, crowd-pleasing "
Jeff, Who Lives At Home
," which has a limited release this weekend.
Jason Segal stars as Jeff, a 30-year-old slacker who, inspired by the M. Night Shyamalan movie "Signs," spends one afternoon following clues he believes will lead him to his destiny. Ed Helms plays his more practical brother Pat, who gets caught up in Jeff's search.
Back Stage spoke with the writer-director brothers about making the film.
Back Stage: So, what exactly are your feelings about "Signs"?Mark Duplass:
Well, the most important part of this equation is not so much how Jay and I feel about "Signs," but how Jeff feels about "Signs." The key to that equation is it's the most clear-cut and fun way we could come up with to sort of exposit Jeff's character and tell the world who he was. There's no better way to say that someone is a dreamer and a non-sarcastic, non-cynical person than to say their favorite movie is "Signs."

Back Stage: How do you feel about being so closely associated with the Mumblecore movement? Jay Duplass:
It's a weird name, first of all, for a film movement. It came on the heels of the
Dogme
movement, but that was a conscientious effort on everyone's part. This was just a bunch of people shooting films about stuff we know on DVX cameras right when DVX had come out. At the time, you don't mind the term—it was fantastic to get written up in The New York Times with a $15,000 movie, you know? But it's interesting because our goal is not to make a movement; we just want to make a movie that doesn't suck. That was our goal in making "The Puffy Chair," which supposedly was part of kicking off this movement. We also feel it can be a little bit limiting because we're trying to reach a lot of people with our audience and we feel like a lot of the Mumblecore ethics don't really apply to our films. For instance, no one really mumbles in our movies. And Mark and I are obsessed with plot, we're very plot heavy. And there's no malaise with our characters; they're some of the most desperate, hyperactive people in the world. So it's an odd thing to be considered part of the movement.
Back Stage: Not just part, but at the front of the movement.Mark Duplass:
Godfathers, if you will.
Jay Duplass:
Usually godfathers have to agree to become godfathers. We were just told we were.
Jason Segal and Ed Helms in "Jeff, Who Lives At Home" (Paramount Vantage)


Back Stage: Your whole cast is wonderful, but who had the great idea to cast Rae Dawn Chong?Mark Duplass:
I'd like to take credit for inspired casting but, strangely enough, she came in and read for the role. I looked at her on tape because Jay and I were already in New Orleans, getting ready to shoot. And I didn't even know it was her until the audition was over. I was like, "This girl is heads and above the best, we're casting her. Holy shit, it's Rae Dawn Chong!"
Back Stage: As your budgets have gotten bigger, do you think your filmmaking has changed at all?Mark Duplass:
I would have to ask the audience. We keep the bones of our film the same; we keep intimate sets and focus on performance and story. But the scripts of our movies have grown a little bit. We have a car chase in "Jeff, Who Lives At Home." We've never done that before.
Back Stage: And your craft services must be better?Mark Duplass:
Our craft services are fucking awesome now!
Back Stage: You also have a car crash, which couldn't have been cheap. Mark Duplass:
That one scene cost more than our previous three self-funded films combined. We couldn't afford it but we couldn't afford not to, on some level.
Back Stage: At the end of the day, are you more like Jeff or Pat?Mark Duplass:
We both sort of have Jeff and Pat in us. We want to be more like Jeff;
we're working on it.
Jay Duplass:
He's our hero because he believes in greatness and he's steadfast and willing to sacrifice so many things to hold on to this idea of greatness.
Mark Duplass:
He's a sweet kid and we like him.
Jay Duplass:
We want to be more like him, but we grew up in catholic schools so we work our asses off and keep our heads down.