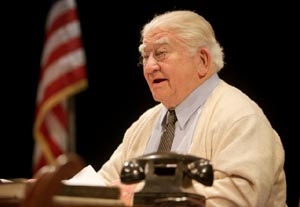 Ed Asner wanted to do Dore Schary's one-man play "FDR" for several reasons, most notably his admiration for the 32nd president. "If he was not the greatest president, he was certainly the second greatest," says Asner. "I am distressed by the savagery of the attacks upon him. He's not been honored sufficiently."
The veteran actor and activist, still probably best known as TV's crusty editor Lou Grant, says Franklin D. Roosevelt has special resonance today because of his onslaught against the Depression. Abruptly Asner's voice shifts into FDR mode, simultaneously patrician and booming: "My friends, I want you to know if you vote for me, the insurance companies will fail."
Roosevelt's politics aside, he is a great character for an actor, Asner says, because he was a chameleon with a savage sense of humor, "who could be this to this one and that to that one and could accomplish great things by pitting one against the other. I'm not worrying about deifying him. The script does not allow it." He adds that his goal is to capture the essence of Roosevelt's speech and style but that he's not doing an impersonation.
The Kansas City native, who is at once edgy and charming, is touring "FDR" nationwide through July. Despite his illustrious career on stage and on screens large and small, the multiaward-winning Asner has never tackled a solo show and admits the genre is daunting.
"I can go out there," he says, "and then 10 or 15 minutes into it, I'll look around and say, 'Oh, Jesus, I got another hour and 15 minutes out here, alone.' It gets lonely at times, and you feel yourself sagging in the saddle. And you're desperately looking for a way to stick a firecracker up your ass. And then you go on and get to the end."
Not panicking or fixating on names or lines that you've flubbed or forgotten is essential. "The more you fixate, the more fucked up you become," he explains, admitting that it's a potential pitfall in plays with more than one character but can be especially problematic in a solo show.
Meaningful Projects
Still, Asner is thinking about tackling another one-man play, about a Holocaust survivor who is suffering from dementia but can still recount a life of social and political engagement. Asner's primary criterion for accepting work is that it be "meaningful." One role he is especially proud of is the morally ambiguous slave-ship captain in "Roots."
"I wanted to play the good Nazi," he says. "What the captain said and did was reprehensible, but he was trying to alleviate the lives of the slaves on his ship. Because they did not die of disease and starvation on his ship, they were able to finish out their lives in slavery in America. That's a good Nazi."
Other roles he's especially pleased with include the struggling baker in the miniseries "Rich Man, Poor Man," the trial lawyer in the TV movie "A Case of Libel," and, of course, "the cumulative effect of 12 years of 'Lou Grant,' " he says. Asner initially played Grant on the comedy "The Mary Tyler Moore Show" (1970–77), followed by the dramatic series "Lou Grant" (1977–82).
The latter show's demise still rankles him. Asner insists it was canceled not due to falling ratings but because of his politics. "I was a spokesman for medical aid to El Salvador, so people thought I was giving Commies money," he recalls. "I was branded a Commie by their wishes." Paradoxically, it's the assaults that kept him in the industry, he says: "I was surprised the attacks were quite as extensive as they were. I was prepared to disappear into the good night. I thought I was finished. But the fact that they kept attacking me, even after the series was canceled—I kept fighting back, and that's what's kept me alive."
The episode cultivated a combative spirit in Asner, and that has helped him to not allow age discrimination to get him down. "As long as I can lift a spoon," he says, "I'll be there trying to beat out Hal Holbrook and Betty White." He describes White by quoting Cassius in "Julius Caesar": She "doth bestride the narrow world like a Colossus."
A Real Lou Grant
Asner seriously considered the idea of a journalistic career. Indeed, he was the editor of his high school newspaper. But when his teacher said he'd never make a living at it, "I chose acting," Asner quips with a hint of irony. Not that acting was a viable prospect either, he recalls. "I was too much of a Jewish bourgeoisie, and acting wasn't something realistic you went into. We all loved to perform, but not for a living. I went into acting as psychotherapy, and it's still a work in progress."
His acting method is largely unconscious, and talking about it has never served him well, he says: "Some things should not be verbalized. They say making laws is like making sausages: You shouldn't watch. It's the same for acting, especially for the actor who works unconsciously. It's not that I'm guarding a secret. But when you work from the gut, it's a hard thing to delineate."
Asner launched his career with Paul Sills' Playwrights Theatre Club in Chicago in the 1950s. After rolling up impressive notices, he relocated to New York and pounded the pavement for six years, performing Shakespeare in Central Park, at Stratford in Ontario, Canada, and finally "Threepenny Opera" on Broadway. "I was terribly disappointed at what I found on Broadway," he recalls. "It was less inspired and creative than Off-Broadway, and it made it easy to surrender to the blandishments of Hollywood."
Asner looks back at his early days in L.A. almost nostalgically. Whatever reservations he might have had, the industry and its leaders then towered over what he sees now. "It's dreck today," he asserts. "No glory, no tradition. I felt awe for the leaders of the movie industry, no matter what kind of gangsters they were. They still had a mystique. I don't see any mystique in the movie leaders now. There's chaos in the country; there's chaos in the industry."
From 1981 to 1985, Asner served two terms as president of the Screen Actors Guild, during which time, he says, "there were no strikes, and minorities and seniors gained visibility. We tried to bring extras in, but the elitists stopped it. They are now in control. People use the words 'liberal' and 'progressive' to describe actors and union members, but these actors and union members become a hotbed of conservatism when it comes to their own backyard, or should I say backside?"
So what's next for Asner? He has several films on the drawing board, but is most excited about a small independent flick, "Elephant Sighs," written and directed by Ed Simpson. "It's about five guys who are losers who get together by happenstance and support each other," he says. "I worked with wonderful actors, and now we're hoping someone will pick it up."
Outtakes
– Has appeared in more than 265 films and TV programs
– Has earned six Emmys, five Golden Globes, and a Screen Actors Guild Life Achievement Award
– On Broadway, appeared in "Face of a Hero" and a revival of "Born Yesterday"