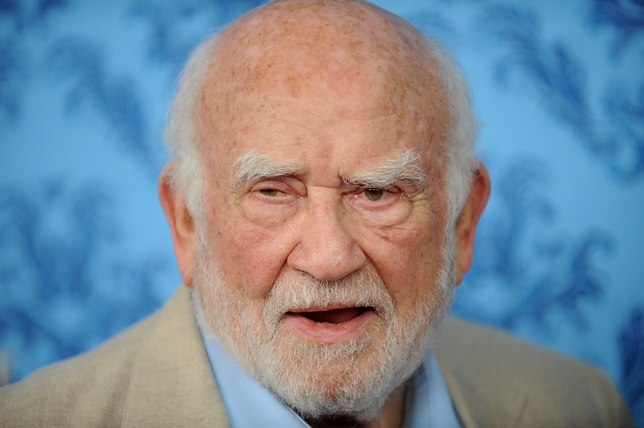 It wouldn't be hyperbolic to call Ed Asner a television legend. The 82-year-old actor has over 100 television credits and is best known as journalist Lou Grant, a role he played on "The Mary Tyler Moore Show" and "Lou Grant." He has seven Emmy awards and 16 nominations. He continues to work in television, most recently on "Hawaii Five-0," "Hot in Cleveland," and "The Middle." He's also worked steadily in film and theater. He has been touring the country with his one-man show "FDR" and somehow finds time to dedicate to causes that are important to him, such as being an advocate for Autism Speaks. And now he returns to Broadway in Grace for the first time in 23 years.
His prior Broadway credits are "Threepenny Opera" in 1955, "Face of a Hero" in 1960, and "Born Yesterday" in 1989. Now he plays Karl, in Craig Wright's Grace, alongside Paul Rudd, Michael Shannon, and Kate Arrington. The play, which opens at the Cort Theatre on Thursday, is about a couple planning to open a chain of Gospel-themed motels. Karl is an exterminator who grew up in Germany during World War II. "He's a wonderfully arced character. He's funny and he's highly principled," Asner says about what drew him to the role. "He's a passionate, passionate man and he fights for his passion. He's been a tortured man and he gains absolution at the end of the show."
He spoke to Backstage about his Broadway experiences past and present.
You haven't been on Broadway since 1989. Why did you choose this play for your return?
Ed Asner: It's a wonderful role in a wonderful play. A wonderful cast. A renowned director [Dexter Bullard] and a renowned playwright. Everything looked roses. And it's the first time I've been asked since 1989.
Who approached you for this?
Asner: The producers, Debbie Bisno and Paula Wagner.
Did you immediately know you wanted to do it?
Asner: Well, it had been such a long time. I've been touring with a one-man show of "FDR" for three years now. So, I've been on the stage constantly. Whether I wanted to do Broadway was the biggest issue.
What was the issue about whether or not you wanted to do it again?
Asner: Well, I had not been successful the last time. You don't go where you're not wanted. Although I must say that though we got bad reviews, we continued to play for five months in New York. So I think that means something about the people that came to see us.
So your last experience on Broadway wasn't a great one. How is it this time around?
Asner: Actually, it was a great one for me because in spite of the bad reviews, I discovered in myself the ability to go out every night and find something new with the role and the character. That became my objective, and it worked. It took my mind off the resentment. I often wonder if they had seen my Harry Brock at the end of the five months would they still have written such bad reviews.
Will you read reviews for this show?
Asner: I'll listen to various quotes, and I'm quite prepared to retire back to my one-man show.
Can you talk a little bit about what the rehearsal process was like for this show?
Asner: Intensive. We began rehearsal on August 13. And we went into previews about 10 days ago. But we're constantly besieged with rehearsals and notes from producers, and directors, and writers, so it's a constant process of input and it gets tiresome after a while. We're now at the end of September. That's a long prep in actuality.
How does it compare to other shows that you've done?
Asner: Much more prep. Although when we did "Born Yesterday," we toured a lot before we came to New York, but we also changed casts. We changed directors in Boston. So there were changes happening all the time.
Now that you're in front of an audience, has the audience reaction been what you expected?
Asner: Better. It's just been more responsive. Most of the time it's a standing ovation. I don't know if that's normal these days or what, but it's nice to be a part of.
You spend a lot of time off stage in this play. What do you do when you're not on stage?
Asner: I've got some other scripts to read. I've got a good book to read, "Reunion" by Alan Lightman, and I've got a year's correspondence to catch up with.
You played Santa Claus in the movie "Elf." Are you going to be seeing the musical "Elf" on Broadway while you're here?
Asner: No. I wish them well. I'll leave it at that. But you see, I'm wearing a beard in this play, so I'm perfectly made up to resume my role as Santa Claus should the need arise.
You're done television, film, voice-overs, theater. Do you have a preference?
Asner: None. I love work and I get my jollies in any of the forms. I really don't have a preference. I can find pleasure in pretending no matter what medium I do it in.
"Grace" opens at the Cort Theatre, 138 W. 48th St., NYC on Oct. 4.