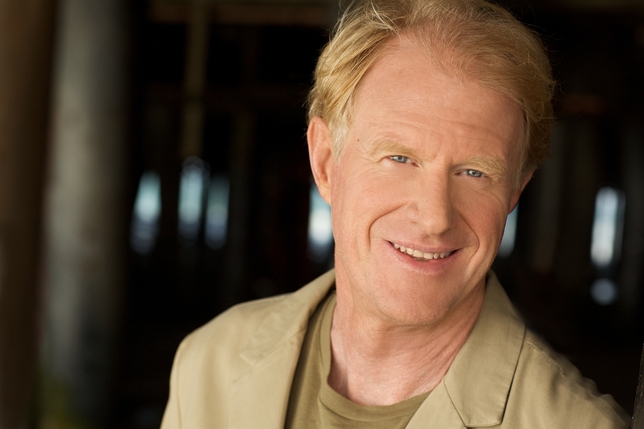 Ed Begley Jr. adored David Mamet as a playwright long before they ever worked together. Now, after four collaborations, the actor has nothing but praise for Mamet. "He's funny and clever and just the most generous man you'll ever meet," Begley says. "After working with him, I became an even bigger fan, if that's possible."
The pair first worked together in 1995 on "The Cryptogram," a role Begley played in Boston, New York, and Los Angeles. Begley went on to appear in Mamet's play "Romance" and a radio production of "Faustus" adapted by the playwright. Now, the six-time Emmy nominee for his role on "St. Elsewhere" stars as the President of the United States in Mamet's "November," running at the Mark Taper Forum in Los Angeles.
Do you remember the first time you met David Mamet?
Ed Begley Jr: I went to a restaurant on the Upper East Side to get a bite to eat. I walked in and there was my dear friend Tom Fontana, who was one of the writer-producers of "St. Elsewhere." Next to him was a face I knew right away, having met him briefly years before at a fundraiser. I said, "Tom good to see you. Mr. Mamet, I don't want to bother your dinner, but let me say I'm such a big fan. I love 'Glengarry' and 'American Buffalo.'" I went on, as any actor would, about this great playwright. And he said, "It occurs to me that you might read a script of a play I'm about to do titled "The Cryptogram." Would you be open to it? Instantly, I said, "Yes, of course! I will be a stagehand on the play, whatever you want." I expected some small part and got a script that was a three-hander and a wonderful part. I called him right away and said, "I will do anything to play this role."
With your other productions, has he just called you up?
Begley Jr.: Yes, with "Romance," it was just a call. He was generous enough to trust me not to ruin his work. Same with "November." The only difference was, I had seen the play on Broadway with Nathan Lane in the role.
When you saw it, was there any part of you that thought about playing that part?
Begley Jr.: I'd love to say I was smart enough to think I should call up Dave and say, "Hey if you do this anywhere else, I'd love the role." But it wasn't like that at all. I wish I was that savvy!
What can you tell us about your character in "November"?
Begley Jr.: He is the president, but David is a wonderful equal opportunity playwright. You can't tell which party he is from. He's a guy that is, as with any politician today, beholden to special interests. He's an extreme example of that.
Is it particularly fun to be doing this show in an election year?
Begley Jr.: It is the most fun you could imagine.
Has the script been changed or updated at all to reflect current events?
Begley Jr.: No, the script is locked. You do not change a word, a comma, a hyphen of a David Mamet play, nor should you. If I would suggest such heresy, I would expect him to say something like, "I'm sorry, I can't hear you, I have a Pulitzer Prize stuck in my ear."
You've become somewhat of a repertory player not only with Mamet, but people like Christopher Guest. Is there a trick to getting asked back?
Begley: I suppose there is something of a trick, and it's the behavior I learned from my dad. You show up on time and know your lines. That's more than half the battle. I showed up for the first day of this play with my lines memorized, which made life easier. And people appreciate that and remember that. If you're not costing them time or money or any of the above, you're probably going to be asked back.
Did your father encourage you to pursue acting?
Begley: My dad tried to be neutral. He didn't want to encourage or discourage it. But I didn't achieve any remote success while he was alive. I was a cameraman much more than I was an actor. I got into SAG in 1967; he died in 1970, and I did very few jobs in those first three years. I made a good living as a cameraman, but by some coincidence, acting only picked up after he passed away.
When did you start to feel you were making it as an actor?
Begley: My first taste of fame was on "Mary Hartman, Mary Hartman." I played the deaf mute on that show and people would start to recognize me at the airport and stuff like that. Still, I struggled as a working actor. I was not comfortable. Comfort arrived and has not left since 1982 when Bruce Paltrow and Mark Tinker and others gave me the incredible break on "St. Elsewhere." My life got good in 1982, and I won't use the term struggle since. Thirty years of smooth sailing because of one job.