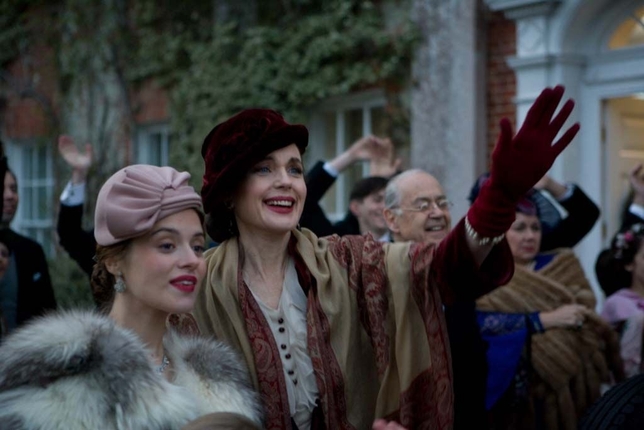 Elizabeth McGovern has made a name for herself in two continents and on the big and small screen. The American actress first established herself with an Oscar nomination in 1981 for "Ragtime," and much like her "Downton Abbey" character Cora, she later moved to the United Kingdom where she started a family and rose to fame on British television. In McGovern's latest film "Cheerful Weather for the Wedding," she plays Mrs. Thatcham, a widowed mother who, like Cora, is intent on marrying her daughter to a man of prestigious status.

McGovern chatted with Backstage about the differences between her roles in "Downton" and "Cheerful Weather," her transition to the U.K., and her music that inspires her acting.

How are Cora and Mrs. Thatcham different?
McGovern: Mrs. Thatcham lacks what Cora takes for granted. Cora has a fortune and a husband and a place in society. That is all the stuff Mrs. Thatcham would aspire to have. I suppose Mrs. Thatcham is Cora without all of her resources.

What attracted you to the role in "Cheerful Weather"?
McGovern: I loved the material. I love this idea that a person on their wedding day is [shackled to] their doubt and the pressures. I think that's all very realistic. I mean why shouldn't anybody on their wedding day feel that way? It's a giant leap of faith into this decision they're making.
And I loved that in one of the last scenes she [Mrs. Thatcham] gives her point of view about things. I like that for one moment the mother character can actually say where she's coming from, and I have a lot of sympathy for where she's coming from. I think that's quite unusual in that sort of story.

You have two daughters of your own. Did you draw from your experience as a mother when playing Mrs. Thatcham?
McGovern: I have daughters who are becoming women so that part of the story was very easy for me to connect to. Because once you become a mother, you realize that you have this fear of goodbyes. You see them go on to the next plane of life, and you're not the central figure in their life any more. When Mrs. Thatcham is saying goodbye to her daughter, it's something that anyone who's had a child will experience at some point.

What was it like transitioning as an actor in America to one in the U.K.?
McGovern: It took me a long time, and it felt a bit like starting from scratch again. It was worth it because I really like living here [the U.K.] and I have such bright kids who have British accents and that makes them seem more polite than they are.

Do you see any differences between an acting career in America and in the U.K.?
McGovern: Being an actor in London is a real luxury. All types of work for an actor are centered in London. Most movies are cast out of London. Most TV and theater are cast out of London. Whereas in America, I think actors are always torn between living in New York and L.A. You're always going back and forth. In London it's all theater so I think thats why actors are more fluid in the way they go from medium to medium or at least that's part of an actor's tradition.

You've become a bit of a period icon as Cora. If you could live in any era which would you live in?
McGovern: I think now's the best time for me to be alive, without a doubt. It's more complicated in so many ways because you have so many choices. But I prefer that to an era where women didn't have as many choices. I wouldn't want to live in any other time than our era.

You also front a band, Sadie and the Hotheads. Does your music influence your acting?
McGovern: I think it helps my acting because it makes me happy. It's kind of an outlet outside of it that gives me great pleasure and puts me in a better mood with acting. It's an arena in which I feel I have more control because we play the music and there's no sort of commercial imperative hanging over it so that is really satisfying. It's really my voice and my band's voice that we're expressing. It's a great escape from acting, which I really love and I really enjoy, but I feel it's my job to embody somebody else's vision and there's a lot of pressure that comes to bear with acting.

What advice do you have for aspiring actors?
McGovern: Make sure you have a happy life and take care of your personal life. Actors who don't have a fulfilling private life run out of something to give. I would say to a young actor, "Make sure you work hard at creating a balance between your private and professional life and invest as much in both of them." That's the choice I've made in my life and I don't regret it. I think [my private life] feeds my work, enriches it, and makes me more flexible and free to perform.
"Cheerful Weather for the Wedding" opens December 7 to limited release.