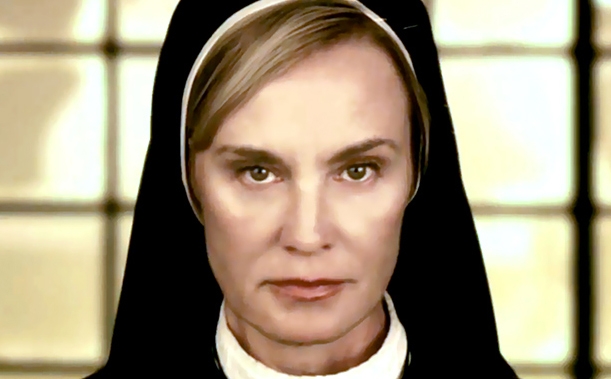 Last year, Jessica Lange won her second Emmy Award for playing the devious, delicious Constance Langdon in "American Horror Story." This year, the two-time Oscar winner earned another Emmy nod for the same show—though in a completely different role. In "American Horror Story: Asylum," Lange transformed to play Sister Jude, a.k.a. Judy Martin, a washed-up lounge singer turned nun who rules the Briarcliff Mental Institution with an iron fist—and a sharp cane. The season took a big twist when Sister Jude ended up a patient in her own hospital, highlighted by a memorable scene in which she sang "The Name Game," backed by her inmates. It was fascinating, hypnotic, and wildly entertaining—not unlike Lange herself.
Congratulations on your fifth Emmy nomination. Is it still as exciting every time that you get one? Or is it old hat by now?
No, no, it's very, very, very exciting, and because this part meant a lot to me, and I was doing things I'd never done before, like sing and dance, it's such an honor to be recognized, and I say that in all sincerity. I know you hear that a lot, but it's true, because it's a great compliment to your work.
How did you learn about the nomination this year?
I had just woken up when the phone rang, and I heard from a series of people right in a row. I was up in my cabin in the north woods of Minnesota, so it's funny because you're living a completely different existence and then you kind of are brought back to this other part of your life.
How much did Ryan Murphy tell you about season two from the start? Did he just basically say you're playing this crazy nun, or did he give you the whole season?
He gave me the voyage, in a way. The idea that this was a nun who came to religion late in the day as a kind of last ditch attempt at some kind of salvation after a sordid past. The idea of an alcoholic nun kind of appealed to me because right away, you have such a powerful contradiction. Somebody who's in service to the Lord but actually has this whole hidden dark side to her.
Did he tell you in advance you'd be doing a musical number?
No! I think actually that came out of him writing that she had been kind of a second-rate lounge singer in the 40s, a drunk, and got fired from her band for not showing up for her gigs. I kept saying, half in jest, "Then give me a musical number or something." And out of the blue, one day he comes in and he's come up with this idea. Which I thought was actually quite genius because it comes out of that moment of complete brokenness, where she's had such shock treatments and drugs, she can't even remember who she is, and in that moment, she turns around and starts singing "The Name Game." And all the inmate join in. That was my favorite part, actually, of the whole season, was watching all these wonderful actors and extras come in and create these characters and everyone got to sing and dance.
You have to go through some heavy stuff on screen. Do you take that home with you at the end of the day?
No, I'm pretty good about leaving it behind. Believe me, in the beginning when I was playing Francis Farmer or Blanche Dubois, those characters lingered for way too long. But now I've gotten better at that, I think. Over time you know how to come in and do all of the devastating stuff that needs to be done and then, leave it. It's not healthy to carry it around with you. You have to really try to let it go at the end of the day.
You're back for a third season of "American Horror Story," correct? This time it's called "Coven"?
Yes, we just started shooting last week.
So tell me everything that happens this season.
[Laughs] You tell me everything that happens! I don't know what's going to happen. We just literally were in the second week of shooting, and it's hard to tell where it's going to go. I honestly don't know.
Can you tell us anything about your character? Or is it all on the down low right now?
I think it's a little bit on the down low. I mean it is about a coven. It is about a group of witches. It is set in New Orleans, which of course is ripe for magic and witchcraft and voodoo, and there's a lot of history there. And Ryan always plays kind of loose and fast with moving back and forth in time, so we're already doing that, going from the early 1800-1960s-present day. I think I don't know exactly what it's going to be, but that much I can tell you.
Well, I cannot wait to see what happens next.
Well, me too!