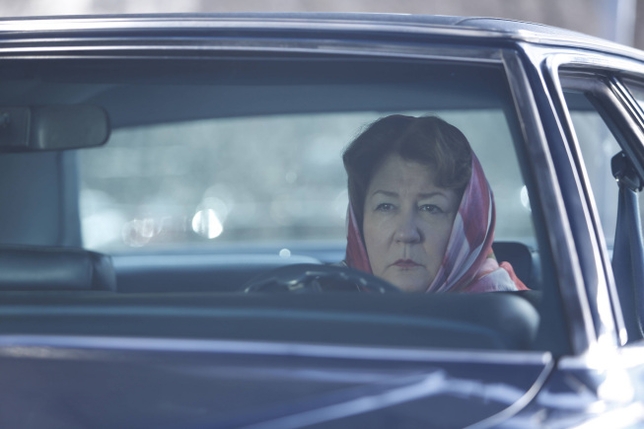 Margo Martindale spent 10 episodes alternating chastising Keri Russell and Matthew Rhys' Soviet agents and being threatened by them on FX's "The Americans"—and she has an Emmy nomination for outstanding guest actress on a drama for her troubles. She called us from Winnipeg, Manitoba, having just wrapped the film "Heaven Is for Real" to talk about checking her odds, cleaning up her vowels, and how much she loves killing people.
Do people come up to you and start screaming, the way Keri Russell did to you in that amazing beatdown scene?
[Laughs] No, they don't. But people do come up to me and say, "I love 'The Americans.'" It's got the fastest following of any show I've ever been on. The quickest uptake. I love doing it.
Which episode did you submit for the Emmys?
I did 10 but I picked the last episode, where I got to be somebody else and slit that guy's throat. I really love killing people. [Laughs]
And now you have a CBS sitcom "The Millers" coming up this fall, right?
Yes. The timing on "The Americans" being picked up and pilot season was just about three steps off. So if it could have worked out, I would have [stayed on "The Americans"]. But I'm honestly delighted to be going to do this new show because it's a challenge and it takes a lot of new muscles to do what I'm going to be doing. It'll be hard; doing comedy is hard. You know instantly if you've scored or not. I don't have to wait for months to see what I did. You get it right there. It's going to be fun.
How did you feel about your work as Claudia at the time?
I thought it really hard. I felt very strapped in and formal. And I thought it was really, really good for me to be so buttoned down in a certain kind of way, emotionally. Because my deal really is to go all out. But Claudia doesn't go all out, does she? I loved doing it, and I especially loved doing it when I got to start dressing up as other people. Clark's mother in the last episode, and then I got to be Aunt Laurie, that murderous old fart!
You mentioned cleaning up your vowels. How did you land on Claudia's sound?
Honestly, what I wanted it to sound like (which is not hard since my first language is not English anyway, it's Texan) was that English wasn't my born tongue. So it was a little more rigid and formal, and there was not ease in talking. And when I would go in for looping and hear my own vowels or dipthongs that were in a place I didn't want them to be, I could clean it up.
Were you surprised that you landed the nomination?
I kind of had decided for sure I wouldn't get that. Now, I was looking at handicapping and Gold Derby. [Laughs] Don't let me be an innocent naïve! I was looking at all that and my odds were maaaybe I could land in the top six. Maybe! But I did look for [the nominations] and couldn't find it and decided I hadn't gotten one and was fine with that. And I got in the shower and got a text from my husband that said, "Happy birthday and congratulations!" He can find anything and here I am, the dunce who can't find anything.
You just glided right past, but did you just say the nominations came out on your birthday?
On my birthday! It was lovely!