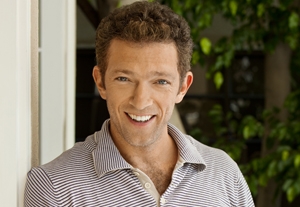 Among France's great younger actors, Vincent Cassel gained a fan base for portraying his nation's disenfranchised. Playing a rageful character living an aimless existence (the drama "La haine") or playing a literally lifelong criminal (the action film "Dobermann"), Cassel excelled at the quintessential angry young man. But those who have observed the skills underpinning his characterizations should not be surprised to learn that Cassel first trained at a circus school in France, at age 16, and that his earliest performances were as a street dancer and acrobat.
Of course those skills came in handy for his role as the bendy burglar François Toulour in the "Ocean's" franchise. But Cassel's brilliant tour de force acting is now fully on view: "Mésrine: Killer Instinct" opens Aug. 27 in Los Angeles and New York after already winning Cassel a host of best-actor awards. (Part two of the saga, "Mésrine: Public Enemy No. 1," follows the later years in the life of the reputed robber, kidnapper, and killer; it opens Sept. 3.) Between Cassel's early days on the streets and his recent accolades, his professional life has included studying, self-reflection, and a willingness—nay, compulsion—to create work for himself and his compatriots. 
He is the son of the late Jean-Pierre Cassel, known as the charming actor who played bumblers and innocents. The young Cassel didn't listen to career advice his father gave him. "I went exactly the other way," says the son, who felt rebellious and thus gravitated toward rebellious film characters. Something must have lodged in his soul, however. At 17 he moved to New York, training at the Actors Institute. "As a younger person, I thought I would never fit in the French industry," he says. "I grew up watching American movies more than anything else: Coppola, Scorsese. When I was watching what was going on in France in, let's say, the '80s, I couldn't really relate." In New York the actor took classes, including dance. But after a year in the city, he says, "I realized I was much Frencher than what I thought." Returning to Paris, he met like-minded artists. "And we decided to change the face of French cinema—or try, at least," he says. He continued to train in France with a mix between classical studies, including diction, and classes with a Strasberg disciple. "And I was doing both classes at the same time, meaning that I was always questioning the other one," he says. "It was a mess for a few years, I have to say. But once I figured out it wasn't about what people tell you but about your own experience, then I could go along with all that."
The young rebel worked with an agent early on, a friend of his father's. "She was obviously not good for me," says Cassel. "And then I went to the youngest guy in the business at the time, and I felt like he was the upcoming new guy. I said to him, 'We've got to make it together.' " To this day, Laurent Grégoire remains Cassel's agent. But as Cassel says, an agent is there to put wood in the fire, but the spark comes from the actor. So he crafted his own career, becoming part of "the new blood," the successors to France's "new wave" of filmmakers— including Mathieu Kassovitz, Gaspar Noe, and Christophe Gans. "We were against everything," says Cassel. "We wanted to rip everything down. So the fact that I started in this industry with a movie called 'La haine,' the hate, about police brutality, I couldn't have dreamed of anything else better. It was about a generation, really. And it is important for an actor to have an identity. It's not a job, really; it's a contact with an audience. You have to know who you're talking to. And I needed to talk to the people my age."
The films weren't made through studios and producers and auditions. "We were going out in the same clubs, hanging out in the same café, riding the same bicycles. We were dreaming together," says Cassel. "When we became older I needed that thing again, this laboratory feel. And so I started to hang out with people who were 14 years old, but I was 28 at the time. And those guys were shooting movies with nothing. It was the beginning of the Internet, and they had really fucked-up cameras that they were repairing all the time, tricking them to have certain kinds of effects. And they were shooting a lot of movies, and they were really good. In terms of storytelling, it was a little light, but the symbols and the imagery they were using were totally new. I would say, more than new, it was free, totally free. Now they're 28, and [Kim Chapiron] just won best new filmmaker at the Tribeca Film Festival; the other one is becoming one of the most famous video-clip directors everywhere, even here. I've been producing their movies ever since, and I really like it. It's because once again it's very free, very creative, it's a little dangerous, it's weird kind of little movies, like small-budget movies, up to now. The next one might be a bigger one for one of those directors. I guess I just need that thing."
In the Line of Fire
Cassel has auditioned, primarily to train himself to master the stress. The last audition he recalls was for the role of a Latino in Michael Mann's 2006 film "Miami Vice." When Mann told Cassel the ethnicity of the character, Cassel replied, "But why me? There are so many incredible Latino actors in America. I'm glad to meet you, I'm glad to be here, but…." He didn't appear in the film. But he has done several other "foreign" characters, including a Russian. "Twice," he corrects, laughing, referring to "Birthday Girl." He seems not to have minded those choices, particularly the chance to appear in David Cronenberg's "Eastern Promises." "First of all, I've been to Russia a few times, and I think it's an incredible country," Cassel says. "There's a lot of violence, and they're a bit like Italians to me. They can cry and laugh in five minutes. They're very passionate. Dostoyevsky and all those guys, it's very hard to play them in theater. Chekhov. It's a change of mood all the time. They drink, they cry, they laugh, they fall in love, they want to kill. So, like, for a German actor, maybe, it would be hard to play. Actually the best Chekhov adaptation I've seen was played by [Marcello] Mastroianni. So I was totally okay with that. Plus it was Kronenberg calling. I could have been Greek if he had wanted."
Cassel has also appeared on the other side of the table. He produced the last 10 films he made in France, including both parts of the Mésrine saga, through his company, 120 Films (the number in French is cent vingt, probably a play on the reversal of his name). "So from 'Irréversible' to 'Dobermann' to 'Renegade,' I've always been there," he says. "And then in terms of directly producing, raising money, everything from development, it's my third movie." But he had no hand in choosing his fellow cast mates. "No, the choice goes to the director," Cassel insists. "If you can impose an actor on a director, it means he's not a real director. I don't think you can impose anybody on [Darren] Aronofsky, for example, or David Cronenberg or Oliver Stone. It's their choice, otherwise I wouldn't work with them."
Cassel says there's no difference between French filmmaking and that of American directors, nor these days with filmmakers of any other nationalities. "I'm sure people like to think that way because it's easier," he says. "But between 'Action' and 'Cut,' you're in the same trouble. You've got to be good."
Proud to Claim the Title of 'Mésrine'
With his background playing France's underdogs and his emergence into the international scene, Cassel was ripe for the title role of Jacques Mésrine. "Maybe you can't feel it from here, but in France everybody knows about him," says the actor. "They hate him or they love him, but the minute it was announced I was in this movie, the guy who was picking up the trash in the morning was telling me, 'You're going to do Mésrine.' The taxi drivers, everybody knew about it."
Cassel was also attracted to the role because, he says, "People who love Mésrine usually are not rich. He's an icon for the suburbs. And that's my fan base, starting with 'La haine' and 'Dobermann' and the hip-hop scene. Even though I'm not from that background, I always hung out in that environment." He says he would see people who lived in the outskirts of Paris wearing T-shirts bearing images of Mésrine's face. The vast majority of those suburbanites are from Algeria, yet in the film the two first people Mésrine kills are Arabs. Cassel says he loves the paradox, the idea of confronting people with their preconceptions. "It was really cool actually," he says. "It's like seeing 'Pulp Fiction' on 42nd Street at the time. And I wanted to provoke something with those people I knew, to say, okay, what do you think now? Do you still think the same way about that guy? They didn't care. I was surprised. But that's what attracted me to the film at first, that paradox."
The films took seven years to make, from concept through release of the two parts. Cassel says producer Thomas Langmann was a "young man" when he first came to see the actor about making the film. Langmann had read Mésrine's autobiography, "L'instinct de mort" ("Killer Instinct"), as a teen in boarding school and hoped one day to produce films about Mésrine's life. "So from that [meeting] until the release of the movies, it's been seven years," says Cassel. "Seven years to find the right director, seven years to find the right script, to raise the money, to find the right cast."
But, as the actor notes, seven years gave him a rare chance to delve into every aspect of his character without the pressure of daily filming. "I read the books that he wrote," he says. "They were full of lies. He wanted to create a persona. The film is not an adaptation of his book. It can't be, because the book is totally wrong. He admitted it. He does in the movie, too. We were trying to figure out what the truth was. We still don't know." Cassel says no one is sure whether Mésrine ever killed a single person. Yet, the actor points out, Mésrine died in a blast of gunfire at the hands of the French government. "He was shot in the middle of the street 17 times, and then they finished him with a bullet in the head," says Cassel. "Because he was too loud, and only for that. He became the favorite celebrity of the French the year before he died. All the police of France were after him. And then he appeared on the cover of Paris Match, threatening the government in an interview. That's when Alain Peyrefitte, who was the minister of security at the time, and [French President] Giscard d'Estaing, they said, 'You stop everything you're doing and terminate this guy.' "
Before filming, Cassel spoke with director Jean-François Richet and Langmann about the order of filming. "As we grow up, we learn how to understand what we are, what kind of nature we have, physically and eventually psychologically," says Cassel. "I'm a guy who's losing weight all the time. If I don't pay attention, I don't eat. And you're very stressed out when you work. You're in a creative mood. So I burn from the inside. And I knew it, and I said, 'I'm not going to be able to gain weight while we shoot. Actually I'm going to lose weight. I'm telling you, I know.' So we decided to start at the end and go all the way backwards until I'm 25 in the war with Algeria. And that's what we did."
Cassel says great pains were taken with the details of the action, including studying ballistics, "to understand that bullet came from here but the guy was here," he explains. "Even though he said he shot the guy, it's impossible." The script, adapted by Richet and Abdel Raouf Dafri, was a process of collaboration. Every day on the set, the actor and the director would "rip and reinvent" the pages. Some dialogue stayed; some days it was improvised. For example, Cassel says, he improvised Mésrine's line "Nobody kills me before I say so."
But perhaps the most challenging moment of filming came at the bedside of Mésrine's dying father. Cassel's own father, Jean-Pierre, was cast in the role but died of cancer—as did Mésrine's father—before filming began. Cassel called his father's friend Michel Duchaussoy and asked him to step into the role. On the day of the deathbed scene, says Cassel, "It was not like you had to act anymore." But he felt it was healthier to do the scene with someone he knew so well.
It's a stirring scene for the viewer, but it's one of many in this vast portrayal. Mésrine's violence, kindness, intelligence, cruelty, anger, and humor are given a rich, full, and memorable depiction by Cassel—an actor who can no longer deny his appeal to all types of filmgoers.
OUTTAKES
-Says, "Acting comes from the chest. If you don't feel it, it's wrong. And if you feel it, no one else will tell you it's wrong."
-Dubbed Hugh Grant's voice for the French version of "Four Weddings and a Funeral"—because it was paying work but also because Cassel liked the film and Grant's work in it
-Has also dubbed Diego in "Ice Age" and is the voice of Mr. Hood in "Shrek," saying it helps him keep in touch with younger audiences, "for the future"
-Redesigned his eyebrows and changed his eye color to brown for "Mésrine": "It's the movie where I look like my father the most."