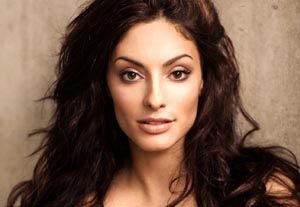 "I've always been a person who thinks it's really important to better themselves," says Erica Cerra, not that she needed much improvement. Born and raised in Vancouver, Erica has traveled the world, but still lives in her beloved hometown, and is about marry her high school sweetheart this fall.
An actress from an early age, Erica's currently stars as Jo Lupo, an Ex-Special Forces Ranger–turned–Town Deputy on the SyFy Network's "Eureka," whose fourth season is just underway. In addition to her beauty and talent, Erica has an irreverent sense of humor (her favorite word is "douche bag"), and loves to cook and garden.
Chosen as this week's Actor2Watch, Erica will be featured in a series or articles, fun facts and social media tweets through this week for subscribers of
Girl2Watch.com
.
Actor2Watch
: What was your first real break as an actor?
Erica Cerra
: It's hard to say. I've been on "Eureka" for four years, and I probably have the most publicity over that show. I know a lot of people recognize me or know me from "Battlestar Galactica," but I only did a couple of episodes. I've done some parts in movies, but I would have to say "Eureka" because it's been the one that people would recognize me most from.
A2W
: Was your family supportive of your decision to go into showbiz?
EC
: I grew up in Vancouver and my father drove me to every single one of my acting lessons, auditions, and jobs. I remember when I was about 20 years old, he asked me, "So, are you going to go to school and do something with your life?" I answered, "Dad, I want to be an actor," and he replied, " I know that, but you still have to take lessons to be a great actor." Always supportive, he is incredible!


A2W
: What kind of training did you get, and who do you study with?
EC
: When I first started acting my acting teacher was Matthew Harrison, who is also a local Vancouver actor-turned-teacher. I think he teaches a lot more than he actually performs now. Gina Chilarelli, same story. She was an actor turned mostly teacher. I'm sure she still acts.
It's funny, when I first started taking acting classes I studied with a man. When I was growing up I was a tomboy, and I really didn't know how to be feminine. I wasn't very girly and I realized that with all the auditions I was getting I probably should train with a woman. When I started training with Gina, she had me do a lot of sexy, flirtatious scenes where I would have to kind of bring out that feminine side.
And then Larry Moss, who I did a workshop with him and he is a really renowned acting teacher. He lives in Los Angeles and he has taught you know, everyone from Leonardo DiCaprio to...  I'm sure the list goes on and on and one. He was a really great teacher. I actually ended up going out and buying his book.
A2W
: Do you get recognized? How do you deal with it? 
My most memorable recognition story was in Venice, Italy. My fiance and I were renting a car, and I was recognized by the person standing behind me by my voice. I thought that was hysterical!
A2W
: Any tips for novices or people just starting out?
EC
: Be confident but not cocky—everyone can be replaced. Be willing to learn all you can from veterans as well as your peers. Remember everyone started out at the bottom, even Robert De Niro and Meryl Streep. And lastly, grow the thickest skin you possibly can!