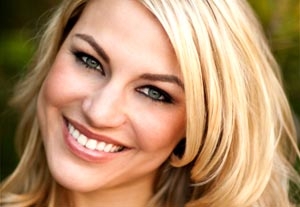 "I feel like I'm constantly surprising people," says Erin Darling, and it doesn't take long to realize she's much more than a pretty face.
This former Miss Teen California used her prize money to help pay for a BA in journalism at USC, where she started her own entertainment and lifestyle blog called
ThePopFix.com
.
Erin now works as a web host for
DailyFill.com
and
MovieFill.com
doing interviews, covering tech events, red carpet premieres, and more. This self-described "pop culture and new media journalist" moves between the worlds of celebrity and tech with ease.
Chosen as this week's Girl2Watch, Erin will be featured in a series or articles, fun facts and social media tweets through this week for subscribers of
Girl2Watch.com
.
Actor2Watch
: What was your first real break as a host?
Erin Darling
: I would say my first experience hosting would be hosting a public access show back home in San Jose when I was 17 called Spotlight TV. It was completely guerilla-style, just doing whatever I wanted. They just gave me a microphone and said, "Go talk to this person." I had no training at all. That's how I learned things from the very beginning.
My first real break I would say happened with
Vlaze.com
. I did a show for them called
BSWChannel.com
, which is all about entertainment and gossip. And that was a great experience for me because I wrote my own material, so I was completely responsible for the whole production aspect of it.
A2W
: What kind of training did you get?
ED
: I got my B.A. in broadcast journalism from USC, and that was incredible because USC has amazing professors in the broadcast journalism department.  So I was really well trained on writing and producing material, and editing, and basically every element that you need to be familiar with as a journalist.
My hosting experience—I've worked with Marki Costello. I've also worked with Maureen Brown, who's fabulous. It's two different things. I feel journalism and hosting are completely separate, and people seem to think that if they're a host, they can be a journalist,which is not true.
I think if you want to be a journalist, you have to learn how to do it and it is hard. It's not easy. It takes the right kind of person, the personality, to be able to do one or the other; to be able to do both is great because then you have all your bases covered.
A2W
: How do you use Facebook and Twitter?
ED
: I love Twitter and Facebook to keep up with friends and see what other people are doing, but I also like to promote myself and what I'm doing, and I think they're great venues to send all your links. And I work on so many different projects every day, so it's a great way for people to kind of keep up with me and for me to feed out all the things that I'm doing. That's probably my main use of both Twitter and Facebook.
A2W
: Do you have any tips for people starting out?
ED
: I think it's not easy to pursue a dream that you have, but it's always worth it. If it's something you love, you have to find a way to make it happen. If that means working as a waitress a couple nights a week or as a cocktail server, just do what you have to do to be able to live the life that you want to live and pursue the things you really want to pursue because, if you don't, I think you'll end up regretting it.
I [also] think it's really important to know that you have a lot of people in your corner. Most people don't realize how much support they really have and sometimes all you have to do is ask for help and you'll get it.