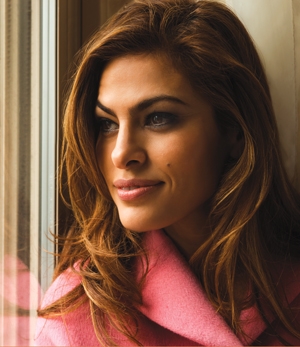 Eva Mendes is on her knees, flashing the red soles of her Louboutins as she pounds the carpet in hysterics.
She's pulled out her iPhone to show a test video of the latest project she completed filming. "Larry will be so mad at me," she confesses, referring to Larry David, whom she worked with on "Clear History," his upcoming, entirely improvised HBO movie. "Do right by me."
Her first character study had ringlets of hair "and a unibrow," Mendes points out, "and loves sweatpants." The next creation—one that is a closely guarded secret—took considerable talent on the part of the makeup artists to create. However, when she's told she looks like a fat Beyoncé, "how she should have looked when pregnant," that's when Mendes loses it and falls to the floor in laughter.
But that should come as no surprise, because Mendes likes to have fun. She proved that in Adam McKay's "The Other Guys," in which she poked fun at her sexpot status by playing Will Ferrell's busty wife and sang "Pimps Don't Cry," a duet with CeeLo. Even her recent surprise turn as a silent supermodel in Leos Carax's cracked art house film "Holy Motors" took a sense of humor. After being abducted by a hideous man and hidden underground, the glamorous object of affection has her armpits licked and sings a lullaby to the monstrous creature as he exposes himself. "It's just more fun for me," she says of the mostly silent role. "I get to express myself through behavior."
The Cuban-American actor grew up in Los Angeles and is happy that Latina actors such as Sofía Vergara—"I'm a huge fan!"—are finally getting roles in which they can be both beautiful and funny. Mendes points out that it's not new for her: 10 years ago she appeared in the coarse comedy "Stuck on You" as the woman who fell in love with one-half of the conjoined twins played by Matt Damon and Greg Kinnear. "I wanted to work with the Farrelly brothers for so long," she says. "I've explored the gritty and raw in movies like 'Training Day' and 'Bad Lieutenant,' but it's all about having fun, whether it's drama or comedy."
Her latest project, Derek Cianfrance's "The Place Beyond the Pines," is certainly at the gritty and raw end of the spectrum. A tragic tale of fathers and sons, the film stars Ryan Gosling, Bradley Cooper, and Ray Liotta, as well as newcomers Dane DeHaan ("In Treatment") and Emory Cohen ("Afterschool"). Mendes' character, Romina, the most prominent female role, provides the emotional heart that ties the story together.
After Gosling's bad-boy motorcycle daredevil returns to town and realizes his former fling has had a baby, he wants to be in his son's life. But Romina, who now lives with a supportive man, is torn between her former lover and the need for security.
According to Cianfrance, it's a very masculine movie, but Romina provides the plot's through line. "I initially wanted to write a Western, and there is that history of the long-suffering women who are dealing with these men screwing up the world around them," he says. But first he had to trust that Mendes could be that woman.
After seeing "Blue Valentine," she desperately wanted to work with Cianfrance, and once she read the script for "Pines" she was passionate about playing Romina. But Mendes' agent said the director wasn't interested. "I love a challenge," she says. "And I felt like I knew this character. I was really emotional about her."
After Gosling, who cast her in his directorial debut, "How to Catch a Monster," and with whom Mendes is romantically involved, also recommended that Cianfrance consider her, she arrived at the audition inhabiting the part. Wearing no makeup, a pair of high-waisted jeans, a baggy T-shirt, and big hoop earrings, Mendes says Cianfrance didn't even recognize her. "I thought, This is gonna be great!"
"Her hair was a wreck," Cianfrance remembers. "She came to that first audition so noticeably trying to be unattractive but failing miserably at it. But I appreciated her attempt and her vulnerability, and I could sense in her that she wanted to go there. The fact that she did that, took everything away, that's a gift for me."
Rather than read lines, Mendes offered to take Cianfrance for a drive and show him where she grew up in nearby Echo Park and Silver Lake. "I showed him this apartment building where we lived, my school. Then we went to this park we used to go to, and I just talked to him about my upbringing," Mendes says. "That's the beauty of Derek. He's unconventional about everything, so why not the audition process?"
"It was a couple of hours of really getting to know someone," Cianfrance agrees. "I saw a human being, her soul and her history. She can never take away her beauty. She can never take away her magnetism. It's why she's born for the screen. And all of a sudden, she was the only one I could see in that part."
That didn't mean there weren't hurdles, like the sex scene between Gosling and Mendes, which was scheduled for the first day of shooting. Although the couple knew each other intimately before that day, Mendes was trembling, according to Cianfrance. "She seemed terrified, and I don't blame her. I relate to that: I don't relate to no fear. But I told her, 'If you're going to go swimming, just jump in.' After that three hours of shooting, my D.P. and I were speechless," he says. "She fought through that and was never once a coward. It set the bar and let us know that anything was possible."
Mendes values her 15 years of acting classes with Ivana Chubbuck and scene studies with Larry Moss. But before taking on this role she invited a dozen women—including her mother, sisters, and friends, all of whom had children—for a "woman's day" at her home to better understand the difficult choices a mother faces. She posed Romina's predicament: If they had a strong, stable man in their life but had a child by another fling, would they still seek out the biological father? Every one of them said yes.
"It really surprised me," she says. "They explained that you should be so incredibly conflicted, but you do everything you can if he wants to be in that child's life. It gave me a lot of perspective and really added to Romina's struggle."
Although she has often been cast as the sex object in male-dominated films, this underpinning of female support continues to empower her. "I owe everything I have to the women in my life," she says. While filming in Schenectady, New York, she fortuitously discovered another feminine source of inspiration at local antiques shops. "I found all these beautiful paintings of women," she says. "It inspired me to have an entire room of my house dedicated to women. In the art world they may mean nothing, but to me, they are invaluable."
In fact, she reveals that her motivating force remains her mother. "I've never verbalized this before, but she's my fire. That's where I'm a tigress," she says. "If I'm doing it for myself, it loses its currency, its potency. Each role I do for myself, but the big picture...I do it for my mother."
Mendes has plenty she still wants to do. She dreams of one day working with David Lynch, Pedro Almodóvar, and, perhaps most surprising, Mike Leigh. She doesn't keep these ambitions bottled up; she pursues these directors with ferocity, bombarding them, writing letters and emails, and making phone calls. "I may walk away for a minute, but then I pounce again soon," she says. "I think it's really important that you let actors and filmmakers know you respect and love their work and want to work with them. Otherwise, how else are they gonna know?" Here she pauses and grins. "Hm. I think I'm due to write Mike Leigh another note."