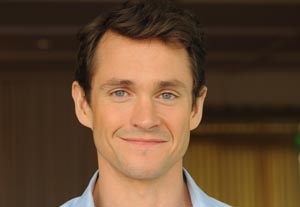 Hugh Dancy has no choice but to agree when it's pointed out to him that he has thus far made a career of playing lucky, confident, blithe men in beautiful period pieces. But in writer-director Max Mayer's "Adam," the British actor breaks out, challenging himself—and his audience—with this portrayal.
Adam is an eccentric young man, living a quiet, intellectually inquiring life in New York City. But as the movie unfolds we learn he suffers from Asperger's syndrome. Simplistically stated, the disorder is a form of autism that still allows those who have it a relatively high level of linguistic and cognitive abilities. In essence, Adam is socially inept, unable to read faces and feel empathy. It's a leap from the title roles in "David Copperfield" and "Daniel Deronda" but a leap Dancy has been more than ready to make for a long time.
He fell into acting while a young teen. Not fitting in, not enjoying his school days, and getting into "trouble," he says, "As a kind of last resort, I was sent to the school theater, forcefully, to occupy my time—just to keep me busy. It was actually a godsend, and it was the first place in that institution that I felt really comfortable." Cast in a play, he quickly became drawn to acting. In his midteens, he realized he'd already made up his mind to become an actor.
With a degree in English from Oxford University, and ready to plunge into professional acting in his early 20s, he worked the actor's traditional stint—in a bar. As luck had it, he overheard a conversation there, he says, "which I slightly imposed myself on, and the end result of this was that somebody gave me an introduction to a couple of casting directors in London. Actually, rather than writing for advice, which he had suggested, I rang up and asked if I can come and meet them."
The casting directors were Ros Hubbard ("Lara Croft: Tomb Raider") and John Hubbard ("The Bourne Ultimatum"). They called several agents on Dancy's behalf, and, he recalls, within the next 24 hours he had met all of them. "It was a remarkable week," he says. "One of them was the man who's my agent now in London, who's called Dallas Smith. The reason I liked him, as much as anything else, was that he asked difficult questions of me and was clearly in some way a bit unnerved by the prospect of taking me on without having seen me work. And then I felt that was healthy. He asked me, what about theater? Whereas with the others, I'd had to introduce that to the conversation. And for all those reasons and for the fact that I subsequently did my research and discovered how well-respected he is and kind of preeminent, we joined up."
Smith introduced Dancy to Gene Parseghian, at Parseghian/Planco, who remains Dancy's manager to this day. Dancy reports Smith was at first "understandably slow and cautious" with the untested actor, sending him on generals, until both were comfortable enough to secure a first job—on the British series "Trial & Retribution." Smith had set up a meeting for Dancy with the series' creator, Lynda LaPlante ("Prime Suspect"). Says Dancy, "She is known for giving people breaks in that way." But, he says,  "Back in those days, there was a sense from people, which I understood, that they were plumbing me to get an idea of how serious I was. I haven't seen her for several years, but I'm still grateful for that [opportunity.]"
With a background in theater, those first television jobs were daunting. On "Kavanagh QC," a British courtroom drama, Dancy recalls the episode's director, David Thacker, as particularly kind to the newcomer from a theater background, showing him how to "cheat" for the camera. Dancy says it took many years for him to feel comfortable around a film set, and he calls his first year in the business a steep learning curve.
After several years of screen work, he asked his agent for work in the theater, even though the actor's shooting schedule was tight. "He came back, he said, 'I found the perfect play. It's one week rehearsal, one week run,' " Dancy recalls wryly. "And to be fair to him, it was at the Soho Theatre in London, and it was a good play and a very good director, so it kind of was the ideal 'dip your toe into the world of professional theater.' " The play was Holly Phillips' "Billy and the Crab Lady." Based on "that little performance," says Dancy, he worked at London's Donmar Warehouse with Sam Mendes in "To the Green Fields Beyond." Soon Dancy was back in blockbuster screen projects: the highlight as Galahad in the otherwise unwatchable "King Arthur," then doing spectacular work as the Earl of Essex in 2005's "Elizabeth I" opposite Helen Mirren, earning Dancy an Emmy nomination.
New York State of Mind
When the script for "Adam" came to Dancy, he was primed from having done Americans ("Evening" and "The Jane Austen Book Club"). But was he primed to probe deep corners of the human condition? "I knew it would be a challenge," he says. In touch with the character's complexity and being "aware of how many different versions of failure there were open to me," he says, he did not want to lightly accept the role, and he admits to having looked for reasons not to do the film. "But at least none of them were solid enough for me to rely on, so I didn't let fear dominate my decision," he says.
He notes how different most people, particularly actors, are from Adam, "because the nature of [Asperger's] is a failure or an absence of empathy, an inability to communicate in the same way as most people, and all those things run absolutely counter to what you're normally asked to do as an actor. So I had to work quite hard to make up that ground." He says Mayer's script makes suggestions for the actor without "stipulating" what they should be. Dancy did substantial research, then didn't particularly contrive the character but let him be "a natural result of the work I'd done to understand the character and his view of the world." And then he says, the trick was to make the physicality and thought processes his own without feeling he was doing an impression of somebody with Asperger's.
The film, opening in limited release in the U.S. last week, should erase all his doubts. Dancy has expertly come into his own, moving from handsome young leading man to an artist with range and depth. It's a transition well worth witnessing.