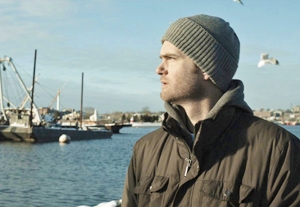 The world premiere of "Fairhaven" at the Tribeca Film Festival should help New York theater actor Tom O'Brien check a few items off his bucket list. Not only is it his first film festival experience, it's also his first time writing, directing, and acting in a feature film.

"These guys really love their films and are passionate about what they do," O'Brien says of the fest's programmers. "I feel so grateful and lucky to be in the Tribeca Film Festival. It still doesn't seem quite real. I honestly don't think I would ever premiere a film anywhere else after this experience."

In "Fairhaven," O'Brien stars as Jon, a former high school football star who finds himself stuck in his small home town on the coast of Massachusetts. He is inspired by a "60 Minutes" interview with New England Patriots quarterback Tom Brady, who professes that even after three Super Bowl wins, "There's got to be something more than this." Chris Messina ("Damages") and Rich Sommer ("Mad Men") co-star as Jon's childhood friends who are reunited for a funeral.

"For so long in my life I just wanted to be anybody but myself," O'Brien admits. "There's so much celebrity worship in the culture. 'If I only had the stuff and life that he has then I'd be happy.' It's just not true, yet we continue to covet and chase and live the delusion that something outside of me can actually make me happy. And I thought it was an interesting internal struggle to watch a character go through."

Before the premiere of "Fairhaven" at TFF on April 20, Back Stage spoke with O'Brien about working with his friend and fellow actor Chris Messina, casting his film, and learning to make movies.

Back Stage: So, you know you look a little like Tom Brady, right?

Tom O'Brien: Funny, about a month before pre-production, I was walking the streets of New York with the movie and the character in my head, just obsessing over it, and I walked by this guy and he looked at me and said, "Hey, Tom Brady." I took it as a sign.

Back Stage: What inspired you to make "Fairhaven" as your first feature film?

O'Brien: My mom lived in the actual town of Fairhaven. The day I started writing the screenplay, I was visiting her. The town has a working-class beauty and charm. Every time I drove into town I would think, somebody should make a movie here. My friendship with Chris Messina was also a big part of it. It became a culmination of all our work together in theater stuff.

Back Stage: How did you and Chris Messina collaborate to bring "Fairhaven" to the screen?

O'Brien: Chris and I met through John McCormack, who had a theater company called All Seasons in New York that Chris and I were both a part of. Chris acted in a play I wrote called "Sullied," and several years later Chris directed another play of mine called "The Group," and then we acted together. That was really the time when Chris and I built a trust and mutual respect that would serve us well making a tiny budget movie in 18 days.

I wrote the first draft of the script and brought it to Chris. He was living in L.A. at the time and I was in New York. Ironically, the first script session we did while he was here visiting and staying at a friend's loft in Tribeca. Chris is very visual and I love dialogue, so it was a great collaboration. We worked like that sporadically over the next six years. I would work on a new draft and visit him in L.A. We were always working on other stuff, but something always kept this project alive.

Chris is really a great director in his own right, so when we finally got to the set it was like having another director, which was great because I was acting as well. I don't think I could have had anyone else in the world do that on my first film, but I trusted him as much as I trusted myself, sometimes more.

Back Stage: How did the rest of the cast come together?

O'Brien: During the course of working on ["Fairhaven"], Chris was making a name for himself in other films like "Vicky Cristina Barcelona," "Julie & Julia," and "Away We Go." That definitely helped bring a sense of legitimacy to the project. But we had cast members drop out weeks before shooting and we were scrambling. Chris was shooting another movie that's at Tribeca, "The Giant Mechanical Man," and Rich Sommer was in that one as well. Chris gave him the script, and he was in.

I have always been a huge Sarah Paulson fan. Chris and I were talking about possible people for the role of Kate and he said, "You know, it should be a Sarah Paulson type." And I said, "What about Sarah Paulson?" Literally right after she shot "Fairhaven," "Martha Marcy May Marlene" was a hit at Sundance and she started getting all this other work. We just caught her at the right time.

My dad, who is a New York theater actor who's doing "Man and Superman" right now [Off-Broadway], played the boat captain and my mom, who used to be an actress and is now a therapist, played my therapist. My dad was old friends with the great Maryann Plunkett, a Tony winner for "Me and My Girl." She played my mom. It really was a dream cast. For the smaller roles we used a casting director from Boston, Hilary Missan, who did an amazing job for us.


Tom O'Brien, Chris Messina, and Rich Sommer in "Fairhaven" (Photo by Peter Simonite)


Back Stage: What did you learn by making "Fairhaven"?

O'Brien: I think the main thing I learned from my cast and crew is that it doesn't have to be sunshine and roses on the set. I'd rather have a good end result then a happy-go-lucky set where everybody gets along. If you have talented, passionate people, they are going to fight for their ideas and clash and not necessarily get along, and that's not a bad thing.

Don't wait for the perfect opportunity. You have to create your own work. You never get to a place where you don't have to advocate and create for yourself. Thinking that place exists is paralyzing as a performer, and is sort of like thinking Tom Brady is happy and fulfilled just because he's Tom Brady.

The world premiere of "Fairhaven" will be held Friday, April 20 at the Tribeca Film Festival.



For the full 2012 Tribeca Film Festival schedule and to purchase tickets, visit TribecaFilm.com.