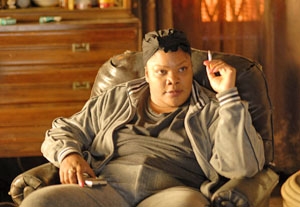 The cast of "Precious: Based on the Novel Push by Sapphire" developed a true familial dynamic—impressive, considering that the family depicted in Lee Daniels' film is anything but harmonious.
The story follows Claireece "Precious" Jones (Gabourey Sidibe), a pregnant, illiterate 16-year-old who suffers constant abuse at the hands of her vitriolic mother (Mo'Nique) and absentee father. She eventually transfers to an alternative high school and slowly begins to turn her life around.
The script, adapted by Geoffrey Fletcher from Sapphire's novel, had an immediate effect on the actors who signed on to the project. Paula Patton, who plays Precious' kindly teacher, Ms. Rain, recalls that it reduced her to tears. "There's something magical about a script that creates a visceral reaction in you," she says. "I loved it."
Sidibe, meanwhile, had read the book a few years earlier and felt an instant connection to the vibrant characters and themes. "I was a fan of the book; I felt like I knew who Precious was," she says. "I knew these women. They were part of my family, my friends, and people I didn't want to know."
Though she endures endless cruelty onscreen, Sidibe says it wasn't hard to leave Precious' harrowing world behind at the end of the day. "I didn't even wait till the end of the day; I waited till he said, 'Cut,' " she says with a laugh. "I don't know any technique; I'm not Method or anything like that. I never had any training, so I don't know any better than to stop being in character once the camera stops rolling." She also cultivated a warm relationship with Mo'Nique, despite that their characters are constantly at odds in the film. "We loved each other so much, and we had so much fun—so that when the cameras were rolling, we could then hate each other," she says.
Sidibe came to the project with virtually no acting experience: She was a college student pursuing a degree in psychology when she heard about the "Precious" audition and decided to attend on a whim. And though she was a bit nervous about taking on such a challenging debut role, she developed close bonds with her cast mates, and those bonds helped guide her through the film. Rather than conducting standard rehearsals, Daniels had Sidibe hang out with the actors who play her classmates for several weeks before shooting commenced. "Every day, we'd hang out with each other, and we never ran lines or anything," says Chyna Layne ("Cadillac Records"), who plays fierce Jamaican immigrant Rhonda. "At first, we were kind of wondering, 'So is anyone going to pull out their script?' But we just hung out and had so much fun. What you see onscreen is a true friendship among all of us."
In a similar instance of art imitating life, the younger actors found themselves looking to Patton ("Idlewild," "Déjà Vu") as a mentor. "I remember one day where I was having confidence issues," recalls Layne. "I pulled her to the side and talked with her, and she just gave me so much encouragement, like Ms. Rain does to her class."
Patton says she developed a definite teacherly fondness for her young co-stars—and this contributed to her main obstacle in the role. "I think the biggest challenge with Ms. Rain was masking her true emotions," she explains. "She does love these girls tremendously, but she can't show them too much of that, because they're street kids, and they'll take her kindness as weakness. So she's got to be tough with them. Her love is tough love. I think riding that line was what was tough every day."
It was Daniels, whom many of the cast members refer to as "an actor's director," who helped his ensemble overcome these sorts of roadblocks. "I love passionate people. For him, it's either the most amazing or the absolute worst," says Patton. "He just cares about his actors so much. He's so strong and so decisive, and yet when we nailed a scene, he'd be crying. You just felt so connected to him. He creates such an environment that, when I look back on shooting those scenes, I don't remember seeing the cameras. I remember feeling like we were in that classroom together. I think that's a testament to his directing and his constantly trying to set up the most realistic environment."
Xosha Roquemore, who plays Precious' free-spirited classmate Joann, notes that Daniels' way with actors was especially valuable to her, as this was her first real acting job. "I didn't know what to expect," she says. "I'd trained as an actor, so I wasn't doubting my capabilities, but I was scared I was going to be too big in my acting choices—and I was at first. Like, the first shot of the first day, Lee was like, 'Tone it down, Xosha.' "
Sidibe, meanwhile, notes that the bond she developed with Daniels helped her deliver the knockout performance that's now generating major awards buzz. "Mr. Daniels and I had so many conversations about this girl," she says. "It really was all about my trust in him and his trust in what I could do with the character. I really just looked to him. It doesn't take a genius to do what I did, but the director has to facilitate all of what's going with the character. I just pay attention and try to deliver as much as possible."