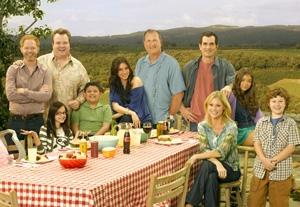 One of the rare success stories from last year's fall season, the ABC comedy "Modern Family" manages to both revisit and revitalize the family sitcom. The program focuses on the adventures of three related but different families: Jay (Ed O'Neill) and his much younger, Colombian wife (Sofia Vergara) and stepson Manny (Rico Rodriguez); Jay's daughter, Claire (Julie Bowen), her bumbling husband, Phil (Ty Burrell), and their three children (Sarah Hyland, Ariel Winter, and Nolan Gould); and Claire's brother Mitchell (Jesse Tyler Ferguson), who recently adopted a child with his flamboyant partner, Cameron (Eric Stonestreet).
Created by Steven Levitan and Christopher Lloyd ("Back to You," "Just Shoot Me!"), the show earned six Emmy Awards this year, including statues for show, writing, and supporting actor (Stonestreet). The cast received a 2010 SAG Award nomination for outstanding ensemble, and it's impossible to imagine it won't repeat the feat for 2011.
Back Stage:
How did your role on the show come about?

Julie Bowen:
It was just like any other audition except that I was super-duper pregnant with twins and therefore didn't think I would get it. I kept going back and meeting with them and reading for them, and I was getting more and more pregnant. Strange thing, you don't actually get less pregnant. I was fairly convinced I wasn't even going to get a chance to test for it. Luckily, they saw past the giant thing that was my belly and let me test for it, and thankfully, I got the job.
Ed O'Neill:
I met with Steve Levitan and Chris Lloyd about a year before I saw a script, in their offices over at Fox. And I had told my manager and them that I wasn't interested in a half-hour, but I would meet with them because I respected them, and, you know, just wanted to meet them out of respect. So, they pitched the idea, and I said, "Guys, it sounds good, but I'd have to see it." So, a year later I got a script in the mail and a little cover letter, and I read it, and I thought, "Oh, my God, this is good." For my particular role, I liked the fact that it was a little more reactive than driving the thing, and so a lot of things seemed to go along around me and through me, and I could sort of just be more natural and more reactive, which is really my favorite kind of acting. So, I just said, "I really want to do it."
Sofia Vergara:
I had a holding deal with ABC for four years. I did a couple of sitcoms for ABC, but they were canceled right after the first season. But Steve McPherson was the president of ABC at the time, and he was like, "Wait, because we are going to get you a perfect role." One day he came to me and said, "I have another sitcom. I would love you to meet the writers and the creators. I think you'd be perfect for what they are thinking." I met with them, and they wrote in the character for me. They met me and thought I would be perfect.

Jesse Tyler Ferguson:
I read the script in New York City when I was on a hiatus there. I was planning on going back into theater; I was actually going to be playing Elf in the musical "Elf." They wanted to see me for Cameron, and I told them that I was more interested in playing Mitchell. I sort of felt that I had been down that road with playing a more flamboyant character before, and I kind of was interested in the challenge of something a little more uptight. I wanted to also play the relationship of a father and a brother, so I really fought for reading for Mitchell, but they wouldn't see me. So I went in for Cameron, gave a good audition, and the producer said, "You know, you'd actually make a pretty good Mitchell." So they said, "Do you want to read that right now?" I said, "No, let me take it away for a day or two and make sure I'm prepared." And I came back and read for it and it went very well, and I went into a producer session right away. Other than Sofia, who had a development deal with ABC and had the role sort of tailor-made for her, I think I was the first cast member that they put in the show, so it was nice.
Eric Stonestreet:
The audition was pretty standard. I went in and met with the producers and casting directors. They saw some other actors and didn't really give me the opportunity to go test. They had me come back in again, and I did the same audition again and they saw more actors, not really giving me the opportunity to test. And then [they] finally decided to take me to studio and to network, and I got the part. What excited me was that I was going to get to play a character, a fun role. I saw it as a role people would like, and I would get to do some fun stuff with it.
Ty Burrell:
My role came about because of having worked with Chris and Steve in the past. Well, I guess, for multiple reasons, I am eternally interested [in what] they were doing or would do in the future, I'm just a big admirer of them, and, apparently, they had written the part with me in mind, but I still had to audition extensively just because it wasn't their decision alone, it was also Fox's. So, it was a mutual thing, I think, to an extent, but I also definitely had to fight for it. But I was very, very happy too, because, as I'm sure everyone else has said, the script was just so good.
Back Stage:
Was the chemistry of the ensemble instantaneous or something you had to develop over time?
O'Neill:
I think it developed, but it developed fairly quickly. It's one of those things that you can't really understand why. Certainly it starts with the writing. And also, there is a certain, I think, chemistry "thing." What that is, I've never been able to determine, other than it either works or it doesn't; it just sort of happens naturally or it doesn't, and it seems to be, in this case—it's just sort of amazing, everybody in the show is contributing in a wonderful way.
Ferguson:
The critics said, when they saw the pilot, that it felt like a show that was on the air for a really long time, that the chemistry was great and we didn't have the sort of startup process, and honestly, that's kind of how it felt immediately. We had an informal table read of the pilot once the whole cast was assembled, so that we could do a little work on it before presenting it to the studio for our first official table read, and I think, on that day, it was Julie's birthday that day, and we were sort of celebrating that, and we were all kind of meeting each other for the first time. I knew Ty Burrell before, and Eric Stonestreet and I had gone out for a cup of coffee since I found out that he got the role, but I was meeting Ed for the first time and the people playing my nieces and nephew for the first time, meeting Sofia for the first time, and it just felt like we really clicked.
Burrell:
From my perspective, it was instantaneous. From my perspective, it was happening on the pilot, you know. I just had so much fun and left there saying to my wife, "This is just the nicest, funniest group of people. I hope we get a chance to do this for a while."
Back Stage:
What kind of research or preparation did you do for the character, and is your character similar to you in any ways?
Stonestreet:
I grounded the character in my mom. I wanted to come up with a way to make the character as broad as they had written it but as grounded as they wanted it, which was a little bit of a trick. I'm sure that was a pitfall for a lot of actors, 'cause they said, "Oh, we want this grounded, real character that's not too flamboyant or over-the-top," yet they had written the scene where I present the baby to "Lion King" music in this grand way and had a mural of us painted as angels on the baby's wall. So it's like, how do you build the character from the ground up, given those things? I really needed something—sort of my barometer, which was my gauge of, okay, here comes a big Cam moment, how can I do this and make it believable? It came to me a few nights before my audition: How would my mom do any of this stuff? My mom's really funny, and she's passionate and she's charming, but she's not over-the-top, she's not annoying, and people don't think my mom's too much. So I thought her mannerisms and gestures and facial expressions cut with my sort of manly physicality would be a funny take on the character, and that's pretty much how I've played it from day one.

Ferguson:
I think I have more of a sense of humor than [Mitchell] does, but I think he is very close to who I am, and I think that's kind of also what drew the producers to me. I think that we all carry elements of ourselves in our roles, and we're not afraid to incorporate those.
Vergara:
She's very similar to my aunt and my mother. Sometimes when I'm reading the script, I think about how they would react, and that's how I've created the character: from the funny things that my aunt and my mother do. Of course I'm like them too, but it's difficult to see yourself. So when I'm thinking through the character, I think about them. But of course I'm like my character: I'm Latin, I have the accent, I'm an immigrant in this country….
O'Neill:
I basically use my own insecurities. I was very insecure about doing the role, and that will either sink you or it will work, and this time it was one of those lucky things where it worked. I was insecure because I thought, "Here I am, I'm much older than my wife is; are people really going to buy this? Listen, I know I'm attracted to her, that's not the question. What would attract her to me?" And of course, the writers provided that with the great writing. And so I think part of the trick is not to try too hard to be liked, you know? You can't act in a way that you're hoping that she's going to fall in love with you—she already has in the script. You have to have a certain confidence, otherwise I don't think she would've been attracted. So that really is acting, because I don't really have that kind of confidence.
Bowen:
Well, she's the frazzled and harried mother of three, so, no research required. I was a lot less worried about how to play Claire from a character standpoint. I felt fairly confident as to who she was. I was more concerned with the tone and striking the right tone with the show than I was with the character herself. I felt pretty confident that I knew who Claire was.
Burrell:
The research at this point has really just been, we're just kind of expanding these characters. We're lucky in that we're not a medical drama or any sort of biopic; this isn't "Boardwalk Empire," that's for sure. It's not a period piece, where we would kind of need to know the details about anything that specific. My most research was that I paid attention to people to kind of get some ideas about parenting because I was not a parent at the time.

Back Stage
: Would you be able to pinpoint a favorite moment or episode so far?
O'Neill:
I would probably have to say the hammock scene. It was the second-to-the-last shot of the season, everybody was tired, it was dark in Hawaii, we were all kind of giddy and punch-drunk, and we sort of improvised that scene, and it just got so crazy funny to us. You know, we were probably half-nuts, but we just were laughing so hard. I think the sound guy, who was up above us in that little thatched cabana, fell out of it laughing. It's just so much fun. It's one of those dream jobs. I mean, I think they come around every 30 or 40 years.
Vergara:
I love them all but I love that we went to Hawaii last season for the last episode. It was great because we were working, but everybody was together in the hotel. We met for dinners, for lunch. We had a lot of fun.
Burrell:
I generally like when we all get a chance to work together because we all actually really like each other. So there are several scenes that come to mind when everyone is together that, to me, were the most fun we've had because we were kind of goofing off all day and trying to crack each other up. So I guess that would be "Coal Digger" or "The Kiss."
Bowen:
Last year my favorite episode was either "Family Portrait" or the Valentine's Day episode. This year, I really liked "Chirp," the episode that just aired where I'm sick. I got that [script], and I was terrified thinking, "Oh man, I'm going to look like an asshole. I'm going to look like an idiot 'doing' sick." But it was really fun. Also, the Halloween episode was crazy fun. Between the costumes and all the insanity, it was so weird and very fun.
Ferguson:
I really love an episode called "En Garde," where Julie and I kind of investigated the ice skating past that we have and how she abandoned me when I really wanted to do something that I loved doing. I loved the material between Julie and I with that, but I also loved getting to re-create ice dancing in a parking lot.
Stonestreet:
My favorite scene so far to shoot was running across the parking lot with a trash can above my head screaming, "I'm gonna break the window, I swear to God!" Really, when I boil it down, it's such an awesome acting opportunity. It's this hysterical, comedic moment that is a terrifying moment, but we're playing it for comedy. So from an actor's perspective, it's got everything you want. It's got opposites, it's got physicality, it's got screaming. I was so excited to do that scene. That was a blast to shoot that scene. And then Fizbo is a big deal for me, just because it's my past and I got to be a clown for a week.
Back Stage
: The show is so beloved; what do you think the secret to its appeal is?
Bowen:
I think the fact that it's obviously very smart. The key is absolutely 100 percent in the writing, if you ask me. The casting is great and all that jazz, but if the writing wasn't there, we would be just an obnoxious group of hams running around doing bits all day long, entertaining only each other.
Vergara
: I think it's good luck and a combination of great writers and perfect casting. I mean, everything went together. You never know with a television show what's going to work and not. We all feel very lucky. Also, the show is something that you can watch with your whole family. It amazes me that I get approached by the little girl with her grandmother, and they both want an autograph. It's great because I think there's a character for everybody to relate to in the show.
Ferguson:
It's a really smart comedy, but it's not snarky in any way, it's not elitist. "Arrested Development" is really one of my favorite TV shows, but I feel like it was for a niche group of people and it wasn't for everyone, and if you didn't get it you kind of felt like, "Oh, I'm not smart enough to get this." And I don't think our show ever tries to be too smart for its own good. Family relationships are something that everyone can really relate to, you know? Not everyone can relate to the situations that are on television now.
O'Neill
: Well, I think that they—"they" meaning the writers—and, of course, we try to provide what they are asking for, which is really funny moments that are grounded in reality. There's not a lot of jokes, you know; it's just a lot of situations, which I love. And also, they're not afraid of sentiment. If you can do both in 22 minutes, my gosh, that's amazing.
Stonestreet:
I joke when I say this, but it's the honest-to-God truth: The key is that it's good. [Laughs.] We have really, really skilled people doing what they do best and getting the opportunity to do what they do best, and then they hired really good actors, I think, to do what they do best. And it's got universal appeal. Families are families, no matter what ocean surrounds ya. I was just in Australia for two weeks, and we're beloved there as well. It's pretty awe-inspiring to go to Australia and for people to scream your name and know who you are. I sent an email back to the cast saying, "We're famous in Australia, man."