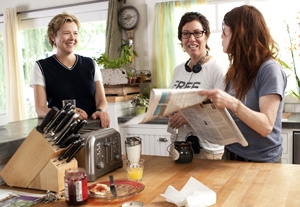 One of the most radical things you can do as an independent filmmaker is go mainstream. Lisa Cholodenko, director of 1998's "High Art" and 2002's "Laurel Canyon," teamed up with screenwriter Stuart Blumberg ("The Girl Next Door") to try her hand at creating a commercial hit. And if the glowingly positive receptions at the Sundance, Berlin, and Los Angeles film festivals are any indication, their collaboration, "The Kids Are All Right" (out July 7) is about to hit the mainstream and awards season in a big way.
The film centers on what happens when the teenage children (Mia Wasikowska and Josh Hutcherson) of a lesbian couple (Julianne Moore and Annette Bening) decide to meet their sperm donor dad (Mark Ruffalo). This cinematic family is portrayed as decidedly matter-of-fact, dealing with the same issues traditional families endure. Or, as Cholodenko dryly tells Back Stage, "Gay people deserve to be as miserable as straight people."
She came up with the concept in 2003 after she and her partner (musician Wendy Melvoin) discussed using an anonymous sperm donor to start their family. "It just stirred a lot of thinking. What is this going to mean to our child, and is this something that's going to be healthy for him? How will we deal with it, and how will he deal with it? And just getting a start winging it in your own imagination," explains Cholodenko, whose son is now 4 years old. "I guess when you're a screenwriter, [reality] makes its way into a story eventually."
Despite growing up in the San Fernando Valley, Cholodenko had always considered Hollywood filmmaking "too big and studio and far away." It wasn't until she made her first short film at Stanford's Mass Media Institute one summer that she realized her destiny as a director. Cholodenko helped with postproduction on "Boyz n the Hood" and "Used People" before moving to New York to attend grad school. At Columbia she penned "High Art" and was mentored by two-time Oscar winner Milos Forman while he was casting "The People vs. Larry Flynt." He advised her to take "any means necessary" to make the movie she wanted and to cast a mix of actors and real people for her first feature, which went on to earn her the Waldo Salt Screenwriting Award at Sundance.
Casting Cues
Cholodenko spends so many years on each script, honing each character, that when it comes time to cast actors—among them Ally Sheedy, Patricia Clarkson, Christian Bale, and Frances McDormand in her various films—she has a very clear picture in her head of who would work best. "I try to look around and see who's out there that closely matches the personality of the person I imagine on the page, and eventually something comes together," she says, adding, "I think I've been pretty good at matching the imagination to the person so far."
In scripting "Kids," Cholodenko for the first time wrote with a specific actor in mind: Moore, who reveals a more vulnerable side as stay-at-home mom and aspiring landscaper Jules, was attached to the film in 2005. The harder part to cast was that of Jules' partner, Nic, a principled doctor who makes the house rules. Cholodenko needed a name actor in her 40s who was still sexy and could fluidly go from dramatic to comedic moments. Suddenly she remembered the fantastic scene in "American Beauty" in which Bening's real estate agent methodically repeats the mantra "I will sell this house today."
"That was my light bulb," reveals Cholodenko. "I flashed on that scene and went, 'Oh, that's her,' because the character has to be able to go that quickly between those kinds of emotions. 'Annette Bening is going to do this. She might not know it, but she is.' " After Bening signed on, Cholodenko went after Ruffalo to play "bio-dad" Paul, a cool, laid-back restaurateur, and he is already getting critical praise for the role. Cholodenko's "big professional crush" on Ruffalo began when she saw "You Can Count on Me" in 2000.
One of the strongest scenes in "Kids" is a dinner party at which Joni Mitchell is discussed and sung, and the cast had to nail a variety of beats. "I felt a real connection between everybody that night. I had to direct very little because these people are super solid and really know how to act," says Cholodenko. "I figured out early on that my job was to hold back and just make sure that I got what I needed and the subtext was there. The best results were going to happen if I gave direction in a very restrained way and didn't get into the psychic space that they needed."
She continues, "Ruffalo was hilarious, but he took what was written to this tragicomic place that was sort of there but I don't think as keen as he played it. And that's a tricky thing to play, to stay sympathetic in a moment where he's really the kind of scumbag revealed. Mark is a sympathetic soul. Even if he is doing things that are off-color, you could just feel that sympathy for him." For the two teen children, Cholodenko chose to cast two actors not from Los Angeles: Wasikowska is from Australia, Hutcherson from Kentucky. "I like that outside perspective. I felt like it was going to help for the vitality of the film," says the filmmaker, who spent one week rehearsing with the leads.
Cholodenko says her biggest challenge was staying confident that it was all going to be worth it in the end. "[It's difficult] staying sane in that weird black hole of 'Who knows? Are you writing in vain?' So there was that and then the kind of 'Now, are we going to get financing? Is this going to fall apart at the last minute?' It can be incredibly anxiety-producing, and then it was, 'Can I rise to the challenge of shooting a film in 23 days?' That's an obscenely short amount of time," says the filmmaker, who already took home the Teddy Award for best feature film at the Berlin fest. "So those three challenges hit me in different parts of my body, but they were equally as demanding."   
Outakes
-On directing love scenes: "I think it's more painful for me to do those scenes than it is for the actors."
-Has directed episodes of "Homicide: Life on the Street," "Six Feet Under, "Hung," and "The L Word"; also directed the Showtime feature "Cavedweller," starring Kyra Sedgwick and Aidan Quinn, who earned Spirit Award nominations for their performances
-Describes "Laurel Canyon" and "High Art" as 95 percent script and 5 percent improvisation; says "Kids" went up to 97 percent script and 3 percent improv