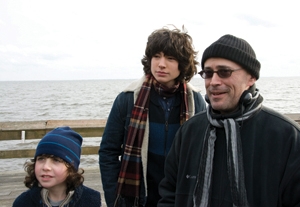 "There really was no turning back," Richard Levine tells Back Stage when asked about his transition from stage acting to writing in the late 1980s. When his old friend and now writing partner Lynn Green made the same transition, the two joined forces, and Levine has not looked back. And why should he? His first steps in writing took him on a path that included television, plays, and a regular gig writing for the hit series "Nip/Tuck." He went on to direct episodes of the series, and is now on the verge of an even more exciting project: the release of his new film, "Every Day."
"Every Day," opening in limited release on Jan. 14, tells the story of a family facing turbulent times and staying together despite them. The action centers on the father, Ned, played by Liev Schreiber, who is miserably disillusioned at work, processing the surprising revelation that his eldest son is gay, and bringing his surly father-in-law to live with his family. Ned's wife, Jeannie (Helen Hunt), is constantly at odds with her father, his eldest son feels the confusedly tightening constraints of parental authority, and his youngest son is caught in the crossfire. Add in a sexually aggressive co-worker (Carla Gugino) and Ned's zany and intense boss (Eddie Izzard), and the film is a unique concoction that is both riveting and surprisingly relatable. 
The story is based in part on events in Levine's life. Just like Ned, his father-in-law moved in, his son came out, and Levine did—and does—work for a television show concerned with unconventional sexual plots. The difficulty of those experiences served as fodder for the film, but as Levine says, "I found the creative juice of it and made it something very positive for me. It was very difficult, and I love the fact that there was a nice, creative chaos to something so difficult." 
He not merely wrote a script chock-full of honest and real challenges, he found a cast to pull it off. Levine admits it was not exactly easy to combine the likes of Schreiber, Hunt, Izzard, and Gugino, saying, "I think because I am a new director, there was a certain amount of having to reassure all these seasoned actors that I had a particular vision and that I had a strong sense of what I was looking for and what I wanted."   
An Actor's Director
Levine, himself an actor who studied at Juilliard and worked for many years on Broadway with such Tony winners as Frank Langella and Jane Alexander, had a good idea of whom he wanted in his film and why, which is why he pursued Schreiber for the lead role. "The thing I responded to with Liev, and why I was so keen to have him," Levine says, "was because I always find his inner process to be so rich and so complex, and I am always interested in what he is thinking about, and I think he is just an actor of extraordinary nuance. I thought because the movie, in some respects it is a small movie, but to my eye, it is a very deep movie, and there are steps made by the end. It is not a family as it travels an enormous arc, but the steps they take are steps to stay together. It's a very poignant journey they take together, but it's not to all eyes huge. It's in some respects very interior, the changes that occur, and I thought that Liev has such great interior life that he would bring a lot of richness to it." 
He likewise praises Hunt, saying, "I went after Helen because I thought she embodied a certain kind of integrity and a no-frills kind of, not earnestness, but realness, that I have always responded to about her work." Admitting he "was just beyond thrilled with this cast," he also notes that Eddie Izzard was "very charismatic and had a certain dynamism" that he found irresistible, while he marvels at Gugino's capacity "to be that beautiful and to have the range she has." It is comical to him, however, that given his stage background and credentials, in his feature debut behind the camera he "ended up with all these great theater actors." 
Levine admits his experiences as an actor have certainly informed his work behind the camera. "I think I am incredibly character-driven because of my acting background," he notes. "The thing that really interests me, as a filmgoer as well as a filmmaker, are the moments between people, and I am really interested in what is not being said even more than what is being said. I want to be able to watch the person listening and be drawn in, and involved, and even moved by how a moment is landing and affecting a character, and what the character chooses to say, and how the character chooses to behave." The subtlety he prizes in performances comes across in "Every Day." The story unfolds with a rich delicacy many films lack, giving the relatively simple story a surprising depth.   
Branching Out
Considering Levine's experience in multiple facets of both the film and theater worlds, he has a unique insight into a broad range of topics. While he misses acting and hopes to do it again as opportunity arises, he effuses a passion for writing in particular. "There are a couple things about being a writer that were so instantly liberating," he says. "And one of them was, you can actually write, and you do not have to wait to be hired. You might have to wait to sell what you write, but you can actually do it. And I think there was something so empowering about experiencing that, and it just affects your psyche so differently than feeling like you are always going out with your hat in your hands saying, 'Please hire me.' " 
His advice to fellow actors follows much in the vein of his own experiences. "I wish I had started writing earlier," he divulges. "I think developing in as many directions as possible is really good advice. I think you want to have more control, if you can, and as an actor you really do not have that much. I think it is so good to have a bigger picture and to develop in different directions that sort of fill out that bigger picture, be it writing, directing, producing. I think it is very important to expand, and that is something that I think would really benefit actors." This approach has certainly worked for him, and his first foray into the world of feature film work is an undeniably promising one. He seems to agree, and the process has only whetted his appetite for more. With "Every Day" hitting theaters, Levine already has a few more scripts in the works and a book adaptation on the way. And does he want to get back into acting? Absolutely. But for now, he says, "I am excited by how much there is I do not know, and want to know, and want to master in the technical realm of making movies."