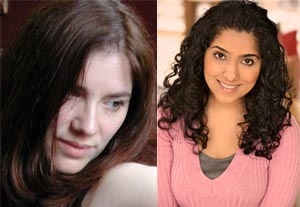 Writer-actor Aizzah (rhymes with "Liza") Fatima wanted to work with director Erica Gould because she was impressed with Gould's talent. Fatima certainly had no idea how much they actually had in common—including a deep commitment to improving interfaith relations. Gould is a secular American Jew, while Fatima is an American-Muslim of Pakistani descent.
Fatima's solo show, "Dirty Paki Lingerie," slated to be presented at the Midtown Festival, explores the lives of six Pakistani-American women, each struggling to define herself while caught between two worlds. Set in post-9/11 America, the piece recounts the lives of a 65-year-old mom who is trying to arrange her daughter's marriage as well as a socially awkward young woman attempting online dating, among others. The seeming incongruity of experience is celebrated. In Fatima's world—in life, she insists—sporting a headscarf is not incompatible with sexuality or modernity. Gould couldn't agree more fully.
In a free-wheeling conversation on their collaboration, one of the topics covered is the importance of shattering stereotypes and forging new cross-cultural understanding. "That has always been important, but today more so than ever," says Gould. Fear of Muslims has replaced the Cold War, she continues. "Anything you can do to expose the fallacy of inevitable conflict is a good thing. It's essential." Gould is especially pleased that a Muslim is finally represented at the festival, though she feels it has taken way too long. Both artists view it as a great opportunity.
Fatima: I wanted to create positive images of Muslims. Muslim men are cast as either terrorists or cab drivers. Muslim women are cast as the terrorist's wife, girlfriend, or daughter. Muslim women rarely exist in the mainstream media, and when they do the image is not positive. I also wanted to create interesting work for myself.
Gould:
The roles that exist for Muslim women are not challenging.
Back Stage: Who is your audience?Fatima:
Originally I thought the audience would be those who did not know anything about Muslims or Pakistanis and I would be informing them. I now feel there will be Muslims present. I spent a weekend at the Islamic Society of North America in Chicago and found they were using my play to frame a discussion of subjects they don't usually talk about such as sexuality and gender roles.
Gould:
Muslims need to be informed as well, especially about sexuality and gender roles.
Fatima:
Those who are most offended will be inside the culture. They've already said to me, "Why do you use the word 'lingerie' in your title? Why not 'laundry?' "

Back Stage: In any piece that reveals aspects of one's culture that may not be flattering isn't a little self-censorship sometimes necessary? Did you think about that?Fatima:
I think about it now, but I still feel it's more important to put a truthful story out there than to worry about who may be offended. I was writing stories about people I knew that I thought were touching.
Gould:
To distort for the purpose of white washing is as offensive as distorting the truth in order to be negative. Being silent is the offense. Perhaps one can argue for that in presenting little-known cultures. But that does not serve those whose voices are not being heard.
Fatima:
One of the characters I perform is a mother who wants to find a husband for her daughter. She is placing an ad in the paper that includes the daughter's height and hair color. It's humorous, but it's also problematic. The paper exists and Pakistani mothers do this. One woman came up and thanked me for allowing her to see that the system is screwed up, not her.
Gould:
Did you ever get a response from a mother who places these ads?
Fatima:
Yes, one walked out.
Gould:
Don't we codify in the same way on online dating sites? We provide statistics about ourselves. Of course, we're doing it, not our mothers.
Fatima:
We have a lot of common ground. I tell one story about a girl who thinks she's gotten it all figured out. She believes she has found the right man for her. [They're both educated and modern.] But at the end she's not so sure. Once the guy finds out how old she is, he's no longer interested in her. I know Pakistani medical students who are 25, but they do not consider a woman over 22 as suitable for marriage. At the same time, they will choose to spend time with women who are 25 and over. They have great time with these women. But marriage is different. Erica tells a similar story.
Gould:
Yes, I have a friend, an educated Jewish woman who was going out with an educated Jewish lawyer. They really hit it off and were having a great time. In the course of their conversations they discovered they had attended the same prep school. Then the question of "When did you graduate?" came up. As soon as it was revealed that she had graduated several years before he did, suddenly he was no longer interested in her, certainly not in the same way. The tone of their relationship abruptly changed, my friend told me. He still said she was "hot," but it was clear she was no longer seriously in the running. He didn't make plans with her anymore. Instead, he'd call at the last minute to get together. We are at a post-feminist stage where we have gotten rid of some problems but are still floundering in other areas, such as the age issue. This is regardless of ethnicity.
Back Stage: How did your common ground inform your artistic relationship?Gould:
We had intense personal conversations that have opened up the range of our dialogue and the canvas on which we are creating.
Fatima:
It's great to find someone who is so like-minded, even though we come from such different cultures. And I thought we'd just be talking about the piece technically.
Back Stage: What do you want an audience to walk away thinking and feeling?Fatima:
I want American audiences to see the similarities between themselves and the characters on stage. I want Muslim audiences to walk away talking about sexuality and gender roles. I want them to realize it's a dialogue worth having.
Gould:
I want audiences to realize that a Muslim woman wearing a headscarf can be a feminist who texts and says, "OMG." That character embodies the idea that cultures can coexist. She is possibility.
Fatima:
I am Muslim. I am American. I am American-Muslim.
"Dirty Paki Lingerie" plays July 16–30 (schedule varies) at the Dorothy Strelsin Theatre at the Abington Theatre Arts Complex, 312 W. 36th St., NYC. Tickets: www.ovation.tix.com.