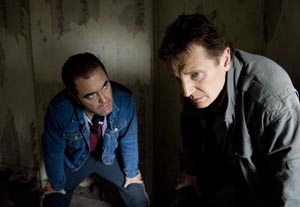 James Nesbitt says a major challenge in tackling Joe in "Five Minutes of Heaven" was that the character is based on a real person and the seminal event portrayed in the film happened. In a small Northern Ireland town in the mid-1970s, 11-year-old Protestant Joe witnesses the murder of his 16-year-old brother at the hands of a Catholic. The murder destroys the family, and Joe is never able to come to terms with the events of that night. The killer is arrested and spends 12 years in jail. The film uses those facts as a launching pad for a fictionalized encounter between the two men (Nesbitt and Liam Neeson) as adults. It is a gritty and violent tale.
"I read the script and was taken by it," Nesbitt recalls. "But I felt I had to meet Joe because he was so extreme on the page I almost couldn't believe it. I spent a day with him; I filmed him. He is an extreme guy. For someone not educated he's remarkably articulate. He is a mass of contradictions. In spite of 30 years of pent-up anger, frustration, rage, and bitterness, he was able to express and articulate the events of that night and what subsequently happened to him."
Nesbitt maintains he is not doing an impersonation but instead an interpretation—one that is complicated by the fact that "so much of the performance is about what's happening in Joe's mind." The actor adds, "And there is a fine line between melodrama and truth. And often melodrama is truthful. So I was constantly referring to the text, to Joe, and trying to be in the moment."
There were also broader issues at stake, not least making a film about Northern Ireland and "the troubles," which has personal resonance for Nesbitt, a Northern Ireland native. "I think we were aware that we were telling a story of import," he says. "It stood for an awful lot of what happened—not just in Northern Ireland but in hot spots all over the world where one single act of violence can have such a deep impact. There was gravitas attached to this project."
Nesbitt launched his career on the London stage and then quickly moved on to television, where he made his reputation in lighter fare, though he earned a Golden Globe nomination for his performance in "Jekyll," a modern reinterpretation of the Jekyll and Hyde story. "That was a real showing-off performance, which was wonderful," he says. "I was totally liberated. It was to be like a child again. But the challenge within that is how far do you dare to push yourself?"
Nesbitt's method varies with the role, he says, although he tries to view each part as his first, thereby keeping the adrenaline going and the performance fresh. He believes his technique and discipline have evolved over the years. "It's easy when you have your first bit of success to get swept away by it and feel that the acting is getting in the way of your social life, which it often does," he says, laughing. "Yes, my discipline has improved."
Now in a position to choose his roles, Nesbitt reluctantly concedes the quality of his role takes precedence over the whole project. "My answer should be that the project comes first," he says. "But I don't think I could fully commit and be behind the project if I didn't think the character offered a challenge. For the project to be interesting to me, the character has to be interesting."
The American Way
Nesbitt came from a family of teachers, and he assumed he'd follow the tradition. That said, he also enjoyed performing in school and community theater, but he didn't allow himself to think of acting as a valid ambition, as it didn't seem realistic. Still, he says, "If you asked my friends or even my folks—I don't think any of them were that surprised that I ended up an actor." At age 16, Nesbitt earned his British Actors' Equity card when he had to step in for one of the professional actors in a local production who had broken his foot. Nesbitt majored in French at the University of Ulster before transferring to the Central School of Speech and Drama in London. He has worked steadily as an actor, but his career turning point was starring in the British sitcom "Cold Feet," after which he became a household name. " 'Cold Feet' changed everything for me in terms of public perception and garnering for me a little bit of influence and control of my career," he says. "I also had more money."
Unlike many of his colleagues, he never had his sights set on a Hollywood career. "I had achieved a level of work [in the U.K.] that was consistently challenging," he notes. "It was never my idea of Utopia to sit at the pool for six months, waiting to get a part in a film with an accent that I couldn't do." The actor admits he had a change of heart when he recently participated in a round of Los Angeles–based press junkets, where he was promoting a BBC miniseries about Iraq, "Occupation." After meeting with a number of Hollywood power brokers, he has concluded, "I think I'd fancy a bit of a crack at it. I'd actually like to work in Hollywood now."
To date, the only American director he has worked with is Woody Allen ("Match Point"), though Nesbitt has performed opposite a number of American actors, including Woody Harrelson and Marisa Tomei. Though Nesbitt feels that British and American actors have similar approaches to the craft of acting, he sees a cultural difference in attitude toward one's career. "They're too self-deprecating [in the U.K.]," he says. "Some of them are embarrassed to talk about what they've done or their relationships with their agents. There is nothing wrong with having ambition or being proud of what you've done or talking yourself up." If Nesbitt relocated to the States, he doesn't believe he'd "have to reinvent myself at all, though I'd have to learn an American accent."
He says there are no roles in the dramatic literature he's dying to play. Indeed, at this point, "Theater does not feed my soul," he says. "I've done it, and it will always be there." But he has one major ambition: "To work with Al Pacino before he croaks."