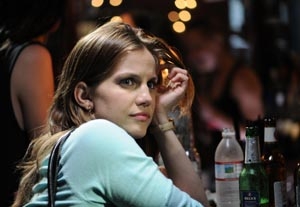 Anna Chlumsky is a native Chicagoan and proud of it. But despite hailing from one of the improv comedy capitals of the world, she never formally trained in the art. "I'm a very on-the-boards kind of girl most of the time," she says, chuckling. "I don't like to veer off text."
And yet, that's precisely what she was called on to do on the improv-happy set of her latest project, the indie comedy
In the Loop
. Rather than being intimidated, she rose to the occasion. "I felt at home with it," she says. "This type of format actually lent itself to the way I work in general, which is listening to your impulses and going for what you want. I do lots of prep at home, do lots of homework, and then show up on set or on stage and throw all the prep away."
Chlumsky says
Loop
director Armando Iannuci—well known in the U.K. for his work on such series as
I'm Alan Partridge
and
The Thick of It
—was particularly key in fostering an open, creative environment. "We would film every scene scripted first, verbatim, then Armando would say, 'Okay, we got that. Now let's muddy it up a bit,' " she says. "We weren't necessarily intentionally going to create anything funnier than the script, because you can't get better than that. But sometimes, accidentally, the humor that would come out of the improv would be very good, and we'd keep a lot of it."
In the Loop
focuses on an outrageous political snafu involving a bumbling British minister (Tom Hollander), a cagey U.S. general (James Gandolfini), and a constantly harried U.S. assistant secretary for diplomacy (Mimi Kennedy). Chlumsky plays Liza, a government aide and type-A self-starter who "doesn't really stand for anything except for her having power," she says. "I'm intrigued by people like that. She puts on this façade of getting absolutely everything about life, and she certainly does not."
The role came to Chlumsky via an audition—this, she says, is how she lands most of her parts, despite being well-known to movie buffs as precocious Vada Sultenfuss from 1991 hit
My Girl
. "I don't think I've had many roles at all that came from knowing people," she says, laughing.
Early Lead
As a kid, Chlumsky responded to an open call and put herself on tape for the gig in
My Girl
. But after nabbing the part, starring in the sequel, and acting in other projects such as
Gold Diggers
:
The Secret of Bear Mountain
, she made a conscious decision to step away from the industry. "Adolescence is really the worst time of anybody's life in general," she says. "Then if you add an entire industry that doesn't want to hire you on top of it, it can be really judgmental to your self-esteem. When you're a kid, it's all about having fun, but it's also about pleasing the adult: 'Oh, they're so happy that I can say this line well.' Every job you get is approval, and thereby, every rejection you get—which, obviously, are more—is a stamp of disapproval. When you don't have the foundation of 'Why am I doing this?' it kills your spirit."
Chlumsky opted to pursue other interests, like studying international relations at the University of Chicago and working in publishing. But something shifted when she saw Mercedes Ruehl's bold performance in the Broadway production of Edward Albee's
The Goat, or Who is Sylvia
?. "My gut instinct was, 'I have to do what she just did,' " recalls Chlumsky. "That stuck with me."
In crafting her return to the biz, the actor had to start from square one: "Free theater in New York," she says proudly. "And reading Back Stage, man—I got 10 shows in a year. And that's the way you build your craft."
Happy Returns
She was determined, however, to make her new start in showbiz different from the path she'd taken as a child actor: This time, the foundation was in place from the very beginning. "When I did come back to show business, it was really thought out," she says. "It took me a long time and a lot of self-searching. It wasn't like, 'I need approval again.' It was like, 'Okay, there's a chance I may never get approval, but do I still want to do it? Yes. And the reason why is, there are stories to be told, I can tell them, and I'll be so blessed if I'm allowed to.' That's what keeps me going every day."
Since her return to acting, Chlumsky has built an impressive career on the New York stage, starring in such plays as
Unconditional
with the LAByrinth Theater Company,
Iphigenia at Aulis
with the TimeSpace Theater Company, and
Balm in Gilead
with the Barefoot Theatre Company, where she is a member. She also guest-starred on
30 Rock
as Liz Lemler—Liz Lemon's ridiculously sweet romantic nemesis—and recurred on the recently canceled
Cupid
.
And though some in the industry may still see her as Vada, Chlumsky says she does her best not to let that bother her. "There are days when you wish you could control the way people think," she says with a laugh. "But honestly, the more you think about the results of your work, the worse your work is going to be. Being an adult now, having seen
My Girl
[recently], it's a really quality movie. I am so proud to have been a part of that, and I can see now that it resonated with people. The best attack I have is to just really do my work the best I can, and then people can make their own conclusions."
Chlumsky has won at least one high-profile fan with her more grown-up work: Ruehl, the very person who inspired her to return to acting in the first place. "She saw me in a show, and she complimented my craft!" Chlumsky declares. "She said, 'Oh, good job up there. You stayed really present, and you were really in the moment.' I was like, 'Oh my God.' "