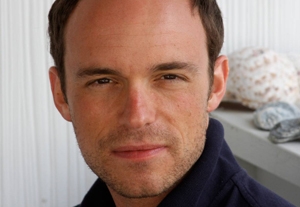 Starting Out
Soak up every experience like a sponge. Learn something from every audition you go on and every professional you encounter. Be patient. It will come with hard work, focus, and training. However, also know that this business is not for everyone, and not everyone can remain optimistic and focused. So if there is something else you'd rather be doing, do that. As much as possible, try to enjoy auditioning; otherwise it might show.

Getting Seen
In Los Angeles, it's next to impossible to get seen for most projects unless you know the casting director or someone involved. In New York, it's slightly easier. Therefore, I recommend immersing yourself in the New York theater scene. It's literally on every block. Focus on the smaller theater companies, showcases, and play festivals that are holding auditions around the city. There is no excuse for an actor to not stay engaged while in New York. Whether it's a scene study class, an Off-Off-Broadway play, or a reading, it's important that you remain involved and get yourself seen. If you're a comedic actor, enroll in a class at Upright Citizens Brigade Theatre, write and star in your own Web series, or get together with a bunch of friends and put up your own production at Manhattan Theatre Source or the Peoples Improv Theater. Casting directors, agents, and network execs are always out there looking for new talent.
Train
It's important to stay on top of your craft. Enroll in a great acting class, brush up on your technique, take an on-camera workshop, attend a lecture given by a great director or producer, and learn from industry people who have worked on projects you wish to be a part of. Hear about the process and what is expected of you.
N.Y. VS. L.A.
It's the age-old question among actors starting out. I believe it's helpful for an actor to spend at least a year or two in New York prior to Los Angeles, especially if you're straight out of college or without representation. Spending time in New York teaches you a lot about the industry and auditioning, and if you're able to get some momentum in New York by booking high-profile projects or landing with a well-established agency, you will have it easier when it's time to go to L.A.
Approaching an Audition
Many actors sabotage auditions by spending too much time and energy worrying about whether or not they are right for the role. You can almost see it on their faces when they walk into the room: "I hope I'm what you want." If you go into the audition trying to get the job, you're focusing on the wrong thing. When you have an audition, it's important to read the breakdown and see what they're going for, but after that, you must put your own stamp on the character. They want to see your personal take, not what you think they're looking for. Many times they don't know and are open to many interpretations. Be your own director, or hire a coach to help you, and make choices that will showcase your creativity as an actor and your ability to bring something fresh to the role. Be fearless in drawing from your own life experiences and humor. Be unique.
Dealing with Bad Auditions
Let's face it: Everyone has bad days. Unfortunately, when you have a bad audition, it can be a humiliating experience. Try not to focus on that. Most casting directors are understanding, will not hold it against you, and sometimes even forget. But learn from the experience. Why was it a bad audition? Did you prepare enough? Did you let your nerves get in the way? Figure out what didn't go right so you can be better prepared next time. However, if you are consistently having bad or mediocre auditions, that is how you will be remembered. If you are having audition anxiety, you're not sure how to prepare well for auditions, or you need a brush-up, get with a coach, take an audition class, or figure out a way to overcome those obstacles.
Be Your Own Publicist
When you book a job, it doesn't end there. In terms of growing your career, that's when the real work begins. If you are involved in a project you're proud of, that represents your best work, or that showcases you doing the kind of role that casting directors don't normally bring you in for, get the word out. Whether it's inviting an agent to attend a performance or sending a post card to a casting director about an upcoming role on TV, take advantage of the fact that you're working and let people know. Be your own publicist. Don't expect an immediate response; however, your name will be associated with booking work, and that is important. As a casting assistant 10 years ago, I auditioned an actor for a role she wasn't right for. But I liked her and kept tabs on her career through the post cards she would periodically send about her success. Ten years later, she was right for a role I was casting on "Ugly Betty" and she got the job.
Know Your Type
When you're just starting out, the goal is to be remembered so you will continue to be brought in by the casting director. The only way that can happen is to be consistent in your auditioning and to know what you're right for. I've seen many character actors spend a lot of time trying to be the lead and not focusing on their strengths: their sense of humor, their unique energy—basically, what makes them interesting and special. These actors often spend so much time and energy trying to be what they're not that it's impossible to see what it is they are right for. Embrace your strengths and know where in this industry your talent fits. There is a place for everyone, whether you're a series lead or an under-five supporting role. The more you are in touch with your type, your ability, and your potential, the easier it will be to navigate your career.
Geoffrey Soffer recently completed casting the final two seasons of the hit television series "Ugly Betty" for ABC and last season's "The Beautiful Life" for the CW. He will be conducting a focus session on auditioning for TV at Actorfest NY on Sat., Oct. 2. For more information, visit www.geoffreysoffer.com. For more about Actorfest, go to www.actorfest.com.